Chatting with Forrest Fenn: His Old Puzzle Lock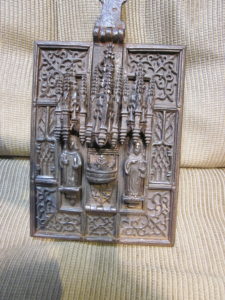 Many of us, who are involved in The Thrill of the Chase, have had the opportunity to meet and chat with Forrest Fenn. The Chase began in 2010, and over the years, Forrest has participated in book signings, visited Fennborees, and met with numerous searchers.
He not only hid a million-dollar chest of gold and other rare jewels in a 1150AD bronze chest somewhere in the Rocky Mountains (for anyone to find), he had made himself available to encourage the discovery of it, and was willing to give people time to get to know him and his other treasures better.
My family and I were so fortunate to get the chance to sit down with Forrest on our way back from a road trip (and search adventure) a while back. I talk about this time chatting with Forrest in the following posts and some others.
*Chatting with Forrest Fenn: His Office
*Chatting with Forrest Fenn: Medicine Rock
So much filled the afternoon. Forrest shared captivating stories on adventures he experienced. He also shared the history of the absolute incredible rare items and collectibles he had 'chased' after over his lifetime. I left there in complete awe and overflowing with a gratefulness for being able to spend some time with him. A treasure to keep in memory forever.
One of the coolest things, and there were so many, but this one was special. He shared with us this so totally awesome Puzzle Lock. Now I collect puzzles and games (I am slowly sharing my game collection of the 1800's on allaboutfunandgames.com blog), and so when Forrest heard about that, he said, let me show you something.
He's got something special for everyone! 🙂
So he showed us an old Puzzle Lock he had, and I was so enchanted! It was extraordinary! And it came with a Skeleton Key used to open it no less (which I also collect skeleton keys)- You can imagine my extreme excitement! Oh I loved it…and want to share it with you today.
As the one image of the Lock states on back, it is a 16th century Chest Lock.
In order to open it there is a trick.
You must turn one of the little fleur-de-lis' to open the door, and then put the Key in to open the lock.
Below are some more images of the amazing Lock, and then you can watch a short video we took while Forrest was actually showing us and sharing with us the little 'puzzle' used to open it!
A moment in time, as I said above, to remember and treasure! I appreciate the Chase and all the adventures so much. Thanks Forrest. And I hope you all enjoy it too.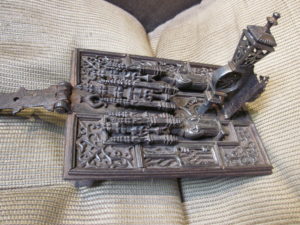 (Please know I'm just having some fun with 'video software' in ATTEMPT to spruce up the video some..….lol.)
*And Please, if you would like, I would love to know in comments what you might collect. I love collections, and in my newsletter I will be sharing different stories about collections (among other things, like the 3Q's). For me, our various collections are like treasures to us. To add to it, maybe with the one long sought for item needed, is such a joy. I might later message you, and ask if you minded if I learned more about it and feature your collection in an upcoming newsletter.
Follow MW on Social Media: