The Words in Fandango's Borders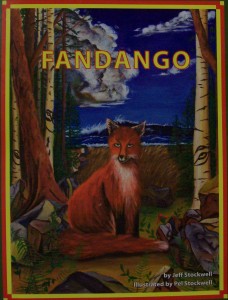 One of the first items noticed in the Fandango treasure hunt book are the different red and blue colored letters in the border of the book's images.  Each of the sixteen pictures (two with full spreads) contained phrases.  Some of the words in the phrases had special red or blue letters.
From each of the pages, a word could be spelled by using these letters.
For example, image one consisted of the following: (Note: the commas are used to denote the sides on which the words are displayed around the border.  They are in the order of left/top/right/bottom.  The commas are not in the border)
SLY CUNNING FOX, FANDANGO, FOLLOWS HIS NOSE, FOR PLEASURE
Although not given in order, the red letters are anagrammed to form the word ISLAND.
The second image consisted of a blue letter (along with red) in the border:
SCEPTRE IN HAND, DEEP DOWN, I RULE THE SEA, A MYSTERY
The blue P was used to help form the word NEPTUNE.
However, it was noticed the Blue letters held a message all of their own.  Taking just the Blue letters from all the frames, the phrase PACE FORTY SOUTH, is revealed.
For reference, the rest of the phrases with red/blue letters displayed are as follows:
Image 1 and 2 (above)
Image 3: A MEASURE OF GOLD, HIDDEN AWAY, A GIFT FOR THE WIND, A KEEPSAKE
Image 4: ACROSS A MARSH, CRISS CROSS, NO QUICK ESCAPE, DOUBLE BACK
Image 5: THE LAST IN LINE, ONE OF FOUR, TRADITION CARRIES, ALL IN A NAME
Image 6: AN EYE REFLECTS FOREVER HELD COUNT TO THREE NOW SMILE
Image 7: RAISE THE WIND, NORTH WEST, WHISTLE A TUNE, SOUTH EAST
Image 8: WE CAST OUR SPELL, DUSK TO DAWN, FOLLOW THE LIGHT, A MOON SHADOW
Image 9: CIRCLE THE GLOBE, OPEN THE DOOR, CHASE A DREAM, STEP INSIDE
Image 10: WIND FUELS FIRE, SMOKE SIGNALS, RISE IN A QUEST, SPIRITS SPEAK
Image 11 (double page):LOST IN TIME,  RED FOX LEAPS FLAMES, A NIGHTMARE, ALL EYES IN THE FIRE
Image 12: A FEAST OF WORDS, AND PIE, PASS THE TIME, TEA FOR TWO
Image 13 (double page): TOUR WITH ME, TO THE HIGHEST POINT, AND SEE THE SEA, YAKITY-YAK CADILLAC MACK
Image 14: ROUND AND ROUND, TOPSY TURVY, CATCH A BREEZE, UPSIDE DOWN   (this is written upside down)
Image 15: A FALLING SKY, A TURNING TIDE, AT JOURNEY END, A TAIL TO TELL
Image 16: A TREASURE LOST, TWO TOGETHER, A TREASURE FOUND, FOREVER HELD
The anagrammed words in the images:  (with blue marked)
1-ISLAND
2-NEPTUNE
3-KEY
4-CHANCE
5-ECHO
6-REFLECTION
7-NORTH
8-DREAMS
9-MAP
10-FIRE
11-DESTINY
12-WISDOM
13-MOUNTAIN
14-HARBOR
15-FUTURE
16-LOVE
As mentioned, the blue give, "PACE FORTY SOUTH".
Follow MW on Social Media: