The Mysterious Unsolved Code of Kryptos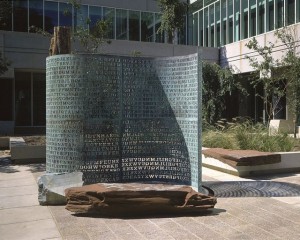 Standing in the main courtyard of the Central Intelligence Agency headquarters in Langley, Virginia, is an impressive encrypted sculpture called Kryptos.  Greek for the word hidden, Kryptos features a large S shaped copper plate streaming out from a piece of petrified wood.  The grand structure was designed by Jim Sanborn and holds what is considered one of the most famous unsolved codes in America.  It was dedicated on November 3rd, 1990, and since then, has patiently waited for someone to reveal its entire meaning.
In 1988, Jim Sanborn's design was chosen by the agency for the piece of artwork which would enhance the grounds of the new CIA headquarters that was being built at the time.  Surprising to Sanborn, his masterful sculpture proved harder to decipher than he expected. He initially thought the secret codes he had created would be cracked within a few months after being unveiled.  It actually took nine years before Kryptos gave some of its secrets away; leaving parts of Kryptos yet to be solved. The almost 2000 letters engraved on the prominently displayed piece continues to elude all who try to decipher their ultimate function.
It is believed Kryptos is sectioned into four parts with each to be separately decoded for a phrase.  Three of the sections have been deciphered, but the last section consisting of 97 letters still conceals its message.  The first two phrases required the use of the Vigenere cipher.  This technique is a poly-alphabetic substitution, and on half of the Kryptos structure, Sanborn had included alphabetic rows hinting at its use.
Keywords were used along with the Vigenere cipher table in order to decode the top two sections.  The first section's keywords were kryptos and palimpsest.  Applying these revealed a phrase of 'BETWEEN SUBTLE SHADING AND THE ABSENCE OF LIGHT LIES THE NUANCE OF IQLUSION'.  The wrong spelling of illusion is confirmed by Sanborn to be intentional, but for reasons yet to be determined.
The second phrase employs the same method of decipherment but with the use of a different second keyword, abscissa.  Consisting of another intentional misspelled word (undergruund) this message is as follows; "IT WAS TOTALLY INVISIBLE HOWS THAT POSSIBLE? THEY USED THE EARTHS MAGNETIC FIELD X THE INFORMATION WAS GATHERED AND TRANSMITTED UNDERGRUUND TO AN UNKNOWN LOCATION X DOES LANGLEY KNOW ABOUT THIS? THEY SHOULD ITS BURIED OUT THERE SOMEWHERE X WHO KNOWS THE EXACT LOCATION? ONLY WW THIS WAS HIS LAST MESSAGE X THIRTY EIGHT DEGREES FIFTY SEVEN MINUTES SIX POINT FIVE SECONDS NORTH SEVENTY SEVEN DEGREES EIGHT MINUTES FORTY FOUR SECONDS WEST X LAYER TWO"
The third section decoded to a phrase similar to the words found from Howard Carter's opening of King Tut's tomb in 1922.  Another misspelled word, Desparatly, is found.  The method for the third's deciphering was different than the first two.  This section required the use of a transposition cipher which is the re-arrangement or the rotation of letters already found on the copperplate.  Because this section was found easier to solve than the other two, speculation exists it was intended to be solved first; possibly providing clues for the keywords.
The meaning of the final 97 letters found on Kryptos, are yet to be solved.  Many have tried to uncover the phrase they hide.  Commonly referred to as K4, the last section is the focus of much attention.  Various groups have been formed comprising of individuals working together towards a solution.  These groups are made up of people with an array of different backgrounds; from mathematicians to linguists to hobbyists.
The challenge to unravel answers which have long been hidden offers a wonderful mental exercise.  For those who love puzzles, the allure of solving K4 is an exciting prospect.  The answer is 'out there somewhere' to be found.  In a letter written by Sanborn in 1989, informing employees at the agency of his vision for Kryptos, he wrote, "Its placement in a geologic context reinforces the text's 'hiddenness' as if it were a fossil or an image frozen in time."
It would seem Sanborn's intention for Kryptos has been realized. Like a fossil, Kryptos has left its mark on those who continue to ponder its meaning.  The mysterious sculpture fascinates those who seek a solution.  However, it has been hinted at by Sanborn that those who unbury K4's secrets may realize yet another layer is to be discovered. Could it be possible Sanborn's image will not only be frozen in time but its answer will be lost to time?
Please feel free to Friend/Follow me on Facebook for continuing quests towards the mysterious and treasure.
Sources:
Letter to the Cia from Sanborn, Kyptosfan wordpress, reviewed Oct 2013
Dunin, Elonka, The Mammoth Book of Secret Codes and Cryptograms, Carroll & Graf Publishers, 2006
Follow MW on Social Media: