The Cross-Fire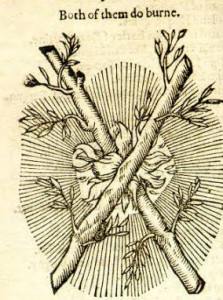 The symbol of the cross is known to have ancient origins and various meanings throughout time.  It is one of the most widely known images.  But, what does the cross mean to you?  What does it mean to others?  Why does a simple depiction of two lines, one vertical and one horizontal, seem to attract continued reverence?  In wondering these questions, I was especially intrigued by an image in a book I recently read.
From a recommendation, made here in the comment section by Nate Beck, I read The Cutting Edge Lodged in the Groves by Dennis Palmu (Palmu Publications, 2006).   In the book, Palmu relates St. Andrew's cross (X) to an image found in the The Heroicall Devices of M. Claudius Paradin (1591).  This portrayal of a cross, listed in Paradin's devices, is provided on the left.  What caught my interest was the inclusion of fire at the intersection of the two branches.
In a previous article, The Remarkable Purpose of the Lightening Flash, it is mentioned how the lightening flash, causing fires, was seen as an act of the Divine.  The fire (although destructive) purified that which it touched or passed through.  This is turn issued new life.  I couldn't help but think of the rose often depicted at the center of the cross.
The cross is often recognized as the uniting of opposites.  The vertical and the horizontal bars are joined together to form the sacred shape.  This may symbolize the uniting of man with the Divine, the man with the woman, or the microcosm with the macrocosm.  Like the image shows, two opposites brought together can produce fire.  And ultimately, life.
The Rosicrucian Order uses the symbol of a cross with a white rose placed at the intersection.  According to some the cross represents man (united with God?), and the rose as the unfolding consciousness.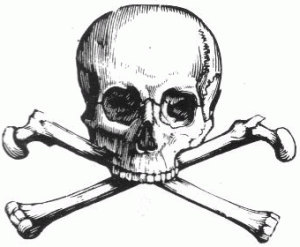 However intrigued I was about the cross and fire, I must say I was also fascinated by the description accompanying this particular cross.  It includes, "Man are in the opinion also, that the bones of a Lion do the same."(Both do burn)  Cross Bones?  Could then the image of Skull placed on cross bones symbolize this fiery union initializing new life?  Is this one of the reasons why the symbol is believed to be important to Freemasonry and the Knight's Templar?
Obviously, I need to do more research.  Where these few questions lead, I find exciting.  Any who want to join me on this journey, please feel free to contact me.  To return to the initial question, though, what does the cross symbolize?  I believe it can mean many things, but for me, it is life.
Follow MW on Social Media: