The Bossall Treasure Hunt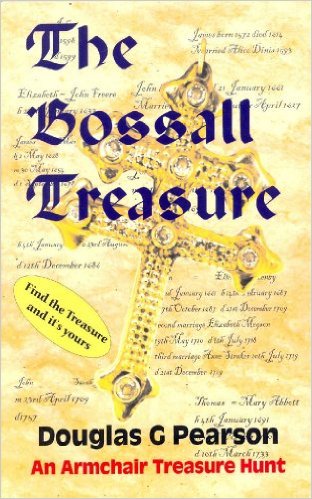 Exploring and learning history, with an opportunity to find a golden treasure, sounds like a lot of fun and the perfect adventure!  And this is just what The Bossall Treasure hunt offers!  In 2014, Douglas Pearson published the armchair treasure hunt book entitled, 'The Bossall Treasure'.  It includes clues to a hidden Golden Lorraine Cross that remains yet to be claimed to this day.
Pearson's inspiration for creating such a treasure hunt came after researching his family history and discovering his nine times Great Grandfather was involved with a staggering tale concerning a real lost treasure of the 1600's.  The book includes the Author's thoughts about this actual treasure story of Bossall Hall, but also provides the reader with clues to discover the location of a treasure he hid himself for anyone to find.
How cool is this? Totally, I think.
Thrilled by the historical connections with his family history, Pearson weaved a tale based around actual places and people.  It is a mystery involving power, murder, secrets, and much more.   A reader will be taken on an exciting journey where they will encounter history regarding the Knights Templar, Freemasonry, and other intriguing subjects.
Within the introduction to the book are instructions on how to go about solving the amazing hunt. There are eleven chapters and illustrations. From both text and images, a clue is to be realized in each chapter.  Together, the eleven clues, will supply the Searcher with a solution for where the secreted Lorraine Cross waits to be found!
Although the valuable Lorraine Cross of gold is hidden in the UK, no matter where you are located, it can be claimed.  Simply email your solution to the address provided within the book, and if correct, the treasure can be arranged to be given to you.
The book is available for purchase on Amazon for $4.99 (usa): The Bossall Treasure: An Armchair Treasure Hunt
Best of luck with whatever you seek!
Follow MW on Social Media: