Six Questions Yet Again with Forrest Fenn: Always a Treasure!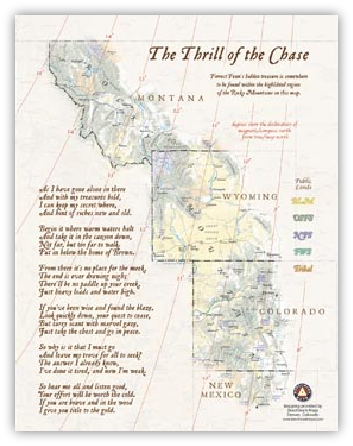 The treasure of Forrest Fenn goes far beyond his hiding a chest of gold, somewhere in the Rocky Mountains, for anyone to find.  Even though this excellent dare offers the challenging opportunity for a discovery of over a million dollar treasure (by the solving of his poem found within his memoir entitled The Thrill of the Chase), other valuable treasures can be easily gained through his sharing of stories, memories, thoughts, and life.
This is the third year I have been so blessed with his participation in Six Questions.  They are always a thrill, and treasure, to do.  You never know what to expect with Forrest for he is a total original.  He continues to provide inspiration and encouragement for not only the finding of his bronze chest, but also for the pursuance of adventurous living.  Enjoy!
1Q) Enthusiasm towards finding your treasure continues to remain strong.  So many people are enjoying the wonderful opportunity you have given them for such a bold adventure. Considering the many years the hunt has been going on, and from your perspective and interaction with searchers, do you feel searchers are becoming closer to solving the clues to the treasure, or further away? Do you feel over time, some searchers have forgotten beginning basics or thoughts they once had, and might benefit going back to them?
There's a lot brain power being expended on the blogs by some pretty bright people Jenny, and it seems they are having fun. But the great preponderance of searchers don't comment publically. Very few tell me exactly where they are looking so I don't know how close they are to the treasure. I've said searchers should go back to the poem so many times that I don't want to say it again here.
.
2Q) You have written quite a few books on varying subjects; and if you consider and combine the numerous 'Scrapbooks, Vignettes, Speed Bumps', etc on Dal's site, and the stories/answers to questions here on Mysterious Writings, you could say you have even written another book!; maybe call it; 'Short Snippets from Forrest Fenn'. What do you enjoy most about writing these?  I know we all love them lots!
In those stories I'm just looking back and talking to myself most of the time. It's fun to be reminded of details I had almost forgotten. Hopefully, readers 500 years from now will find my tales entertaining.
.
3Q)  In your memoir, The Thrill of the Chase, after the poem, you mention there are subtle clues sprinkled throughout that book.  You have said you hadn't deliberately placed these subtle hints in your book; but have you done so in any of your other writings mentioned in Question two (scrapbooks, vignettes, etc)?  Or, even if maybe not purposely sprinkled in those writings of Q2, would you consider some of those to contain subtle hints too, like in The Thrill of the Chase?
I don't want to broaden the clues and hints I've written about by pointing them out. What surprises me a little is that nobody to my uncertain knowledge has analyzed one important possibility related to the winning solve.
.
4Q)  Family, friends, memories, etc. are of course some of the greatest treasures; The Thrill of the Chase has given a larger awareness of this to searchers. Thank you.  But has The Thrill of the Chase given this to you as well?  How has the Chase affected you over these years?
I wrote that book when I was full of wishful thinkings. I wanted to get people interested, energized, and outside. That has happened in such a way that now I live my life vicariously through what I have motivated them to do.
.
5Q) If you (with Peggy) had another 100 years to live (knew it and felt like it), what are some things you would definitely like to do that you feel time isn't allowing you to do now?
Great question Jenny, but I don't know how to respond perceptively or measure the results of my life accurately. During times when I was focused, thinking, and working long hours, I thought that was the only way. Now my wife and I are contented in our singular space where tranquility is important. Maybe it's just an age thing. I could make an argument to the contrary also.
.
6Q) Since hiding your treasure chest, your life has certainly gone through change. Do you ever consider sliding into the background of the hunt and saying nothing? And would you rather be remembered for giving a treasure away now or remembered to have hidden a treasure for all to continuously seek and enjoy in the Chase?
It might be better for me to move father away from the story Jenny, but I have never been a successful bystander. What searchers say and think is interesting to me. No one is giving the treasure away. Whoever finds it will have paid their dues and earned the prize. When that happens is incidental, and it is of no consequence that I be remembered. But it is important that the mystery and intrigue of the story continues to excite families and motivate them to get out into the mountains. That has always been my goal.
.
Always a special treat with you, Forrest!  Thanks so much for another great Six Questions.  I am (and I'm sure so many others are) so grateful and truly appreciate your generosity and interaction with us all. You help keep the fire of the Thrill of the Chase a full blaze in our hearts.  It's an incredible feeling.
Although it has been years since I was first captured by your clever quest, I will never tire of it; or your answers!  In my opinion they are as precious as the gold in the chest!  Thanks for all you do Forrest! And even if the chest is found tomorrow may the Thrill of the Chase continue in our hearts always! 
.
Other Six Questions with Forrest:
Six Questions with Forrest Fenn: Author of The Thrill of the Chase  (first posted Feb 4th 2013)
Six Questions More with Forrest Fenn    (first posted Feb 4th 2014)
Six Questions with Forrest Fenn: Over Five Years of The Thrill of the Chase (posted Feb. 4th, 2016)
Other Questions with Forrest:
Featured Questions with Forrest
Questions with Forrest (page 1)
Questions with Forrest (page 2)
Follow MW on Social Media: