Six Questions More with Forrest Fenn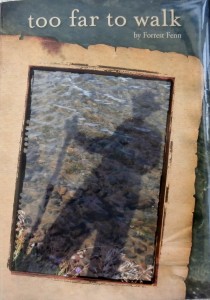 Forrest Fenn continues to challenge all those who seek adventure and excitement to a dare of a lifetime; the discovery of his million dollar treasure chest filled with gold and other valuable jewels.  Somewhere in the Rocky Mountains, north of where he lives in Santa Fe, New Mexico, Forrest's secreted location of this fantastic cache waits to be found.
Since the release of The Thrill of the Chase in the fall of 2010, people from all over the world have accepted his generous challenge and understand 'if they can find it, they can keep it!'  A decorative map of the search area is included in Fenn's most recent book, Too Far to Walk.  And although it doesn't contain an exact X marking the spot of the bronze chest, I believe the quote at the beginning of the book conveys a bonus of what many are realizing by searching for it:
"Oh, tell me wise sir, Where are the treasures?  And the wise man replied, "Wherever you find them."
Time is one of the most precious treasures any one has, and I thank Forrest for his giving of this to answer the following Six Questions for us.  I hope you enjoy!
1Q) My previous 6 questions were asked shortly before last year's February 27th segment of the Today Show. Reporting on your extraordinary treasure hunt, it resulted in an explosion of new seekers from all across the world. What are some of your thoughts about the flurry of activity over the past year?  Did the excitement towards the Chase surprise you in any way? Does it make you think the chest might be found earlier than first thought?
It is interesting to know that a great number of people are out there searching. Many are giving serious thought to the clues in my poem, but only a few are in tight focus with a word that is key. The treasure may be discovered sooner than I anticipated.
2Q) Many incredible, loving, adventurous, and fun stories are being lived and shared because of The Thrill of the Chase. Even though these hopes were in your mind when writing the book and poem, what are you finding most rewarding about them?
One man said he and his brother dug for buried treasures when they were kids in North Carolina but had not spoken in 25 years. He said he read my book and called his brother. Now they are reunited and searching for my treasure. Children have the greatest imagination because their thoughts run free.
3Q) From the first chapter, Toys are Forever, to the last, Mirror on My Wall, your most recent published book, Too Far to Walk, like The Thrill of the Chase, recounts touching stories about your life; tales that as Douglas Preston commented contain 'million dollar advice and stories on how to lead a fulfilling life.'  Every time I read them, I get this sense of urgency or reminder to 'ring the bell loudly'(thank-you).  Why was it important for you to write about your experiences and thoughts?  And would you encourage others to write about their own?
After my Thrill of the Chase book was published my Too Far to Walk book begged to be written. It was easy because I just told some stories and illustrated them with photos from my scrap books. I would encourage everyone to write their memoir. The hardest part is sitting down and getting started.
4Q) I feel each person finds himself drawn to a different place; for me it is the beach.  I love the warmth of the sun mixed with a cooling breeze and the humbling feeling I get while looking endlessly out into the ocean and listening to the waves. You mention in The Thrill of the Chase it is the mountains which continue to beckon you, and that they always will.  What is it about the mountains that make them so special for you?  And when did you first realize it?
The mountains are full of activity that fills me with wonder.  One of my earliest recollections as a boy was to turn over a rotting log in the forest and watch as a hundred little critters scurried around trying to decide what to do. It's nature in its rawest moment. I find solace in the solitude of the trees.
5Q) The meticulous work documented and described in your book, The Secrets of San Lazaro Pueblo, certainly express an appreciation and respect for the past.  You mention, "Each artifact that is not recovered is a book that will not be read."  What do you hope to yet learn or find there? And while discovering the past, do you feel our modern ways are missing out on earlier enjoyments?
Archaeologists today don't like to excavate. Their motto is: "Save the Past for the Future." I think that's short sighted. For me the future is five minutes from now. We unearthed the only pre-historic kachina dance masks ever found in the Southwest. Archaeologists said they didn't exist in prehistoric times. So we corrected some misinformation. The past should not have to wait for us any longer.
6Q) With Spring around the corner, the planning and search for your treasure will actively pick up again.  I want to thank-you for sharing some of your favorite quotes during this cooler period of the hunt. I, and many others, have enjoyed them.  In many of your books, interviews, etc., you so often share beautiful words filled with timeless wisdom. Would you be willing to share a few more that hold special insights or thoughts you hold close?
It is fun to arrange words in such a way that you have to smile at the end of a sentence.
Autobiographers always lean toward the subject.
It is important that I drink a martini at least once a year so I can continue to remember why I don't like them.
All that I could remember was that I was not supposed to forget something.
He was so busy talking he didn't hear what I was saying.
As with the previous six questions, your answers are as beautiful as before. They share a peaceful and subtle wisdom of which is fortune in itself.  And I thank you again for the thrill of the chase.  I believe there has been an awakening of hearts wanting to take part in a legendary quest, and your book is the extraordinary gift which has given it to us all.
Other Six Questions:
Six Questions with Forrest Fenn (posted Feb. 4th, 2013)
Six Questions Yet Again with Forrest Fenn (posted Feb. 4th, 2015)
Six Questions with Forrest Fenn: Over Five Years of The Thrill of the Chase (posted Feb. 4th, 2016)
Forrest Fenn's books:  The Thrill of the Chase and Too Far to Walk
Follow MW on Social Media: