Roping a Buffalo: Featured Question with Forrest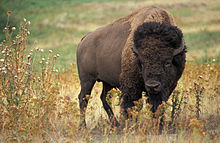 Mr. Fenn,
In searching near Yellowstone, and witnessing the strength of Buffalo, how the hell didn't you, your brother, and Donny get yourself killed doing things like roping a Buffalo? What are some other stupid things you have done? ~ Jeff
.
I would hope my life has not been spent looking for a trail of safe passage Jeff, and things are mostly stupid only if they don't work. We didn't see the buffalo incident as being dangerous from his point of view, but we could have been maimed pretty good in the car wreck.
The buffalo has few natural enemies and are not known to attack anything that is not in its close proximity. Maybe the angels look fondly on those who seek playful adventures. The worse part of that episode was walking seven miles barefooted.
I have made some rules for myself as a result of doing some pretty stupid things. Number 26 was, "If you don't know where to search, any trail will take you there."  By nature, I am not the type who wears a belt and suspenders both. Hope that answers your question.f
Follow MW on Social Media: