Results to the Question "Do you Think Forrest Fenn Wants the Treasure Found in his Lifetime?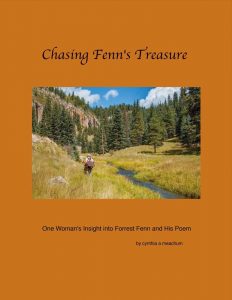 First a huge Congrats to Sandy B., who is the Winner of December's MW GiveAway.  She will be receiving a FREE copy of Cynthia Meachum's new book, Chasing Fenn's Treasure.
I also want to say Thank You! to all who participated in the MW GiveAway for the book Chasing Fenn's Treasure.  As I've mentioned, and so have many others who have since ordered, Cynthia's book is an absolutely incredible account of not only her search for Forrest's treasure in New Mexico, but also of the hunt and how to appreciate the extraordinary challenge Forrest has given us all.
Each month MW hosts a GiveAway on this site. Next month's GiveAway will be announced on January 1st.  To be sure not to miss it, sign up for the MW Newsletter here (if you haven't already): Sign me up!
One of the ways for entry for this last GiveAway was to answer the question:
"Do you think Forrest Fenn wants the treasure found in his lifetime?"
There were the following 3 options to give as an answer:
No
Yes
He doesn't care if it is or not
The results are in!  It was a close race between two of the answers!  Those two being YES and He doesn't care if it is or not.
Below is how it played out:
15% of you said NO.  You do not think Forrest wants the treasure found in his lifetime.
The other 85% were split between saying YES, (Forrest does want the treasure found in his lifetime), and He doesn't care if it is or not.
The 'He doesn't care if it is or not' answer won out, though, with 43%!   YES had 42%.
It's interesting because when Forrest is asked about the treasure he usually does say something to the affect he doesn't care or that it is out of his hands now and what happens will happen.
I think his feeling towards the treasure being found has stayed consistent to an answer he gave to one of my first questions ever asked to him.  It was in my first Six Questions with Forrest Fenn back in 2013!
Here it is:
4Q)  I think I read (but, correct me if I am mistaken), that although you would love the treasure to be found, the discovery of the chest would end the exciting mystery and adventure for those actively seeking, and this would be missed by you.   Would you rather the treasure stay hidden for many more years, or are you in hopes that the chest will be found soon?
I am ambivalent about the treasure being found. When it is discovered I hope it is by some deserving person who is emotionally involved and has been rewarded by the other mountain thrills that come with the chase. If it is not found for several hundred years that would be fine with me.
One thing is certain, when a person discovers that beautiful bronze chest and opens it for the first time and sees the bracelet with hundreds of rubies, emeralds, sapphires and diamonds, and the 265 gold coins and hundreds of placer nuggets, he will be in awe. It is easy for me to predict the expression on their face.
Best of luck to all that you seek!  Treasure the Adventure!
Follow MW on Social Media: