Mystery Oreo Challenge: Can you Guess the Mystery Filling and Win $50,000?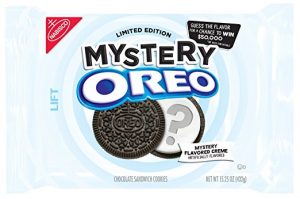 Oreo has launched a Mystery Oreo Challenge! What fun! Guess the flavor of the Mystery Oreo's creme filling correctly to enter your chance to win a Grand Prize of $50,000 dollars. There will also be five $10,000 first prize winners.
To enter your chance to win one of the cash prizes, all you have to do is Guess the Flavor of the creme filling inside the Mystery Oreo's package and either submit this answer on the form on Oreomystery.com or Text 'Mystery' to 59526 and follow instructions from there.
The website form looks like the one below: It asks for name, email, and what you think the mystery flavor is.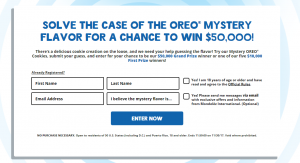 After submitting the initial form, you then have the opportunity to submit some bonus entries. Bonus entries require uploading a receipt showing your purchase of a package of Mystery Oreo's and/or uploading a photo of you with a Mystery Oreo's cookie package.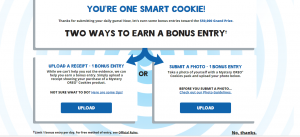 Mahlon and I tried the Mystery Oreos. The mystery flavor seems a little fruity. For those not familiar with Oreo's, they have come out with numerous creme filling flavors in the past. Flavors like; Apple Pie, Pumpkin Spice, Peanut Butter, Key Lime, Birthday Cake, Waffles and Syrup, and many more
The flavors have also included promoting other brands too; like Swedish Fish or Dunkin Donuts. So other brand like flavors cannot be ruled out as the Mystery Flavor.
For myself, the Mystery Oreo filling tastes more like Fruity Pebbles. This is the Post Brand Cereal featuring the Flintstones. Mahlon thinks maybe Fruit Loops which is a Kellogg's fruit flavored cereal.
In the video below, we tasted them against the cereals.
Hmmm….. yes, I still taste Fruity Pebbles. And Mahlon can still tastes Fruity Loops.
Well that didn't help! 😊
So I guess I'll enter Fruity Pebbles, and he can go for Fruit Loops.
What do you think the Mystery Oreo's taste like?
Entries can be given until November 30th, 2017. Drawings from correct entries will be made after that. Winners to be announced around December 11th, 2017.
Best of luck to you all!
Follow MW on Social Media: