Forrest Fenn's Poem Line: As I Have Gone Alone in There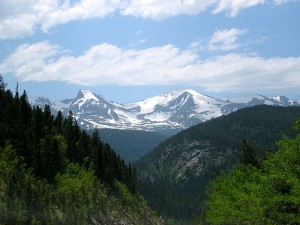 I have been thinking about the first stanza of Forrest Fenn's treasure hunt poem.  (Actually I have been thinking about the whole poem, but the following is mostly about the first stanza.)
"As I have gone alone in there
And with my treasures bold,
I can keep my secret where,
And hint of riches new and old."
I should add something here, before I go on.  I like to put as many pieces of the puzzle on the table and then choose the ones which follow a line of thought I am currently working on.  So different ideas I share may contradict each other.
From working on other treasure hunts, one of the biggest traps I have seen treasure hunters do (and myself), is to become attached to a 'gut feeling' or 'pet theory.'  Many times this causes the 'forcing' of a solution; and these are the wrong type.
I have personally found my best attack against this is to always keep thinking of alternate options and keep my mind open to all REASONABLE possibilities.  Because the poem is interpretational, and numerous interpretations can be made, until the chest is found, any one may be correct.  I don't mind having lots of choices.  The wider the selection allows for the greater of odds the right ones are included.
The following would seem to contradict what I wrote in 'Put in below the home of Brown'; about the chest being hidden in a stream.  However, I still love the idea of the end of Forrest's rainbow being related to the end of the arc of a fishing rod, as described in the book Flywater.  I also still like it for the other reasons I mentioned.
But the above does not keep me from considering the meaning for 'As I have gone alone in there' to be a cave and looking for support for this.  It has been shared by a puzzler on Tweleve (username Domino) that on page 57 of Forrest Fenn's treasure book, the word CAVE can be seen.  Whether or not this is intentional or just coincidental lines, I can't decide.  What do you think?  Purposely drawn or coincidental CAVE word lines?  If it is offered as a 'clue' for the treasure hidden in a secret cave, and since the image shows it 'near a road', could this be how Forrest knows searchers have been within 500 ft of the treasure because he knows they travelled that road?
It is also clear from reading 'these linked posts' that Forrest discovered and searched in many 'secret' caves.  The line in the post I am referring to says, "that he would 'find these things (ruins) from the air, and then on the weekends we'd go in there…I had an old Army jeep….We found so many caves that evidently nobody had been in since the Indians had been there….Clear Creek…Beaver Creek."
Although these places are not 'in the mountains north of Santa Fe', it does show Forrest would know about exploring caves…and evidently has a knack for finding them.
It is possible the first stanza of the poem is talking about the final place of the treasure chest.  'He went alone in there (the cave) with his treasure chest.'
The next lines of Forrest's poem are especially interesting.  'I can keep my secret where, and hint of riches new and old.'
If a cave, it certainly could be a secret place of Forrest's of which he found a treasure of his own (old treasure) and later hid his chest (new treasure) in.  He can keep this 'secret place' and now offer the following hints/poem to both 'riches of new and old'.  What is interesting is the use of the word 'where'.  The line makes perfect sense if Forrest is using 'where' as a noun; the secret place 'Where'; where he found treasure, hid treasure, and only he knows about.
The cave idea is also very enticing because when Forrest thought he was going to die, he was going to take the treasure and have his bones be found beside it.  It is not confirmed whether or not this place, and where the treasure is hidden, is the same spot. But if it is, then a cave seems like an ideal location for such circumstance.
(Update:  It is confirmed the places are the same from the following Q/A – Archived Question page :
Question posted 6/14/2014:
"Are you willing to say whether the place of the treasure chest is the same as the one where you had previously plotted to have your bones rest forever?"~anonymous
Dear Anon,
I feel somewhat disadvantaged since you chose to not identify yourself but I will answer your question anyway.
Yes it is. f)
And just as I think, 'yes, it is hidden in a cave'; I remember other possible interpretations pointing to other locations.  He could have gone alone in a 'canyon' and his secret place could be some 'where' he found a treasure there; like a small beginning source stream just coming out of the earth.
I am reminded of the quote Forrest mentioned in Six Questions by T.S. Eliot:
"We shall not cease from all our exploration
And at the end of all our exploring
Will be to arrive where we started
And know the place for the first time."
Proverbs 4:23 says, "Above all else guard your heart, for it is the wellspring of life." (a source stream).  I love the thought of 'a source stream/a wellspring', representing the heart, to be where a treasure is found.  Only after exploring, can we know our own hearts.
Maybe it is in a stream…in a cave….lol….like Romancing the Stone's treasure….oh…I would love it!
Best of luck to all…
Follow MW on Social Media: