Finding Treasure
This past July 4th, my family and I found treasure!  We have Historical Hunt to thank for such a great and fun experience.  Historical Hunt offers hunts (both land (during summer months) and internet (during winter)) which encourage seekers to learn and discover history.
Beginning in 2012, they sponsored 8 land hunts in the states of Connecticut, Rhode Island, and Massachusetts.  These took explorers to a variety of fascinating and historical locations. Places like where the only 4 train accident in US history happened or a spot known as the Ten Curves of the old New London Turnpike.
The land hunts we participated in were the first two of the ten 2013 land hunts that Historical Hunt plans to provide.  The clues to the other eight locations of treasures will be released throughout the summer.  Registration is free to all who want to enter (and agree to follow the rules), so be sure to check out Historical Hunt's site for these future chances to find treasure; especially if you live or will be travelling to the New England states.
Originally for the 4th, we were going to head about 4 hours West from where we live in Pa. to search for a different treasure of a different hunt.  However, the night before, on the 3rd, Historical Hunt released another clue to a location of a hidden 'milling'.  This clue was to their second 2013 land hunt that was in Connecticut.  The first had been given a couple weeks earlier. Solving both, we decided to take off to the East 4 hours, instead. We figured we could check out our western place another time.
What we found were two special Historical Hunt 'millings'.  These are stones with codes etched on the underside.  After finding one, the codes are entered on Historical Hunt's website to close the hunt and redeem for the 'treasure'.
The first stop for treasure took us to a park just to the east of Hartford.  In this park, we hiked down a small hill through the woods to an old mill foundation.  The ruins were charming and from the pictured clue of where the 'milling' was hidden, we recognized the place immediately.  The stone was right where it should be.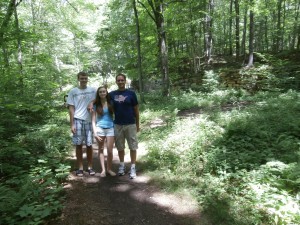 However,…..I am not fond of spiders.  Matter of fact, I hate them.  I relate to the comic showing an image of a large creepy orange-spotted spider resting on a red button which says, "Press in case of emergency!"  The caption underneath states, 'Sorry, but we are all just going to have to die!'
The foundation, and milling, was home for many spiders.  Webs were stretched across, and so in this case, the thought crossed my mind, 'Sorry, but we are all just going to have to leave the stone!'  Fortunately, two of my kids and my husband were there to pick up the stone.  After turning it over and seeing the spider free code, we all gave high fives.
Our next stop was Natchaug State Forest and the birthplace of Nathaniel Lyon. He was the first Union General killed in the Civil War on August 10, 1861.  The remnants of an old chimney were all that remained of this hilltop homestead. The treasure was in a beautiful setting.  A hand water pump, in working order, and stone fences were also part of the historic area.  We found this milling neatly placed among one of the stone hedges.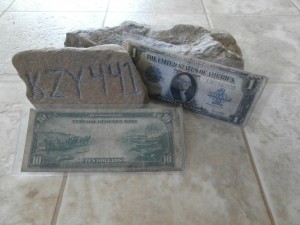 The treasures from finding these two millings were a 1914 ten dollar large note for the 'City's Mill' land hunt, and a 1923 one dollar large note for the 'Lyon's Den' hunt.  After completing the process to redeem them, we received the bills in the mail within just a few short days.  They now sit with the coded stones on a shelf in our house.
It was an exciting time. Even though we thought we might not find the millings, (because someone else might have gotten there first), the time spent with family and getting out exploring these new places would be treasure in itself.  I have to say, the places we visited in finding Historical Hunt's treasures were some we probably wouldn't have ever gone to.  They are off the beaten path.  But, they are unique locations and we enjoyed learning about and seeing them.
Thanks Historical Hunt!
Please feel free to follow/friend me on Facebook as I continue to share other treasure hunt stories and ideas.
Follow MW on Social Media: