Find Valuable Silver Coins in Coinstar Machine Return Trays
I had recently read about looking for old coins in the reject or return trays of a Coinstar.  Coinstars are the machines which automatically count coins for you (for a price), and the people using them often forget to check the trays, so the money is considered abandoned or lost.
I thought to myself the next time I have the chance to look in one I would certainly do so.  Call it beginner's luck or whatever, but I found coins the first time I did over this last weekend!  It was awesome.
I found a few foreign coins, a token, a state quarter, a penny, and a 1927 Wheat Penny.  I was so thrilled. And I know I am now hooked, as I know I won't be able to walk by any Coinstar without having a peek.
Although often times the trays will contain Silver Coins, because they don't match the machines' weight requirements, I didn't find any of those.  What to look at if you find a quarter, dime, or half dollar in the tray is the date.  If the quarter or dime is dated 1964 or before, it's worth more than face value because those coins contain 90% silver.
Half dollars before 1970 are worth more as well because of silver content.  Coins after 1964, but before 1970 are 40% silver. (1964 and before, 90% silver like the dimes and quarters).
I also found some foreign coins.  These too are often found in the returns of a Coinstar because they aren't recognized.  My finds were a Canadian Dime and Quarter, a ten cent piece from the Commonwealth of the Bahamas, and a 25 cent piece of the Caribbean states (has Elizabeth the second on front).  So Cool!
The oldest coin I found was the 1927 wheat penny.   And I did find a token for a local arcade (out of business now).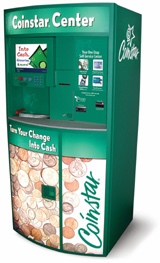 So sure, not a valuable find in relation to monetary value, but those that know me, know I feel like I hit the jackpot with my first check of a Coinstar!  And I do.  Lol.
I love to find anything!  And I think I have a new collection started.  Foreign coins. (I already collect American coins).  But all coins illustrate history and feature highlights from its country; and these new finds inspire me to expand out and add other country's coins to my collection to appreciate and learn about them.
So the next time you pass by a Coinstar Machine, just take a look in the return tray!  I wish you luck!
If you find something, please let us know!  Exciting!
Follow MW on Social Media: