Experiencing Seventeen Dollars a Square Inch by Forrest Fenn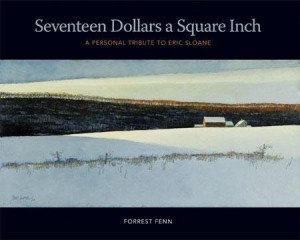 On the inside dust jacket of Seventeen Dollars a Square Inch by Forrest Fenn reads, "This book is not a biography of Eric Sloane; rather, it is almost a recorded conversation between two friends who shared a common interest and the love of simple things and simpler times."
And as the book is not so much a biography, this article is not so much a review; rather it is an account of what I sensed by appreciating each page.  There is a subtle and powerful undercurrent to feel. It is more than mere ink sprawled across the pages.  I also realized it was this same depth that I had been experiencing and feeling in many of Forrest's writings. And still do.
Throughout the book, Forrest warmly writes about his special friendship with Eric Sloane.  The numerous and exceptional works by Sloane, that fill many of the pages, makes a reader feel he is perusing a museum of priceless art.  This is a delightful visual stroll. Each image lures the viewer into a timeless world of its own.
But if enticement by this ramble isn't enough to impart a sincere appreciation, the thoughts expressed between these two friends surely are.  I think they bring life into a special focus; one that presents another piece of priceless art.   Painted from words of the book, an immense picture of the quest for awareness can be seen.
This quest for awareness, and the contentment it brings, is what I realized I had been noticing when reading other stories written by Forrest.  I struggled with understanding, why reading say for example, Too Far to Walk, I had such the strong impulse of 'stop wasting time and live life' sentiment.  The reason became obvious to me after reading the following words found in Seventeen Dollars a Square Inch.  The words of:
'How many stories and dreams are in there that we will never know about?'
The above question was asked while Forrest and Eric were chatting about the wonders of life and questioning what hidden, forgotten, but still worthy items were secretly resting inside an old barn Eric had painted.  I thought, 'YES! I want to know that too!'  And I recognized the insides of this old barn were also being related to the heart and minds inside each of us.
'How many stories and dreams are in you that you or others don't even know about?'
By listening in on this precious conversation, the desire to explore was being awakened within me yet more.  Even if I heard only the surface of what was being spoken between these two wise hearts of Forrest and Eric (and I'm not so bold to say I know all that was being expressed), the curious nature of me was stirred.  It's the same feeling I receive reading The Thrill of the Chase, and I believe one of the true purposes for Forrest creating the poem and hunt for the treasure chest.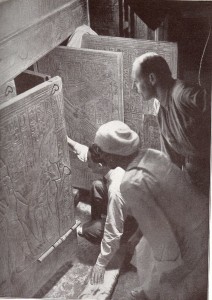 I imagine it something similar to the story of discovering King Tut's Tomb.  For years Carnarvon and Carter searched for lost tombs and treasures of Kings.  Finally, right before giving up dreams of a find, excavations revealed steps to what was hoped to be the historical tomb.
A small hole chiseled out of the top left corner of the doorway allowed a glimpse into what time had left waiting to be remembered.  The moment of discovery is now famous:
"Can you see anything?" Carnarvon asked
"Yes, Wonderful things!"  Carter replied.
Through the breach Carter saw golden relics and a sealed doorway for the unearthing of many more amazing treasures.  I can only imagine the excitement.  But I can also connect this to the awareness that is being stirred in the hearts and minds of all those who have taken a glimpse through their doors by reading The Thrill of the Chase.
How wonderful it is to be able to browse comments here or on Dal's blog, and read about others who are discussing the hunt, and see that dreams and adventures are being lived and enjoyed.  Sure there are the ups and downs, mistakes being made, but one can witness an awareness of life being sought for.  The treasure awaits and beckons us all on.
Worth mentioning here are the following words of Sloane written within the book of topic:
"Present day life presents a poverty of awareness for so much is done for us by science and machinery that we are ceasing to enjoy the awareness of living. In the city we flip a switch and light arrives without the knowledge of its origin; we turn a faucet and water flows without our knowing from whence it came.  We wear clothing without knowing where the material came from………..The joy and satisfaction of doing things for ourselves is almost a lost art. It has been my life's work to bring back awareness for those who have taken life for granted, looking at the sky without seeing it, looking at the land without feeling its mood and enjoying its heritage."  (Sloane also shares some of this belief in his book, 'Once Upon a Time').
I believe regaining this lost awareness is definitely part of The Thrill of the Chase as well.  It is one of the treasures which can be found by everyone, and I feel the hunt is one of the ways Forrest chose to bring back awareness, like his friend Sloane did through his works.
I actually believe it is part of many treasure hunts.  The Maranatha Puzzle author used a similar example to explain the questioning from searchers of; 'Why do I have to search for the 'Key'?  You found it and know it, can't you just tell me what it is?'  Duncan Burden answered this by relating a story of planting, nurturing, and growing potato plants, to then be able to pick, clean, cut, and cook delicious french fries.  It was then asked who savored the french fry more?  The person who was merely given one? or the person who actually took an active role in creating it?
It's obvious discovery for and of one self is a journey worth traveling, encouraged, and of immense value.  I'll keep widening the door to see and become more aware of the world and all treasures around me. I know many will continue to do the same.
I feel the books written by Forrest (and other treasure creators), offer the awakening and the glimpse into what time has left for us to discover and remember.
The authors are there to give the chisel and ask,
'Can you see anything?'
And it is our decision, and only ours, to choose to look and say, 'Yes, wonderful things!'
Thanks to all those who stir the hearts and minds inside these old barns of ours.   Wonderful things are being seen.
And for those of you who aren't so interested in the above and only want to know if there were any possible clues to the treasure chest in the book Seventeen Dollars a Square Inch, Forrest does mention that the color Brown is a neglected and forgotten color.  Perhaps the Home of Brown is some old and forgotten barn or cabin.  And if it is, be sure to pause, and wonder about 'what stories and dreams are lost in there'. 🙂
Follow MW on Social Media: