Best Signs and Symbols Sourcebook by Dan Coyote
Guest Post by Dan Coyote
'The Illustrated Signs and Symbols Sourcebook – An A to Z Compendium of over 1000 Designs'
By Adele Nozedar
HarperCollins Publishers,  IBSN 978-0-00-793143-9,  543 Pages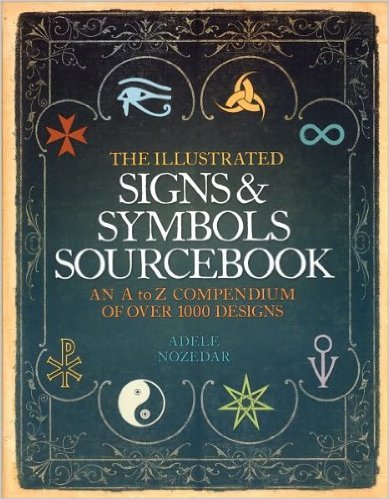 With so many, and I mean SO many books on the market that cover the subject of Symbols and their meanings, this really is the ONLY ONE that I have ever read that could be considered a real and successful 'all-rounder'. That statement could be considered flippant, to the point of almost being meaningless, so please allow me to clarify.
If you have that casual interest in symbols, enough that may make you curious to buy a book on symbols, then this is perfect. Besides covering the obvious expectations of what we may expect for a symbol to be, like a cross, arrow, hourglass, scythe etc., this book also has some little surprises in a rather filling dictionary of symbols, such as finding entries in its alphabetical listing as colors, games, characters and animals to name a few.
Neither are the entries, or definitions limited to basic or brief explanations; in fact the explanations are extremely in depth and goes into realms well beyond those I has seen in other books claiming the same.
Another excellent quality of the book is in its soft approach to address possibly ambiguity and establishing accuracy.  For example, to clarify what a cross is, which although linguistically is just two rods overlapping each other, this books gives not just one, but a variety of images to which they clarify what they are defining, from simple illustrations to photos. So the book has everything and more to give the casual reader, or slightly curious.
Yet, to qualify for that 'all-rounder' status, this book is so complete and clear, it almost makes you feel to say this is the ONLY Sign and Symbol book you would ever need. If you have interest in this field, or symbols are an important part of your research, the depth of this book is perfect. It is only that academic reserve that stops me from saying this is the only book of symbols and signs you would ever need, as you should ALWAYS double check a viewpoint when doing research and not just use one source book to investigate your information. But if you needed a primary source book, then without doubt, this is the book for you.
The Book opens with a lengthy 'Introduction to Secret and Sacred Signs and Symbols' raising valuable points on the very subject. This is followed by an extremely extensive illustrated dictionary of symbols. If the book stopped there, it would still be worth a place on your bookshelf, but this is just a fragment of the publication, as after this are another eight sections each focused on specific fields; 'A World of Hidden Secrets (Symbols in the Elements, the Landscape and the Natural World), Fauna (The Secret Symbols of the Animal Realms), Flora (The Concealed Wisdom of the Plant Kingdom), Flowers of the Underworld (The Mystical Charisma of Minerals, Metals, And Gems), Sacred Geometry and Places of Pilgrimage, Numbers (The Bait Which Attracts The Mysterious) and Sacred Sounds, Secret Sounds (The Intrigue of Resonance, Letters and Language). Although, again, there is more, as the book also then offers a complete section on 'The Body as a Sacred Map, Rites Rituals, Customs and Observances' and closes with an incredible section called The Nature of the Divine 'The Ultimate Symbolic Expression of Human Potential'.
None of these are offered with a biased interpretation, but simply offer an independent description of how the culture that revers or implements any symbol, theological practice or spiritual understanding has attributed to it.
This is a large book, measuring around 27cm tall, 21cm wide and just under 4cm thick, which means its not your note book guide, and when it says it is illustrated, it really means 'illustrated'. This is one of those books that once it is on your shelf you know you have a source of knowledge that you can casually read, but equally instantly go to quantify a thought, opinion or get your symbolic answer, on virtually every single term that could be deemed 'symbolic'.
~Guest Post by Dan Coyote
Follow MW on Social Media: