Welcome to Mysterious Writings!

Get your Quest on!
Start exploring treasures and other fun mysteries and adventures from around the world!  Who knows what you might discover! MW is a site dedicated to the hunting for treasures, mysteries, and adventures, and encourages the quest for learning, seeking answers, and enjoying life while exploring.
A great place to start to get to know some of the Treasure Hunts this site talks about is on the page: Top Ten Armchair Treasure Hunts and/or Treasure Hunt Summaries.  Both pages provide lists of what some of the Armchair Treasure Hunts are that you will find here. They include what Treasures (IN GOLD AND CASH REWARD) are OUT THERE for you to find!  Wouldn't it be great if you found the Million Dollar Treasure Chest of Gold hidden by Forrest Fenn or the $10,000 Golden Key treasure of Fandango?
But the site includes much more then just Armchair Treasure Hunts. Explorations into lost treasures and other types of treasures, mysteries, unsolved codes, ghost towns, metal detecting, valuable coins, puzzles and riddles, mysterious people, places, and things are other topics discussed here.
Destinations are not always known, nor always found.  However, the explorations are enjoyed and treasures of various types are always discovered during a quest.  Feel free to constructively comment, share ideas, or offer insights on subjects discussed.
To mention some, this site includes thoughts and perspectives on the million dollar treasure hunt of The Thrill of the Chase by Forrest Fenn, The Bossall Treasure hunt, Fandango Treasure Hunt, The Beale Papers codes, Rennes le Chateau Mystery, the continuous quest for the Holy Grail of the Maranatha puzzle, and much more. The Maranatha puzzle is what inspired my own serious search beyond the ordinary.  It was the original basis for creating this site, and instigator for Six Questions. For this reason, the site incorporates, and continues to discuss, material offered during the puzzle.  Consisting of an array of historical and unique subject matter, the puzzle encouraged a quest for wisdom and understanding.  I'm not sure that ever stops.
The site is an ever expanding source for mystery, adventure, and search for treasures.  Be sure to subscribe to the MW newsletter for exclusive fun.
When not out hunting down actual treasures or researching possible leads to answer life's mysteries, I often enjoy playing games of similar themes. Pulling down one of the many Treasure Games  from my shelf  is always fun to do.  As a game collector of games from the 1800's and up, I have many.  Besides sharing some of these old games, I will provide reviews for more recent games that you and your family could enjoy if wanted.  Many of these can be found in the category: MW: Game Night Ideas.
You may also notice the website features Six Questions.
'Six Questions' are interview-like discussions with individuals who, I feel, inspire each of us to go beyond the ordinary.  They are with people who are actively exploring and are willing to share their adventures with others. They offer intriguing insights into life's journey.
I love how the following quote encapsulates this website:
"If there wasn't anything to find out, it would be dull.  Even trying to find out and not finding out is just as interesting as trying to find out and finding out; and I don't know but more so." ~  Mark Twain
The site hopes to strengthen and inspire you on your own quest for whatever you seek.  I believe we all intuitively sense a desire towards an adventurous seeking.  Is it so dissimilar to the search for the 'Holy Grail'?; (defined as 'something of immense worth and treasure')
I invite you to share in the journey and follow/friend me on Facebook for thoughts and updates on quests.
WELCOME! and please feel free to look around the site and explore! There is a lot within!
PLUS!
And below are a few quick summaries of other Armchair Treasure Hunts going on: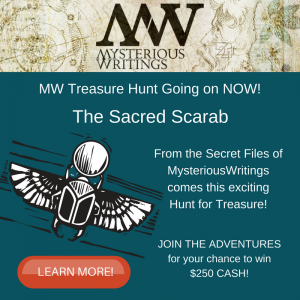 Don't miss MW's hunt THE SACRED SCARAB!
The Sacred Scarab hunt marks the third of a series of successful treasure hunts hosted by MW.   Every three months a new MW armchair treasure hunt, from the secret and mysterious files of MW, is released.
To date, $1250 dollars in cash has been awarded!  Will you be the next winner of a MW armchair treasure hunt?  Learn more here: The Sacred Scarab.
Join the adventures and have a chance to win $250 cash!
The $10,000 dollar treasure to find for the Fandango Armchair Treasure Hunt is narrowed down to Mount Desert Island in Maine. This must be found before Thanksgiving Day, 2020.  Clues to solve for its exact location are given, both literal and visual, in a book you can purchase entitled Fandango.
The puzzle has many similarities to one of the first Armchair Treasure Hunts created. This 1979 UK hunt was called Masquerade.  The solution for that puzzle had searchers drawing lines from points in the images to letters in the border surrounding those images.  A Master Riddle was formed by using those letters, and once that riddle was solved, it led to the buried prize.
A Master Riddle needs to be discovered in Fandango as well.  The solving of it will lead a hunter to the Golden Key: the $10,000 dollar prize.
Best of luck with all that you seek!
Always Treasure the Adventure! 
*If you would like to contribute to Mysterious Writings, by writing an article, please contact me.  I'm always in search of more mystery, adventure and searches for treasures to share!
What Does Forrest Fenn say on How to Find His Treasure?  Watch the MW Video below and see!
Click on Image to Order Forrest Fenn's New Book at Collected Works BookStore: