Who Will Find the Treasure of Forrest Fenn?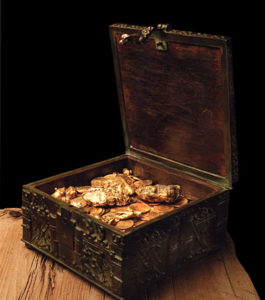 The Thrill of the Chase has inspired so many people across the world to not only get out and explore the outdoors, but also to explore what beautiful hopes and dreams might lay dormant within ourselves.
The challenge to find Forrest Fenn's million-dollar treasure chest hidden in the Rockies has awakened us to The Thrill of the Chase- not only the Chase for Fenn's Treasure, but for some, also the Thrills of our own Chases and Extraordinary Journeys.
We have prodded and begged Forrest for answers to questions. We have scrutinized words he has spoken. And we have endlessly analyzed photos and anything else related to what he does. He has said, though, the poem (within the book) is all we need to find the secreted treasure (not saying there aren't hints in other things).
So much given and so much hidden in a poem of 24 lines. The power of it all. It is uniquely legendary. Whenever I think about the Treasure Chest, I feel so fortunate to be part of this amazing dare at its beginning moments. Forrest has offered us all the ability to Live, truly live, in history being made.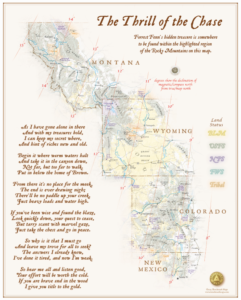 If not found, years from now tales around campfires or kitchen tables might begin with, '
There was this guy from Santa Fe, Forrest Fenn, who hid a bronze chest filled with gold and other incredible relics. He left a poem leading to its location. But ONLY if you can figure out the meaning behind the lines of the Poem, and thoughts of the man who wrote it at the time, can you discover the treasure's hiding spot.'
It might continue:
'Thousands upon thousands have searched to no conclusion……but yet some of these adventurers had found wealth in so many other ways, that the actual value given from the hidden treasure is now immeasurable. It is beyond a defined worth; like all great things are. It is there yet to be found. And the only question remaining to be asked is, Who might find it?'
I suppose that is the ultimate question. In the first Six Questions I ever asked Forrest (such treasure to me now), he had shared a bit of Who he hoped might find it.
He said: "I hope it is by some deserving person who is emotionally involved and has been rewarded by the other mountain thrills that come with the chase."
And in the same Six Questions, he commented,
"The person who finds the treasure will have studied the poem over and over, and thought, and analyzed and moved with confidence. Nothing about it will be accidental. T.S. Eliot said:
We shall not cease from our exploration
And at the end of all our exploring
Will be to arrive where we started
And know the place for the first time."
I also love Forrest's words in his book, Too Far To Walk; He writes in regards to his Treasure Hunt, "A dare went out to everyone who possessed a sense of wanderlust; study the clues in the book and thread a tract through the wiles of nature and circumstance to the treasure. If you can find it, you can have it."
The journey is as much the treasure as finding the actual chest of gold. And how awesome to be on this journey with such a 'treasured bunch'.
Now, after all this time of the treasure being sought for (six years), which really is not a long time compared to many other frames of passing, do we hold any additional thoughts on 'Who might find it?'
What an exciting Question to ponder and to realize it could be any one of us willing to take and continue on his dare.
I wonder who you all (not in specific names) think might find it? What is required? What is an advantage to have? What type of personality? Etc….
Best of luck with all that you seek. Treasure the Adventure!
Follow MW on Social Media: