Treasured Find: 1843 Mansion of Happiness Board Game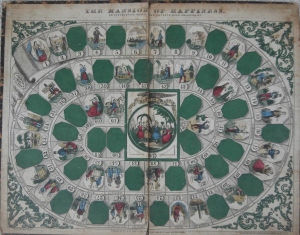 I love board games, and love hunting down old games to add to my collection. It is always a treasure hunt for me. I think anyone who has a collection can relate to this type of Thrill of the Chase.  For many years I was on the lookout for the game called The Mansion of Happiness.  Not the ones produced by Parker Brothers in the late 1800's, but the boards first produced by W. & S.B. Ives in 1843.
Before being ousted by Lockwood's 1822 game of Traveller's Tour, the Ives' Mansion of Happiness game was considered the first board game officially produced in the United States.  You can imagine my excitement when I was finally able to place one of these Ives' boards within my collection after years of waiting for the right find.  It was given a special spot.
The game of Mansion of Happiness was initially released in England in 1800.  George Fox (of England) invented and designed the game in honor of the Duchess of York.  These original boards consisted of 'gold printing' and were quite expensive to make. They were enjoyed and played by families of nobility or of considerable wealth.  Not until later did board games become readily available for persons of less stature.
Board games were not initially or invented to be played for mere fun either.  They were made to include, and teach, important values of life.  The Mansion of Happiness advertised itself as just that; as can be recognized  by the game's subtitle and description; 'An Instructive Moral and Entertaining Amusement.'
Players would roll a teetotum (since dice during this period were considered evil), and move their pieces around the 67 spaced spiral board accordingly.  A person's goal was to be the first player to reach The Mansion of Happiness at the center of the board.
Many spaces of the board consisted of vices and virtues for a player to take heed.  Landing on a vice would send a person backwards; further away from 'Happiness'.  Landing on a virtue would move a player closer to the center space of Happiness; believed to represent 'Heaven'.
Playing the game supported thoughts for how a person should live in order to obtain happiness. A small verse at the beginning of the instructions of play make this clear:
At this amusement each will find,
A moral fit t' improve the mind:
It gives to those their proper due
Who various paths of vice pursue
And shows (while vice destruction brings)
That good from every virtue springs
Be virtuous then and forward press,
To gain the seat of Happiness.
The instructions include the various consequences that both vice and virtue spaces yield.  For example, if a player were to land on the vice of Idleness, he must move back to the space marked Poverty.  The vice of Road to Folly takes a player back to the space of Prudence.
Landing on virtuous spaces of Piety, Honesty, Prudence, Temperance, Gratitude, Industry, Truth, Charity, Sincerity, Chasity, Humility, Humanity, or Generosity allows a player to move ahead six spaces.
Others spaces and rules offer additional aspects to be taken into consideration for life while playing.
It's a wonderful old board game to learn the beliefs, values, and history of the times. Games often display a unique perspective to the past, and this is one of the reasons why I treasure them so.
Enjoy a game today!
Follow MW on Social Media: