Treasure Game of Forbidden Island
The following article is the first for an additional category of this site:  Treasure Games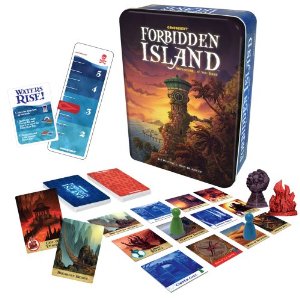 I love the search for treasures, and love playing games in connection to treasures, as well.  There are many games, both of card and board, and even dice, which engage the thrills of treasure hunting.  When not researching, or out physically hunting for treasure, it is always fun to pull out a game to play instead.
Since I collect games, I happen to have quite a few, and have found there are some wonderful treasures to be found by playing them.  The gathering of friends and family to enjoy the fun of a game with is, of course, the best.  And one of my favorite games to play is called Forbidden Island.
The collaborative game play of Forbidden Island has 2-4 players all working together to retrieve 4 sacred treasures from Forbidden Island.  In order to win the game, all players (with the four treasures) must safely arrive back to their Helicopter and make a daring escape from the Island, before it sinks into the watery abyss.  It is not easily achieved, and my family and I love the challenge of it!
An exciting story sets the stage for players:
"…..because the 4 sacred treasures, The Crystal of Fire, The Statue of Wind, The Ocean's Chalice, and The Earth Stone, were believed to have potential to cause catastrophic damage if they fell into enemy hands, the Archeans (ancient lost empire), kept the treasures secretly hidden on Forbidden Island and designed the island to sink if intruders ever attempted to claim them.  In the centuries since the mysterious collapse of their empire, Forbidden Island remained undiscovered….until now!"
Courageous adventurers have discovered Forbidden Island and seek to claim the treasures.  But will they survive?  To play, the team cleverly navigates the Forbidden Island board that is made-up of 24 double sided tiles.  These tiles can become flooded and even be removed from play if the water level rises too far.  This removal of tiles represents the island slowly sinking into the abyss.  If the tiles (the island) disappear before capturing all the treasures from on them, they are lost to the abyss and the player's mission is lost! (and themselves and game!)
Player's are in constant battle of rising water and must strategize movements and the playing of Treasure, Flood, and Adventure cards on every turn.  It is a must for the team to plan together in order to complete the task at hand.  The Adventurers all win together, or they all lose together!
The suspense and excitement, along with the challenge and joy of working together, has this Treasure Game providing many a fun night at our house!  If wondering what to do on the next rain or snowy night, go in search of the four sacred treasures and have the best of luck in escaping the ever approaching Abyss!
Follow MW on Social Media: