Top Ten Armchair Treasure Hunts and Their Lost Treasures to Find
UPDATED: OCTOBER 2017: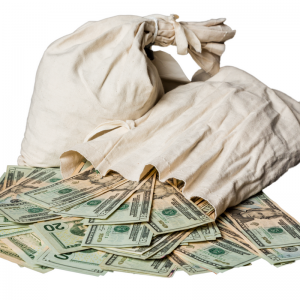 Armchair treasure hunts are a great way to work the mind, have exciting adventures, and find real life hidden treasures!
These type of treasure hunts allow you to research, discover, and solve clues right from the chair of your own home; and then once you feel you have solved enough clues and hints, they either inspire you to go in search and retrieve those lost treasures, or can be claimed right from your home.
How great is that?!  What might you solve and find? Below are the Top Ten Armchair Treasure Hunts, and their lost treasures, available for you to find today.
There are some in the West, some in the East, some in the Middle, some in other countries, and some Who Knows where?!
Some of these hunts have cash prizes on spot, others have redeemable tokens or relics.  Some are worth a few hundred dollars while others are worth thousands or even over a Million Dollars- if you can solve the clues leading you to those secreted treasure locations.
What they all have in common is hidden fun.  This is sure to be a found treasure by those daring enough to take up the challenges to enjoy them.  Remember, Always Treasure the Adventure, and best of luck with all that you seek!
It has to be said the ultimate armchair treasure hunt out there right now is Forrest Fenn's Poem and treasure hunt.  Since 2010, a secreted 1150 AD Bronze Treasure Chest filled with gold, gems, and other extraordinary artifacts, worth over a MILLION dollars has been waiting in the Rocky Mountains for someone to find.  A person only needs to follow Forrest Fenn's Poem to retrieve it.
Sounds simple.  And it is.  What is difficult is understanding exactly what the clues in Forrest Fenn's Poem are and how they direct a searcher to the lost treasure. To date, no one has been able to correctly identity and follow all nine clues provided in the Poem to the Treasure Chest's location.
Below, you will find other Treasure Hunts to pursue.  Which treasure are you going to go after?  Can't decide?  Then do them all or a few more than just one!  It is good for every searcher now and then to take a break from a hunt.   NOW I didn't say take a break from treasure hunting…..just a break from doing the same hunt.  Take some time off and work on another hunt for a while because that can actually help spur new thoughts on all of them!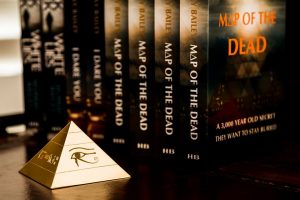 Hidden within the adventure filled novel, Map of the Dead, are clues to find a Golden Pyramid worth over $13,000 (£10,000).  Murray Bailey, from the Dorset Coast, UK, embedded clues within his recently released novel and challenges you to find a buried treasure!
The Pyramid, decorated with fascinating Hieroglyphs, is made from 18ct Gold and makes for a most excellent prize for this 'Armchair Treasure Hunt'.  The book Map of the Dead takes you into the captivating world of Egyptian history, hidden tombs, secret writings, and mysterious artifacts.  All this is entangled in a race to break codes and discover the truth before it is lost forever.  Read More Here: Map of the Dead Armchair Treasure Hunt
The $10,000 dollar treasure to find for the Fandango Armchair Treasure Hunt is narrowed down to Mount Desert Island in Maine. This must be found before Thanksgiving Day, 2020.  Clues to solve for its exact location are given, both literal and visual, in a book you can purchase entitled Fandango.
The puzzle has many similarities to one of the first Armchair Treasure Hunts created. This 1979 UK hunt was called Masquerade.  The solution for that puzzle had searchers drawing lines from points in the images to letters in the border surrounding those images.  A Master Riddle was formed by using those letters, and once that riddle was solved, it led to the buried prize.
A Master Riddle needs to be discovered in Fandango as well.  The solving of it will lead a hunter to the Golden Key: the $10,000 dollar prize.
Inspired by the search for Forrest Fenn's treasure (see more on that hunt above, or read: The Forrest Fenn treasure poem), Martin Smith decided to create one himself; a treasure hunt which leads to 'secret location', worth $700 dollars in prizes (gift cards).  This valuable location is somewhere in the Midwest, specifically, in one of the states of Minnesota, Iowa, Missouri, Illinois, Wisconsin, Indiana, Michigan, or Ohio.
To discover the location, searchers are to look for clues given within a book that are said to lead them North of Hell, but south of Paradise (which are towns in Michigan- clues or red herrings?)
The book is available on Amazon.  The clues within the book will help a searcher understand the book's poem, and lead a treasure hunter to the successful claim.
A small 'rock token' redeemable for a $200 dollar cash prize remains hidden somewhere in the USA.  Searchers only need to go the Custard's Quest's Website, read the story, solve the clues, and retrieve the token to claim the prize.  These isn't any cost to enter.
In a previous Custard Hunt, a coded stone redeemable for $350 dollars was found by a person who decided to just check out the story.  He was bored one night and thought he would read a story of CQ.  What happened was he recognized clues in the story to be near where he lived!  He later went and retrieved the stone for the prize!  You never know what treasure awaits out there for you, unless you initiate the search first!
6)Astana: Architecture, Myth, & Destiny Armchair Treasure Hunt
Frank Albo, with the assistance of the renown game designer, Cliff Johnson offers the Astana Challenge; an armchair treasure hunt with a prize valued at $30,000 dollars.  Concealed within the book, Astana: Architecture, Myth, & Destiny, are clues, that once solved, reveal a hidden message!
The first person to discover this hidden message will win an amazing trip to Astana.  Will it be you?!
The Bossall Treasure hunt book includes clues to a Golden Lorraine Cross hidden somewhere in the UK.  (Searchers from the USA, however, can submit an exact solution and make claim for the prize without traveling there).   The hunt takes readers on a fascinating tale based on actual places and people. It weaves in historical subjects regarding the Knights Templar, Freemasonry, murders, fight for powers, and secrets.
Each of the 11 chapters in the book hold a clue.  Together, the eleven clues will supply a searcher with a solution to where the Golden Lorraine Cross waits to be discovered!  Will you be the one to solve for the book's prize?
$6,000 dollars.  Waits.   Been waiting to be claimed by whoever solves the clues in The Oracle since 2005.  The book can be downloaded for less than $5 dollars, and shares the adventure of two young boys traveling through space and time.  They visit many places of different 'Times'.  By researching these adventures, Hunters begin to realize clues in both images and text of the book.  These will then help solve the 'Token's location', which is then redeemable for the cash prize.
The token is hidden in the UK.  However, if a reader feels he has solved the puzzle, he can forward a solution, and if correct, be rewarded with the prize.  Like all hunts, Families are encouraged to work together and discover treasure in many more ways than just the one.
Since 2003 a 'KEY' has remained hidden for anyone to find. By reading the 10 short stories in the book, searchers are encouraged to 'open their minds' and discover and solve clues leading to a location of the Key of the Whistle Pig's Armchair Treasure Hunt.  The book states, 'The value of the Key's physical location can only be discovered by searching out and prizing the allusions and references embedded within the stories.'
Puzzlers today are not certain what the final value of the Key is.  OR even what the KEY is. It remains to be solved.  But anyone who reads and takes up the challenge to begin investigating and searching for this book's Key is sure to find value and treasure in multiple ways.  Treasure the Adventure is my motto, and this book encourages such.
Hidden over 30 years ago, 12 hidden ceramic casks of the Secret treasure hunt were buried throughout North America (Canada is known to have one).  However, only 2 have been found.  The other 10 have eluded searchers.
Each cask holds a key redeemable for a valuable gem.  Will they ever be found?  Will even one more ever be found?  The passing of time, and the changing of locations through developments and growth of communities have made these casks particularly challenging to locate.   The reason for this is because 'verses' (with matching images) provided clues to the secreted spots.  It is believed many of the casks were buried in spots where the clues of the verses are not as easily recognized or have vanished with destructions.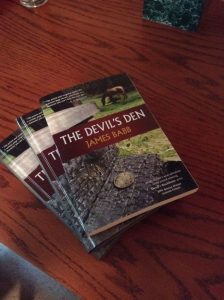 Being Released October 1st, 2017:  Order books 1 and 2, and Preorder the 3rd here: James Babb Books
.
All three of the books in the series, of The Devil's Den by James Babb, are family friendly historical fiction. In the second and third books two young boys hide a wooden box in Fort Smith in 1881. James thought it would be neat if the box was actually there for people to find so he placed items in the box that are described in the books and hid it exactly where the boys did.
.
The clues are in the books for young readers to find, but remember, things have really changed since 1881.
.
If you find the Treasure, the items inside are yours to keep but leave the box for others to find. Please follow directions on the blog and send a photo of yourself at the site. James will ship you an autographed book to the first person to find the Treasure!
.
If you check the blog and see that the treasure has already been found, feel free to go on the hunt anyway. Leave a note in the box, or anything you wish. Send a photo, proving you found The Devil's Den Treasure Box and your picture will be placed on James' website and he will send you an autographed bookmark.
Best of luck with all that you seek and remember to always Treasure the Adventure!
Past on the Above List: Either The Hunts Have Been Solved or Ended
NEXT ONE BEING RELEASED DECEMBER 21st, 2017:  Sign up for the MW Newsletter for Updates and Reminders!
The MW Tre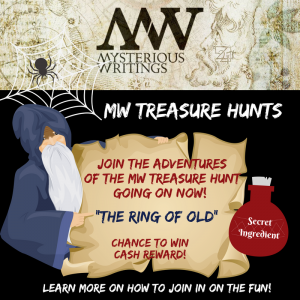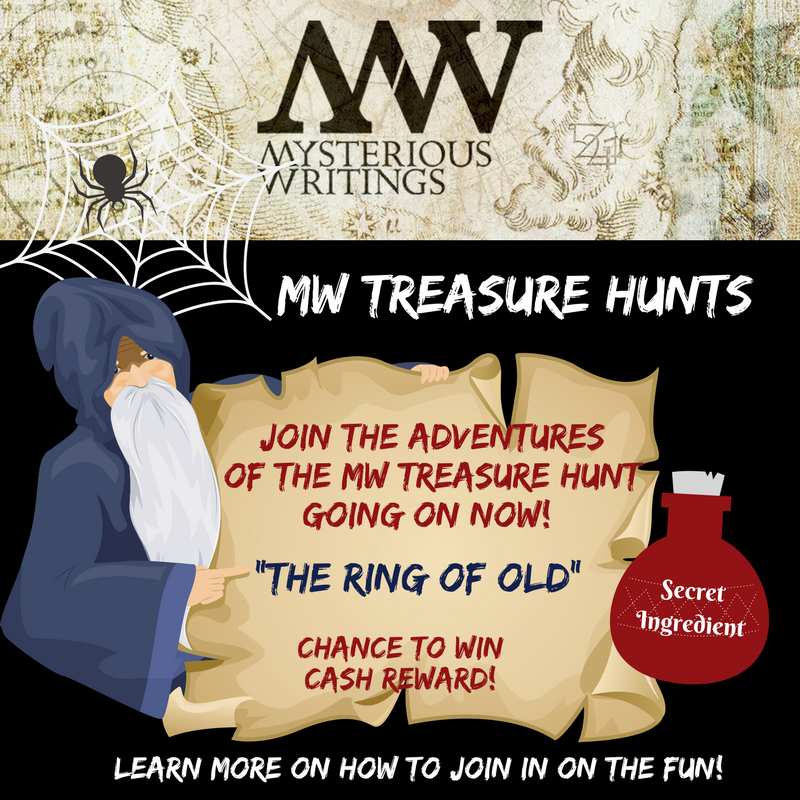 asure Hunt: The Ring of Old consists of clues, both visual and verbal, on a Downloadable 'Scroll. The hunt is a total Armchair treasure hunt; meaning a physical item does not need to be retrieved from a secreted location!  All can be solved, and claimed, from the comfort of your own home!
The first person to Email a correct submission wins a $250 Cash Prize!
The hunt is highly solvable and follows the success of 4 previous released MW Treasure Hunt Scrolls where Cash Prizes totaling $1000 were rewarded in the Summer 2017 season!
Breakfast Tea & Bourbon by Pete Bissonette is not only an entertaining book, but also a treasure hunt for a hidden prize worth $50,000 dollars in cash. In order to find the treasure, a searcher needs to read the book, discern the clues secreted within, and retrieve the hidden item to claim the cash reward.  The item is hidden somewhere in the lower 48 states.
The treasure hunt began on Thursday, February 9th, 2017, at 5:08 pm.  US central time.   Seems like a clue there.  With a possible additional hint being that if the hidden treasure is not found by August 9th, 2017, another 5,000 will be added to the 50,000 prize currently.
---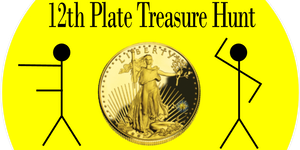 First in this top ten list is the 12th Plate Armchair Treasure Hunt because, besides it being a great hunt, it has a time limit and has the closest ending date. The hunt ends in December 2017 and so this 1 oz. Golden Eagle Coin Prize (worth over $1000/price of gold) MUST be found before!  Can you do it?  What is awesome is the area has already been narrowed down to Raleigh, North Carolina.  For only $2, a map w/clues can be downloaded to reveal the exact location upon decipherment.
To learn more about this treasure hunt, you can visit the Downloadable Scroll's and 12 Plate treasure hunt home site or read more here in the MysteriousWritings 12th Plate Treasure Hunt article (MW forum to begin discussing it as well).
This NEEDS found!   Let's do it!
---
In 2010, somewhere in the lower 48 states, $1000 dollars cash was buried and waits still today for someone to find it.  Through the reading of Cowboy, searchers will immediately notice the numerous puzzles, codes, mazes, word searches, anomalies, etc., which once solved, will lead a puzzler to this stash of cash's location!
Will you be someone? If so, you would be $1000 dollars richer and get to brag how you found the Lost Treasure of the Cowboy!
---
52 Master Pieces Puzzle Hunt: Prizes Claimed: SITE TO SOLVE PUZZLES STILL ACTIVE
From the creator: David Cohen:
"52 Master Pieces (at 52masterpieces.com) is a free online puzzle contest designed to inspire creative thinking in a uniquely fun and original way.  The "surface layer" of this contest features hundreds of classic puzzles from every imaginable puzzle genre (codes, ciphers, lateral logic, spatial rearrangement, interactive games, wordplay, etc.).  Hidden within the pages are clues and original puzzles that comprise the contest, with $5200 in prizes. 
The major prizes have been awarded, but a few smaller ones are still available.  Even after all prizes are redeemed, this site will continue to be a free, family-friendly resource for puzzle enthusiasts of all ages and skill levels.  As an unlimited prize, printable certificates of achievement can always be unlocked by anyone who solves one of the 52 Master Pieces.
We've had winners from all around the world (including Australia, Belgium, and England), with over a quarter of a million page-views and lots of wonderful feedback from happy puzzlers.  I hope you'll enjoy our site and encourage others to do the same!  If you do, we welcome any feedback you'd like to share about the site, the puzzles, and your experience with 52 Master Pieces."
Follow MW on Social Media: