The Thrill of the Chase Treasure Hunt: Six Questions with Illinoisghost
Our first of many to come Six Questions with Searchers on TTOTC:
Six Questions with Illinoisghost on The Thrill of the Chase Treasure Hunt.
We each are creating our own stories and adventures by taking Forrest Fenn up on his dare to find his lost treasure chest.  Who will find it?  At this point no one knows, and it could by any one of us!  How exciting to be part of a million dollar treasure hunt in its get go.
I want to thank Illinoisghost for the following answers to the Six Questions.  You are welcome to answer them as well! (more information on that here).
I have to smile at how he learned about the treasure hunt.  What a surprise it had to have been when just casually glancing through websites.  What an awesome treasure hunt gift we all have been given.  (And I love the answer to #4!)
Enjoy!
1)When did you first hear and learn about the Treasure Hunt?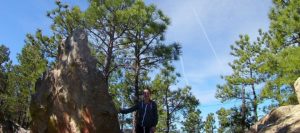 August 2011, I was just browsing the web looking for some places I might be interested in taking my metal detector. I stumbled across Fenn's treasure and thought to myself " wow! I'd love to find that "
2)What inspired you to become involved and begin searching?
Originally one of my daughters wanted us to search for it but she quickly lost interest. As for me, like many others I quickly came up with a solution and off I went to strike it rich. Lol..
P.S. Still Searching
3)What is your most favorite part about the Treasure Hunt so far?
The journey and adventure
4)What is your least favorite part about the Treasure Hunt so far?
I would think it was the not finding of the chest, but it's not. I've proved at least 10,000 places it's not. So I have to say it's the time I'm not searching…
5)What is the best or most unique thing you found while searching for Forrest Fenn's treasure chest?
Omg, I am able to think of so many things at the moment. One, would be a necklace with a silver fox fetish on it, but the most unique item was a map.
6) What more would you like to say?
Thank you to Forrest for the adventure…
Questions answered by Illinoisghost, who has a website Illinoisghost.com, which looks oh so cool and interesting!  I am wanting to do another Six Questions with Illinoisghost about that! 
Best of luck with all that you seek!  And Always Treasure the Adventure!
Follow MW on Social Media: