The Thrill of the Chase Treasure Hunt and Six Questions with Randawg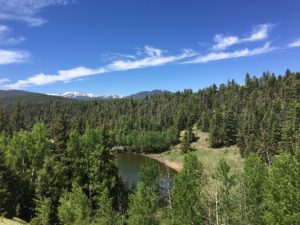 This is the nineteenth in a series on Six Questions with Searchers of The Thrill of the Chase Treasure Hunt by Forrest Fenn. Questions are asked and then answered by those who are enjoying Forrest's dare!
(Read how you can participate) 
(Read other TTOTC Searcher Questions/Answers)
Six Questions with Randawg
1)When did you first hear and learn about the Treasure Hunt?
A friend and co-worker told me about it on Friday May 6th 2016 at around 11:45 am (during our lunch break). He said that a man had died looking for a treasure hidden by some crazy rich guy in New Mexico. I remember the date because I somehow felt it might be important to me some day. 😉
2)What inspired you to become involved and begin searching?
Because I was working for an ungrateful middle aged millionaire with a bunch of unhappy co-workers at a job I had grown tired of and my life had become a boring routine. And I felt that I needed some excitement and adventure. Who hasn't dreamed of finding a lost treasure map and searching for hidden gold? …And of course the chance of becoming financially independent.
"Build your own dreams, or someone else will hire you to build theirs." – Farrah Gray
3)What is your most favorite part about the Treasure Hunt so far?
Meeting nice people, and seeing the animals and wild beauty of the Rockies. Also the camaraderie of the search community. And discovering that whether you find the chest or not there are other alternatives to sitting in a building all day making someone else wealthy(er).
4)What is your least favorite part about the Treasure Hunt so far?
Probably traffic tickets. Or when you have to slam on the brakes because a semi truck decides to pass another truck on a steep grade at 25 mph. And when I fell asleep at the wheel and almost crashed the rental car I was driving. Oh, and not finding Indulgence. (…Yet!).
5)What is the best or most unique thing you found while searching for Forrest Fenn's treasure chest?
Late one foggy moonless night on a deserted mountain road in the Rockies I had to slowly zigzag through dozens of elk that were casually strolling along the roadway. Many were startled and froze in place staring at me, I could have rolled down my window and touched them! It was very surreal. Also I found what I believe to be an important location where one of the pics was taken in TToTC.
6) What more would you like to say?
I want to thank Mr Forrest Fenn for providing the Chase, which has made me reevaluate my life, and has allowed me to see that there is a great big world out there beyond my cubicle. And for giving me the courage to go out and explore America's natural wonders for myself.
After all, that's what this treasure hunt is really all about isn't it?
-Randawg.
Thanks so much for sharing, Randawg.  So very true about 'who doesn't dream of finding treasure?'  What a great opportunity we have to Chase after one of the best hidden treasures of all time!
Best of luck to all that you seek!  Treasure the Adventure!
If you would like to participate in Six Questions as a Searcher of Forrest Fenn's Treasure, please learn more here: Six Questions with YOU!
Follow MW on Social Media: