The Thrill of the Chase Treasure Hunt and Six Questions with Michael Showalter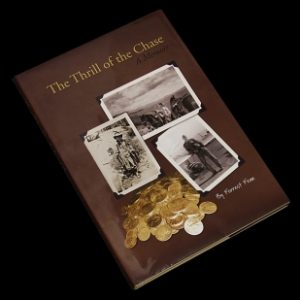 Tenth in a series on Six Questions with searchers of the Thrill of the Chase Treasure Hunt. Questions are asked and then answered by those who are enjoying Forrest Fenn's dare! (Read how you can participate) 
1) When did you first hear and learn about the Treasure Hunt?
I first heard about the Forrest Fenn treasure hunt on November 18, 2015 on the TV show "Expedition Unknown." Later I realized someone before had asked me if I was following the hunt.
2) What inspired you to become involved and begin searching?
I felt a good understanding of the poem during the first read, and had faith that I could solve the riddle.
3) What is your most favorite part about the Treasure Hunt so far?
The excitement of possibly finding such a treasure, and not seeing any of my key clues posted on-line.
4) What is your least favorite part about the Treasure Hunt so far?
Not having expenses to travel, and waiting another year to go back.
5) What is the best or most unique thing you found while searching for Forrest Fenn's treasure chest?
Saw a nice piece of white crystalline chert near the geographical spot the poem leads me.
6) What more would you like to say?
I went to the spot during the Summer of 2015, its size is about an acre, and I had to leave without searching. I have quit looking for alternative solutions, and believe the spot is correct.
Thanks Michael for your answers!   I, and so many other searchers are truly learning more about searchers looking for Forrest's Treasure Chest of Gold!
Please, for any searchers who haven't submitted answers, you can learn how to so here: Six Questions with Searchers.   Best of luck with your spot.  Hope you get soon!
Also, check out the few edits made to Six Questions with Jeremy Parnell.  I forgot to add his 'Website', which is this: JeremyParnell.com
and his answer to #6 was actually supposed to be:
"Thank you, so very much! Like most people, I always thought that if I met a genie and they granted me three wishes, I'd use the last wish to wish for more. I also like hanging out at Reddit's "Ask Me Anything" threads, so please feel free to AMA me in the comments below (which would be here). I promise to give a thoughtful and honest answer to whatever you ask."
Thanks again! : )
OK…. I think I got it this time….:)
.
Follow MW on Social Media: