The Thrill of the Chase Treasure Hunt and Six Questions with Craig Carter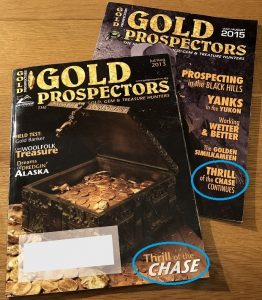 This is the twentieth in a series on Six Questions with Searchers of The Thrill of the Chase Treasure Hunt by Forrest Fenn. Questions are asked and then answered by those who are enjoying Forrest's dare!
(Read how you can participate) (note: if you had sent one in the past, and it didn't get posted, please send again)
(Read other TTOTC Searcher Questions/Answers)
Six Questions with Craig Carter
1)When did you first hear and learn about the Treasure Hunt?
As a member of the Gold Prospectors Association of America (GPAA), I first learned of the Treasure Hunt in the Jul/Aug 2013 GPAA Magazine article "Thrill of the Chase" by Russ Balbirona.  At that time, I placed this edition with the hundreds of other prospecting magazines I owned and forgot about it.
2)What inspired you to become involved and begin searching?
I was inspired after receiving the Jul/Aug 2015 GPAA Magazine two years later with the article "Thrill of the Chase Continues" by Priscilla Rhoades. That article included the following:
"After five years of searching and hundreds of hours scouring the Rocky Mountains with still no trace of the treasure, Fenn followers want to know: Is there really an antique chest filled with much more than $1 million worth of gold and gems really hidden somewhere north of Santa Fe, New Mexico? Really?"
Forrest's answer: "The treasure is out there waiting for the person who can figure out the clues and strike the trail."
The article stated an estimated 30,000 searchers over five years had failed to find where "X marks the spot". Finding what so many others had failed to find appealed to me and the challenge was accepted. I ordered TTOTC on Jul 13, 2015 and read it cover-to-cover aloud in one sitting on the day it arrived. As I closed the cover, I knew immediately where to begin.
3)What is your most favorite part about the Treasure Hunt so far?
My favorite part so far has been rediscovering my love for the outdoors I took for granted in my youth; the ever-present scents, the gurgling brook with her darting shadows, the aspens whispering high above, and the crackling of the forest floor under paw and hoof.
4)What is your least favorite part about the Treasure Hunt so far?
While return trips from another search can be frustrating, my least favorite part so far is the tight focus wasted on computer screens below soul-sucking fluorescent lights; my mind wandering and yearning for the next escape into the mountains and sunshine. I guess my least favorite part is not searching.
5)What is the best or most unique thing you found while searching for Forrest Fenn's treasure chest?
The best thing I've found while searching was a herd of elk playfully descending the ridge opposite me while sleet fell all around and the creek below bubbled a wintry tune. While close, I was above them in the trees and I paused for several minutes to appreciate their innocence and allow them to pass undisturbed.
6) What more would you like to say?
First, I want to thank Forrest for his generosity. His lesson in perseverance is humbling and for me, spirit-renewing.
Two years ago, I started out five-years behind and the quote "If you are not the lead dog, the view never changes" was worrisome. Today, I'm ever drawing nigh and the view is even more inspiring.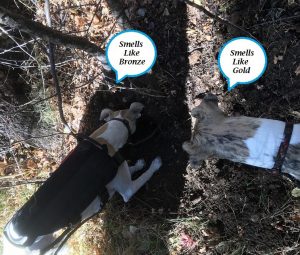 I also want to thank you Jenny, for your willingness to share our answers with your readers. Mysterious Writings indeed!

Thanks Craig for your answers!  Just excellent. 
Funny, how at first you can be presented with something and it is not until it happens again does it click. That is similar to what happened to me with the Chase.  I knew about the hunt when it first came out, as I've been in the treasure hunting community since the early 2000's, but at that time, I didn't take it seriously.  I thought, 'just another treasure hunt with prize of a million'.  How wrong I was!  Forrest Fenn's Chase is the best out there…The Real Deal……and I'm so glad to have gotten involved just a bit after launch! 
Best of luck to all that you seek!  Treasure the Adventure!
Follow MW on Social Media: