The Mysterious Work of Giordano Bruno
By Hayward Gladwin
Born in 1548 in Nola, Italy, Giordano Bruno was a philosopher, mathematician, poet and all-around mystic whose life would appear as nothing less than the summary of the rich influences having emerged and spread throughout mid-Renaissance Europe. Having studied his core studies in Naples (which had included the humanities of logic, metaphysics and dialectics among others) Bruno arrived as a well educated and highly advanced novitiate from the Dominican order at the monastery San Domenico Maggiore.
In 1572, he was even ordained as priest within the order. Yet, with his strong criticisms of the common theological doctrines of the time, as well as his quite unorthodox views on subjects that were largely influenced by Neo-Platonism, he was eventually accused of heresy by the Catholic Church In 1576.
In reaction, Bruno fled and spent the next 16 years of his life bouncing around from place to place. In Italy, he spent time in Venice, Padua and Bergamo. From there he wandered over the alps and spent time in Chambery, Geneva and Lyons. He received his doctorate in Theology in Toulouse and for a time he lectured in Paris. He traveled to England, spent some time at Oxford, presented his ideas to others before moving back to Paris and then later to Germany. He spent some years lecturing in Wittenberg then he was off to Prague and then back to Germany.
During this period, a time which lasted about 16 years, it seems Bruno faced problems wherever he went. In Geneva in 1579, he was ostracized by local Calvinists. In Toulouse, he was denied absolution by the Catholics. In England, he faced rejection of his ideas from his scholarly peers. In Germany, he was dismissed as a lecturer for his bent towards Aristotelian philosophy. He was excommunicated by the Lutherans in Helmstedt. And then, at the end of his journey, Bruno unwisely returned to Venice and was extradited back to Rome where he was ultimately charged and executed.
But what was so controversial about Bruno's beliefs that led to his execution?
Of this, very few records remain, but of those that do, the allegations brought against Bruno include his "anti-trinitarian" position (that he rejected the Virginity of Mother Mary and that he denied Christ's transubstantiation), and as well, he rejected Geo-centricism. Furthermore, he was accused for being drawn to "magic". But what would seem most telling of all, was perhaps Bruno's personal cosmology, a theological position which would have crossed starkly against the Christian dogma of the time.
In truth, Bruno was not simply a "Geo-centrist", but he also believed that what was to be considered the Divine was to found as a central position in all forms of existence, including humanity. To catch a glimpse of his premise, we could turn to a reference from the New Advent Catholic Encyclopedia:
"Bruno's system of thought is an incoherent materialistic pantheism. God and the world are one; matter and spirit, body and soul, are two phases of the same substance; the universe is infinite; beyond the visible world there is an infinity of other worlds, each of which is inhabited; this terrestrial globe has a soul; in fact, each and every part of it, mineral as well as plant and animal, is animated; all matter is made up of the same elements (no distinction between terrestrial and celestial matter); all souls are akin (transmigration is, therefore, not impossible). This unitary point of view is Bruno's justification of "natural magic."
It is perhaps quite clear to see how possessing such a belief would have met with immediate condemnation from the Church. Firstly, Bruno's belief that all matter and all souls were comprised of the same substance would have been anathema to the Christian principle that mankind, God and Christ are vastly separate beings. Furthermore, the concept of "magic" alone was certainly forbidden by 16th century Catholicism.
But one thing that becomes immediately impressionable is how nearly contemporary Bruno's philosophy appears in relation to some of our more present ways of looking at the universe. Take for example, an idea put forth by advanced physics; that of Quantum Theory. If we take a subject such as Quantum Consciousness, wherein classic mechanics fail to account for the atypical qualities and behaviors of interchanging states of matter and the effect of consciousness upon the results of certain experiments, Bruno's philosophy –his theology— equally seemed to embrace the nature of the idea of the "Universe as Mind"; a cosmology wherein the presence of the finite was found to exist at precisely the same center as the infinite.
To further illustrate Bruno's cosmological philosophy, in one of his more well-known works, De Triplici Minimo et Mensura (On the Triple Minimum and Measure), his principle subject was in fact the threefold nature of reality wherein the same "measure" was used to define the nature of existence from the most vast to the microscopic. The first "minimum" indicated the center of divine unity, above all and within all; a Monad. The second "minimum" was the mathematical of geometric point (punctum). The third "minimum" was represented by physical atoms. Through this cosmological structure of unity, it could be said that Bruno contended that the divine Monad, the mathematical Monad and the physical Monad were synonymous; a central point shared by each "level" of existence, albeit each expressing a different reality from its outlying appearance.
It is along these lines where several of the geometric illustrations which accompanied Bruno's De Triplici Minimo et Mensura become relevant. In two of the examples presented below, we see 3 common elements appear: a square, a hexagram and a circle. In the 3rd, we see a hexagram tilted at exactly 15 degrees.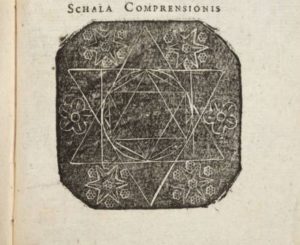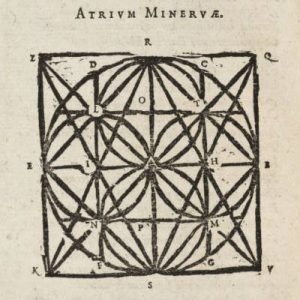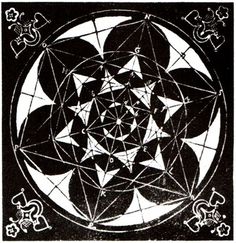 It is interesting to note that in most Western hermetic traditions that of these symbols, the square was accepted to represent the physical Earth, the hexagram representing the 5 classical planets and the Moon with the Sun at its center, with the circle representing the Divine monad. It is here, with these three inter-connecting shapes, where we would seem to find a parallel with Bruno's belief that the three "minimums" (the divine, the geometric punctum and the physical atom) all hold the same center.
Giordano Bruno may have been considered a heretic during his time, but his work has since gone on to inspire many others; in the realm of science, in the realm of philosophy, in modern hermeticism and elsewhere.
~ by MW Team Writer: Hayward Gladwin
Copyright 2017 by Hayward Gladwin. All Rights Reserved.
.
Follow MW on Social Media: