The Mysterious Light of Rembrandt's Faust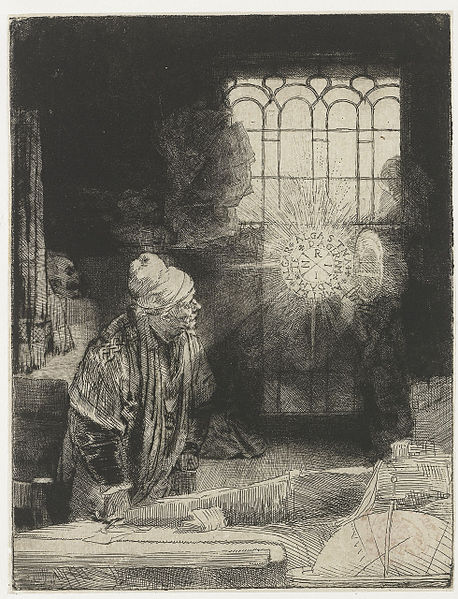 Leaving not a record or even a name for his work, Rembrandt's 1652 etching of a man gazing at a mysterious bright light continues to evade decisive interpretation.  Referred to as first as, The Practicing Alchemist in 1679, and then later as Faust in his Study, the Rembrandt scene raises many questions.  Most noticeably are the inscriptions and the sudden appearance of an apparition which causes viewers to reflect; like the man in the etching.
Depicted in the image are a globe, human skull, books, work area, papers, and other objects which suggest the individual (along with his style of clothing), is a learned man.  Although details (like whether the globe is an astronomical or geographical globe which would help to determine what type of study the man was occupied with), are left out, viewers realize he has been interrupted from his work. The vision which appears to him gains his full attention.
From the unexpected illumination, one hand is noticed to be holding a mirror, while the other hand is pointing into it.  The face of the apparition cannot be seen, as this is where the circular shape and rays emanate. Within the spherical shape, the inscriptions, INRI (central), surrounded by ADAM TE DAGERAM, and a third circular arrangement of AMRTET ALGAR ALGASTNA are written.  A few cross like symbols separate the words.
INRI is an acronym of Iesus Nazarenus Rex Iudaeorum/Jesus of Nazarene, King of the Jews.  This was written during the crucifixion and placed above Jesus' head on the cross.  Since stating in the Bible who was on the cross (Luke 23:38, "This is the King of Jews"), could this inscription also imply who is appearing in Rembrandt's Faust?
AGLA, depicted in reverse form within the outer circle, is another acronym, and means 'You O Lord are mighty forever.'  One may wonder if it is in reverse because a person will realize the correct sequence by looking into the mirror; but only by doing so.  This seems to match the instruction given by the pointing hand.
As well as the AGLA acronym, the other inscriptions are known to be Cabbalistic writings.  They were rarely known, but not unique, in the time of Rembrandt.  In an article entitled, Rembrandt's Faust in his Study (sourced below), it is said this same arrangement was included on amulets and used for protection in battles.  This has lent support for the portrayal of the man in Rembrandt's etching to be involved in more than just normal studies; since these magical items were often associated with higher and secret learning's.
Given that Rembrandt did not provide an account for his intended meaning of the fine etching, the image will always cause viewers to question.  The mystery which surrounds the vision attracts, almost beckons, those who look upon it, to search for meaning.  The mirror, the pointing hand, the man captivated by the light; the entire scene welcomes the seeker.
Sources:
McHenry, Deni MacIntosh, Rembrandt's Faust in his Study Reconsidered, reviewed July 2012
Carter, Carey, Faust, reviewed July 2012
Follow MW on Social Media: