The Lost Treasure of Dutch Schultz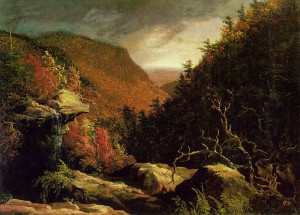 The tale of Dutch Schultz's lost treasure takes one into the heart of the Catskills and into the small community of Phoenicia.  The mountainous region, only a couple hours from New York City, is now a popular place for tourists to enjoy lots of outdoor activities.  Camping, hiking, tubing, and fishing are common attractions during the summer months.  And probably more than known, treasure hunting.
Arthur Flegenheimer (1901-1935), nicknamed Dutch Schultz, was once one of the top New York City gangsters.  It is well known he made a fortune during the 1920's and into the 1930's; up until the time of his death on October 24, 1935.  Gunned down at the Palace Chop House on the night of the 23rd, Schultz was quickly taken to the hospital where a police stenographer recorded his dying words.  Delirious with a high fever, Schultz's last moments possibly contained veiled references to a buried stash of millions.
Although there are different versions of these last words, Phoenicia, either by directly being mentioned ("Lulu, drive me back to Phoenicia") or hinting towards a geographical feature, like the Devil's Tombstone in the area ("Don't let Satan draw you too fast"), is a prime location to start one's search.
It is believed, and likely, Dutch Schultz had buried large amounts of cash, bonds, jewels, and diamonds in the year 1933, before he went to trial for tax evasion.  Concerned he may be heading to jail and wanting to protect some of his fortune for when he was later released, Schultz and his bodyguard, Lulu Rosenkranz, are thought to have driven 'somewhere' to bury a valuable stash. It is believed he died before he was able to return to this secreted spot and retrieve it.
Phoenicia is a place rumored to have seen Schultz and Lulu during the time he would have hid the infamous treasure.  Based on various accounts about the buried riches, beliefs it was hidden along Esopus creek a few miles out from Phoenicia, near the railroad, or within a grove of pines are popular places to look.
The Devil's Tombstone refers to a large boulder in the vicinity and gave name to a campground of the area.  Stories that the nearby mountains were a favorite romping ground for the devil gave rise to the title.  Deeper into the mountains is another rock feature named the Devil's Face.  Both of these places are thought to be the meaning behind some of Schultz's last words and are other places to be in investigated if in the area.
It may be true 'you can't take it with you', but Dutch Schultz might have done the next best thing.  He took the legendary secret of where he hid his millions with him to the grave.  The possibility it remains to be discovered has captured the interests of many who seek to find lost treasure.  Whether it is ever found or not, does not determine the value of the hunt, though.  What you gain by pursuing such a quest is what matters just as much.
Please feel free to Friend/follow on facebook as I continue to share thoughts on treasure quests and other mysterious things.
Follow MW on Social Media: