The Green Cross and Maranatha-I Tego Arcana Dei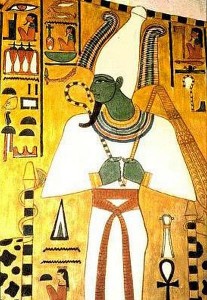 The use of the color green to signify life can date back thousands of years.  Found in ancient Egyptian hieroglyphs, the brilliant color has passed through the ages and yet remains new.  The green color of life or rebirth is easily recognized in a newly sprouted seed of spring.
The walls of Egyptian tombs clearly show this depiction of life in the images of Osiris.  Often seen with green skin, the Egyptian god of the underworld reflected and characterized rebirth.  In the Book of the Hidden Chamber, the journey of Ra through the Netherworld provides a scene of union with Osiris in the sixth hour.  Ra's rejuvenation illustrates the symbolic value of the color green upon the hour.
Another portrayal of the divine color can be found while gazing at the windows in Chartres Cathedral.  In The Cathedral (a Great Courses guidebook), Professor William R. Cook makes comment of the lancet on the façade of the Cathedral.  He states, "One interesting feature of this window is a green crucifix; often, in medieval art, Christ's cross was green because it is regarded as the Tree of Life."
The Tree of Life is mentioned many times in the Bible.  A common reference is found in Proverbs 3:13:18; it has, "Blessed is the man who finds wisdom; the man who gains understanding.  For she is more profitable than silver and yields better returns than gold.  She is more precious than rubies; nothing you desire can compare with her. Long life is in her right hand; in her left hand are riches and honor.  Her ways are pleasant ways, and all her paths are peace.  She is a tree of life to those who embrace her; those who lay hold of her will be blessed."
This passage (another version) was provided at the end of the Maranatha-Et in Arcadia Ego competition.  A description of how the Tree of Life was hidden and could be drawn, by using the symbols scattered across the images in the book, was included in the PDF documents which officially announced the puzzle's conclusion.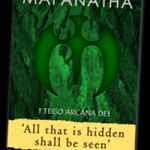 I suppose it could be understood why the projected cover of the Maranatha-I Tego Arcana Dei was chosen to be the color green.  As the planned sequel to the first which told readers, "For to know the Seal is like a death to your present self and the Gold is of purer value than can be perceived in your imagination", it may have signified Rebirth and guided the reader further along on their journey.
The journey, of course, can still continue. The puzzle, for many, was an introduction into the many paths of which can be taken.  It was like a search for hidden treasure; much like the enigma surrounding Rennes le Chateau.  Another verse in Proverbs comes to mind; "and if you look for it as for silver and search for it as for hidden treasure, then you will understand the fear of the Lord and find the knowledge of God."
Follow MW on Social Media: