Tangled Web a Crime Mystery and Thriller! ~ John Davis

Tangled Web a Crime Mystery and Thriller!
By John Davis
Movies that cleverly, and with professional mastery, draw a viewer into the story's mystery have captured our imagination since the dawn of the film industry. I think of Cary Grant in Charade, or the witty play on plots in The Last of Sheila with James Coburn.
I discovered a recently released mystery thriller which can match all the subtle clue dropping of any Hitchcock movie,Tangled Web. Mystery is speculation about the unknown, or better said, the unknowable. Think about this. Faith is a mystery, but battery with a blunt instrument in a living room by unknown assailants is not. Or, can brutal murder be unknowable?
We have what appears to be such a mystery in Tangled Web, a new film by Reilly and Reigns Productions. An FBI special agent is horrifically murdered, then a cast of possible suspects emerges. We wonder at the strangeness of those people, and their backgrounds, which surround the dead man's past. Places in this southern production are also odd enough to lend an air of dread to the scenes. Hot, and sometimes simply scary locales in Alabama and Mississippi become places you won't forget.
As Malcolm Gladwell observed, there is a puzzle lying underneath any such mysterious, unknown developments as well. A puzzle can be assembled. Few police investigators ever concede their work involves mystery, for the clues lead somewhere, and so the crime is knowable. Clues become the puzzle pieces which you, the viewer, are given in abundance, just as the investigators receive them.
The wit behind this imaginative screenplay by Jeremy Ivy is its total honesty, although you'll not notice it right away. All the clues are laid out for you, just like in a Sherlock Holmes story. No tricks of magical discoveries, non-introduced felons, or other false flags interfere with this well wrought story. Central to the entire tale is its credibility, where no facial expression, no off hand comment, and no observation is without significance.
To bring this about, the Director Kenny Davis commented,
"We had a very talented cast, including leading lady Sherri Eakin of New Orleans, Louisiana. I was excited to see her bring the role of Kendra Brock to life. The supporting cast included actors from Northwest Alabama, to the Gulf Coast of Alabama, from Tupelo, Mississippi to New Orleans, Louisiana, and expanding all the way out to Los Angeles, California."
Kenny smiled and added,
"We had the help of countless friends, family, businesses, and even strangers, to bring this project to light. Before we started filming, I contacted the FBI and was put in touch with the FBI Office of Public Affairs. We had to submit our script for review by the FBI before we were allowed to use the "FBI" name in our film. That was a nervous couple of days waiting for the OK! Really, they were tremendously helpful when it came to verifying the accuracy of our FBI props, terminology, actions, and so on."
A plot that employs actual residents to lend believability to the story recalls movies of immediate post war Italy. Jeremy Ivy, whose leading role as the fixer who appears to resolve what has baffled others in this tale of intrigue and murder is a pleasure to watch. His interactions, especially with the remarkably talented Ms. Eakin, carry the movie to an ending which totally satisfies.
Tangled Web is a tight, thought provoking, and clever film. You'll find, as I did, that you'll be astonished. Next…you'll watch it again, and see that all the clues were there, for those who could "…observe, and not just see," as Sherlock Holmes told his erstwhile friend Doctor Watson.
Here's how to get Tangled Web. Tangled Web is now available for digital download and streaming at www.tangledweb.vhx.tv. As Jeremy says,
"VHX is a great service for independent filmmakers to control how their product is distributed and marketed. It also allows them full autonomy. But with the digital age we are in, being able to control the digital aspect of distribution is very beneficial!"
~By MW Team Writer:  John Davis
John William Davis is a retired US Army counterintelligence officer and linguist. As a linguist, Mr. Davis learned five languages, the better to serve in his counterintelligence jobs during some 14 years overseas. He served in West Germany, Italy, and the Netherlands during the Cold War. There he was active in investigations directed against the Communist espionage services of the Soviet Union and Warsaw Pact. His mission was also to investigate terrorists such as the Red Army Faction in Germany, the Red Brigades in Italy, and the Combatant Communist Cells (in Belgium) among a host of others.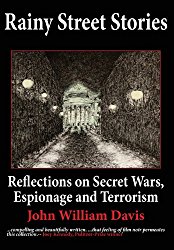 His work during the Cold War and the bitter aftermath led him to write Rainy Street Stories, 'Reflections on Secret Wars, Terrorism, and Espionage'. He wanted to talk about not only the events themselves, but also the moral and human aspects of the secret world as well.
Click to Read John's Complete Profile
.
Follow MW on Social Media: