Slicks: Featured Question with Forrest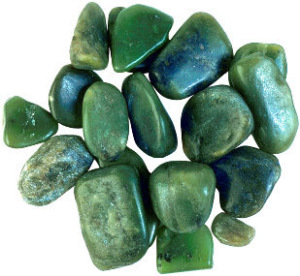 Dear Forrest, You collect many artifacts, and it seems they quietly impress upon you to study them and then tell their stories. Do you have a favorite story/history of an artifact?~ j
.
Sure I do. One such object is a "slick," a word used here as a noun. It's a term that's largely unknown, even to historians. Many of the old mountain men and fur trappers were never without four items while on the trail: A Hawkin rifle, a Russell Green River knife, a strike-a-light, and a slick. Slicks are small pieces of jade that were carried as good luck charms, or amulets.
Most of them were picked up in Southwest Wyoming that is home to some of the best jade in the world. They got their name because some exhibit heavy "bag wear" from being carried in a pants pocket for years. I found mine under the floor boards of a long-ago abandoned log cabin within walking distance of the Gallatin River in Montana. I carry it sometimes myself.f
ADDITION: 1/6/2015
Forrest has sent an image of his 'slick'!
(sent with note:  'Here's my little 2.5 " jade slick.  You can see the polish from being carried in a buckskin pocket for a few decades.  …….. Sometimes when I set out on a difficult mission that has to work for me, I stick it in my pocket." f)
Follow MW on Social Media: