Six Questions with The Wolf: Author of Finding Forrest Fenn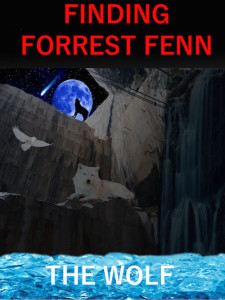 Next to doing it yourself, nothing takes you on The Thrill of the Chase better than The Wolf's book Finding Forrest Fenn. It is a must read for not only any one wanting to learn more about the Million Dollar search for Fenn's Gold hidden in the Rocky Mountains, but anyone in search of treasure!
The pages of Wolf's tales captivates readers from start to finish! He truthfully and humbly shares how heart wrenching, and yet thrilling the Roller-Coaster ride of treasure hunting can be.  During his action packed adventures, The Wolf reveals logical and well thought out solutions for Forrest Fenn's hunt.  These valuable thought processes and deduction skills can be applied to any mystery or puzzling hunt though; making it an universal treasure guide.
Finding Forrest Fenn's inspiring account of The Wolf and his family's search for Gold does not end giving on the last page. All Monies from Sales of the book are being given to Cancer Research. I appreciated The Wolf's time in answering the following Six Questions.  'Ripple effects' of treasure hunting are some of the best waves being created today and I believe The Wolf has started a powerful one.  Enjoy!
1Q) The adventures to find Forrest Fenn's hidden chest of gold, worth possibly millions, began in the fall of 2010 with the release of his memoir, The Thrill of the Chase.  When did you first become inspired to chase after this amazing treasure secreted in the Rocky Mountains? Do you remember what your first thoughts were? 
I was watching The Today Show during the March 2013 clue give away.  I remember being instantly attracted to the treasure hunt.  I called to my family, "Everyone gather around, this guy hid a million dollar treasure!" It was like yesterday and my instant thought was, "What an absolutely amazing idea! How did he know that I and so many others wanted to go on a real treasure hunt!?"
2Q) You've decided to share your incredible experiences looking for Fenn's treasure by writing the book, Finding Forrest Fenn. This includes numerous ideas about how the poem can logically lead a person to various locations and contains immense and significant information.  Anyone searching for the treasure will gain remarkable perspectives to help them with their own hunting.  How did you feel about sharing this information?  Do you have any regrets, concerns, or second thoughts in doing so now?
I decided this would be my last treasure hunt. I had gathered so much valuable information that I felt was right on the ledge of discovery and I felt it would help me move on if I could pass on that information to someone else who could use it to discover the chest. I have never had any second thoughts and I feel really good about disclosing this information. I would be extremely happy if the treasure was found due to the information disclosed in my book.
3Q) Besides your book offering tremendous value by revealing ideas and vital thought processes on how the poem could be followed to direct a person to the treasure, it offers, most importantly, the opportunity, to give a gift.  A Treasure. All proceeds go to Cancer Research. What encouraged you to do this and why did you choose this particular and extremely worthwhile cause?
Mr. Fenn was 58 years old when he got cancer; I was only 25 when I found out I had malignant melanoma, a skin cancer with an very low survival rate. Instantly, I could relate to Terry Fox, a young Canadian who died running across Canada with only one leg trying to raise cancer awareness. I always wanted to do something unique like what that brave young man did. Terry Fox started out slow but his foundation has raised over $600 million for cancer research.
4Q)  Year after year, the hidden treasure of Forrest Fenn continues to go unfound.  Searchers are realizing how difficult it is to discover a 10×10 bronze chest in the Rockies, even if they feel that they have narrowed down a search area.  Do you feel the treasure will be found in Fenn's lifetime?  Your lifetime?  Within the next 200 years? Ever?  Why or why not?
I sense the treasure will be found in Mr. Fenn's lifetime, perhaps sooner than we all think. He buried his bells and jars with the intent of discovery thousands of years from now, but the chest is different, and his own words confirm this hypothesis.
5Q) You end your book by saying, "My quest is complete," and although this implies that your search for Forrest Fenn's chest is over, I have to ask if you believe it truly is. Won't you miss the chase?  What did you enjoy most about the search?  What did you like least?
I wanted to search with everyone in my family and I accomplished that, with the exception of my dog, Lucky. I will always miss the chase for it has brought adventure and many fond memories with my family. I loved trying to solve this difficult puzzle with people I love and that is what I will miss the most. What I least liked about the search is the countless hours I spent in deep thought and sitting in front of my laptop that I wished I could have spent with my family.
6Q)  You have actively and enthusiastically searched for the Treasure of Forrest Fenn.  From this you have gained experiences, memories, and knowledge that can only be given by taking part in the roller coaster ride of treasure hunting. Would you offer any advice for searchers? 
I truly believe this adventure is called The Thrill of the Chase because we are supposed to ride that emotional rollercoaster, and thus it was designed in such a way that our initial instincts will be wrong and we must fail first and then learn what the clues mean.  Thus, my most important piece of advice is to search with someone you love and enjoy the Rocky Mountains, because at least you will come away with something. Too many people lock themselves into one concept/solution.  Keep an open mind and make a contract with yourself and acknowledge that you can be wrong; if you can't find the treasure in two trips to the same location, it is not there. Learn from your experience and move on.
A huge thanks, Wolf.  Your honest account and answers inspire. I feel the Quest (of anything and everything) is one of the most important adventures we all can go on.  So much is learned by the journey. 
Through your answers above, and within your book, you have proven this and demonstrate how the adventure will live on in the hearts of questers one way or another.  I love the quote:
"The mind, once stretched by a new idea never returns to its original dimensions."~ Ralph Waldo Emerson
Best of luck to all in whatever you seek!
Follow MW on Social Media: