Six Questions with Nathanael Mortensen: Creator of Dragon's Hoard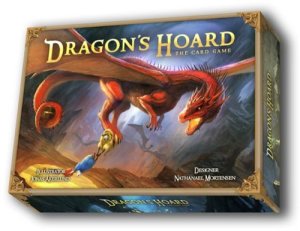 Nathanael Mortensen has brought the exciting activity of Treasure Hunting to the game table!  His dream to develop a game for families and friends, for all to enjoy, resulted in his creation of the international card game called Dragon's Hoard. It has been nominated as one of the top ten Easter Games this year! In Dragon's Hoard, player's take on the role of a Dragon in efforts to amass the most valuable treasure hoard by using 'Sheep' as resources.  This must be done, however, while watching out for other clever Dragons and their disruptive antics to opponent's plans.  It's awesome!
Mortensen's accomplishment was certainly not achieved without determination and courage. His passion for bringing Dragon's Hoard to fruition helped him overcome obstacles that all entrepreneurs face on the road to success.  As head of Mortensen Games, he inspires others to pursue their dreams by leading with example.  And no matter what your particular objective is, his game can remind us all to 'be like a Dragon; to chase after your goals, and amass a treasure found in achieving a dream!
1Q) Thank-you for Dragon's Hoard, Nathanael.  My family and I just love playing it.  We like the fact that each game played offers different choices, depths, and strategies to consider.  How did the idea for the game come about, and when did you know you wanted to be a game creator?
The idea for Dragon's Hoard jumped into my head one day after playing Settlers of Catan. While playing Setters of Catan players kept saying, "sheep, sheep anyone, sheep for wood?" That's kind of what inspired me. I thought, what if I made a game where you played as a dragon, and the sheep were the resources.
When did I know I wanted to be a game designer? I've always wanted to do something fun and creative with my life. When I was very young, I use to play what I called Talking Games with my younger sisters. I would tell a story and include my three little sisters in the story, but that's not all, I'd also let them tell stories and act out their own character as a mini story within the story I was telling. My sisters always loved playing Talking Games, but I didn't know then that I wanted to make games. I think it really hit me when I was at KublaCon last year demoing my game. I loved meeting so many people, and families who loved games. I was so honored to be apart of that community, and it was so exciting that I made a game people have enjoyed. That's when I knew I wanted to be a game designer.
2Q) Producing and marketing a game is no easy task.  Competition is fierce in the gaming business.  What do you feel has helped you gain attention in the game business? And do have any advice for newcomers?
There are a lot of things that have contributed to the success of Dragon's Hoard. I feel the artwork is a good part of its success. Having invested in Jonas and is amazing skills has no doubt brought some attention. Another clear reason why Dragon's Hoard has been successful is because so many generous people supported it during it's Kickstarter campaign. Without the supporters, it wouldn't have been made. Also, I believe the success of every game is greatly influenced by the support of family members and friends. Lastly, I know there is some competition in the gaming world, but I encourage anyone who has a desire to make a game to follow his or her passion. If you create a good game, there will be an audience who will want to play it.
3Q) Dragon's Hoard involves a unique method of game play by utilizing both sides of the cards.  I find this forces difficult decisions to sometimes be made and deepens the level of play.  What made you think of this?  Had you always had in the back of your mind that you wanted to create a card game with this fascinating double-sided feature for cards?
One day I woke up at 4am, and I had the realization that I could put the sheep on the backside of the cards. I knew it was such a good idea I couldn't sleep, and so I woke up my sweetheart to tell her all about it. It wasn't until that moment that the game came together.
4Q) You had a great experience with bringing Dragon's Hoard to a wider audience through Kickstarter.  What did you like most about Crowdfunding? And least? And would you use this platform to bring another game to market?
The best part about Crowd-funding is witnessing there are people who love what you are doing, and want to support you. The hardest part about Kickstarter is running into unknowns that often delay a project. Delaying a project can often upset backers, and it's hard to see the people who care to support you have to wait and sometimes-even worry whether or not they will receive their copy of the product.
5Q) What was one of your favorite games to play growing up?  And why?
I loved Emperor's Challenge. It was my favorite game as a child. I don't remember the whole game, but you play as an emperor trying to acquire treasure. In the later part of the game you can acquire a staff and even a dragon companion. The miniatures in the game were between 2 and 3 inches tall, and were absolutely lovely.
6Q)Dragon's Hoard is now International. Early retirement might not yet be in your sight, but congrats!  But would you share some of your plans for the future?  Like do you have plans for making other games?  Or are your still just enjoying the wonderful journey of Dragon's Hoard?
Thank you for the congratulations. I have loved the entire experience of Dragon's Hoard. It has been a great honor to also be published by Kosmos. Dragon's Hoard is in good hands. As for designing new games, I'm also currently designing several games that I hope to share with the game community in the near future. I'm not sure if I'll self-publish them, or reach out to a publisher. Working with Kosmos has been great, and has inspired me to do more designing and less self-publishing. We will just have to wait and see.
Thank you Jenny for your great posts on games, and thank you for connecting with me and asking me these questions. I hope this information helps you and your readers.
Sincerely, Nathanael
Those are inspiring answers, Nathanael!  Thank you so much for taking time to share!  How your idea came about, was developed, and then success later achieved encourages any one to strive towards their own goals.  These examples are always wonderful to hear about.
I find it interesting how many 'aha moments' come during the restful hours. It seems the mind is always working on things being thought on, and one should never give up on realizing an answer.  With part of Dragon's Hoard coming together in that way, it demonstrates the importance of keeping the faith to overcome challenging issues….solutions will appear!
Thanks and congrats again, Nathanael. 
Follow MW on Social Media: