Six Questions with Lou Bruno: Creative Director for Once Upon A While by Forrest Fenn
What a pleasure it is to chat with one of the amazing talents behind Forrest Fenn's new book, Once Upon A While. Lou Bruno has been casting his charms over Forrest's published writings for many years now.  His expertise in marketing, branding, advertising, and design has been brilliantly applied, and is seen not only in six of Forrest's books now, but in many other businesses and projects.
It was a great opportunity to learn more about his remarkable work, and more about Forrest Fenn!  MW wonders what it might be like working with Forrest?
Enjoy the following Six Questions – and answers! I am so appreciative to Lou for taking time to give us all a glimpse into the wonderful creations of Forrest's books- books that have given us all such THRILLS!  Thank you, Lou!
Six Questions with Lou Bruno
1Q) Your work on Forrest's new book, Once Upon A While, is receiving lots of attention.  The creative elements like the 'My Two Sense' clips, and the cover 'fishing upon the stars' are excellent.  I'm wondering who suggested the design for those and can you briefly explain the process of producing one of Forrest Fenn's books?
As the Creative Director for Forrest's books, in many ways (though certainly not as glamorous), I am like a movie director. I know the script well through conversations and I come to know the vision and artistic goals of the writer. It's then (using the same analogy) up to me to find and hire the right "actors, camera personal, creative resources, etc.". Then with that chosen "team" we create and produce a product that exceeds the expectations of the writer.
The designer of the book is critical. Susan Caldwell, who has been my designer for the past 3 books of Forrest's, is brilliant. She is extremely creative and will always deliver world class files. She is a consummate professional. I am often placed between the designer and Forrest, as there are always compromises and decisions that require both practical and aesthetic balances.
The "My Two Sense" clips was an idea that came about during a conversation about using blog responses. Trust between the three of us allows for creative and unique evolutions…and that was one of them. The cover art was discussed early on – using the art from the Suzanne Somers story, with the stars. The idea of using the stick figure of Forrest fishing for a star was Susan Caldwell's – and its brilliant! The cover is amazing!
2Q) Once Upon A While is only one of Forrest's books you, along with Susan Caldwell, have skillfully fashioned for Forrest.  There is also: Teepee Smoke, Seventeen Dollars a Square Inch, Thrill of the Chase, Too Far to Walk, and Leon Gaspard: The Call of Distant Places.  Each seem so unique, and yet it seems you have managed to craft a flowing style within them all.  How would you describe this 'theme' or what inspires the overall aim?
Each of those books, except the trilogy of "memoirs" (Thrill of the Chase, Too Far to Walk and now, Once Upon A While) are very unique. Teepee Smoke, Seventeen Dollars a Square Inch and Leon Gaspard are about individual artists, each with very distinctive personalities, cultural perspectives and art. I am very proud of those books as they reflect the artist as much as they showcase their art. Of course, without hesitation, Forrest's goals and vision for each of those books was paramount, so the printed end result is what he required and expected.
3Q) When and how did you first meet Forrest?  It would seem your first work with him was 'Teepee Smoke'; but had you known him before? What was your first impression? 
I have known Forrest, his wife Peggy, and his family for nearly 30 years. Forrest Fenn is an icon in the art world, and especially within the Southwestern genre. His knowledge and experience has earned him his status. Professionally working with him is no different than having dinner with him over the holidays. He is generous, demanding, fair, constructively critical, witty, sensitive and confident. I am fortunate and blessed to know him and his family.
4Q) I have to ask. We all love Forrest and appreciate the legendary treasure hunt he has given us. But from someone who has worked closely with him on projects which he holds dear and expects the best, is he difficult to work for?  What would you say is the worst thing about working with Forrest?
Forrest, as I said in the previous question, is demanding and that, at times, has caused much stress. But Forrest has reminded me with every project that "if it were easy, everyone would do it…". Forrest often pushes us (Susan and I) to our previous "end of our line". But alas, that is how greater things occur. At the end of every exhausting project, within a day or two, we would jump for the next project! I don't want to overstate my respect for him, at risk of sounding patronizing, but I am truly blessed to be a part of his artistic legacy via these books. I am certain Susan shares my sentiments.
5Q) When you began designing The Thrill of the Chase, what were your thoughts about the dare to find his hidden million-dollar chest that it incorporated? Were you surprised? And as searchers, we are always wondering what design elements Forrest was involved in or not within that book.  Those postmarks especially. If you can say, how much influence did Forrest have over their conception, and in other features the book holds?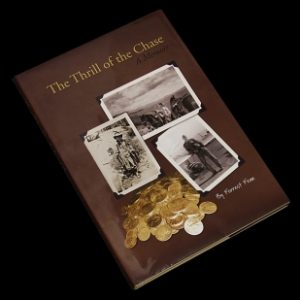 The Thrill of the Chase was the first of its kind in my book projects with Forrest. The book has a focus on the treasure, as well as his first writings of memoirs. One of the exciting aspects of working with Forrest is how a book evolves. Its very much like my earlier analogy of directing a movie, where script, scenes and even characters are added, edited, or changed during the construction of the book.
I can say that certain elements were added at the very end of The Thrill of the Chase production that, to me, were (likely) integral to the mission of the book. Forrest is deep, and I don't say that lightly. I know that the images and thoughts that Forrest paints with his words are filled with feeling and experience…and purpose.
6Q) As a successful branding and marketing strategist, with national and international acclaim, how do you feel advertising and publishing are changing with the innovations in technology and the internet?  What do you enjoy most about your work?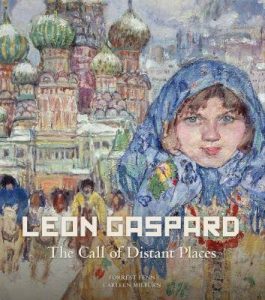 Wow, that is a big question. I can confidently say that within the 40 years that I have been in the graphic and advertising industry, that digital influence has more than revolutionized what is possible. For instance, in Forrest's book, Leon Gaspard: The Call of Distant Places, we placed a number QR codes on pages where the reader can scan the quick read code with their smart phone and immediately, while reading the book, bring up audio and video recordings of the artist, Leon Gaspard!
The visual textures and layers that can be incorporated onto pages today, were inconceivable 15 years ago. Regarding book production, I enjoy the whole process, from beginning to end. Although we do websites, holding and feeling a well produced printed product still has an edge (for me). Industry-wise, positively influencing a company's brand and creative strategy in an extremely crowded media world is very exciting and rewarding. I have been and remain a fortunate player in a dynamic world.
Thanks Lou!  So very insightful, extraordinary, and thoughtful answers.  Your reply to Q4 is especially inspiring!  It reminds me of one of my favorite qutoes by T.S. Eliot: 'If you aren't in over your head, how do you know how tall you are?'   I think we can all agree with you that Forrest lives by 'exploring the edge' and encouraging others to do the same!  How very fortunate you are to experience such motivation so closely.
It was also wonderful for you to give us a special glimpse into your fascinating world of creative directing and design in regards to working with Forrest.  Truly interesting!  Thanks again!
For those interested in ordering any of the above mentioned books, you may find them here:
Once Upon A While by Forrest Fenn, his newest book, is expected to finished by the end of October 2017.  A link to Collected Works Bookstore will become available for placing orders once ready.
As of now, inquiries may be made to info@onceuponawhile.com
Follow MW on Social Media: