Six Questions with Henning Wolter: Creator of The Undercover Job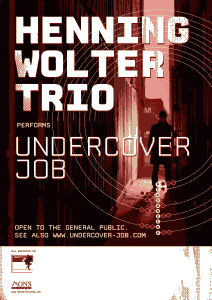 Henning Wolter is part of an amazing and very talented musical Jazz group named The Henning Wolter Trio.  His gifts do not end there, though!  His following six answers reveal how creative, entertaining, pleasant, full of energy, and charming he is too.  His replies also share a bit about his secret treasure hunt, The Undercover Job.  This mystery continues to capture interest across the world, and engages those who take up the challenge in a daring adventure.  By all that he does, and the pleasure he shares while doing it, Henning is certainly an inspiring person.  Have fun!
1Q)  I thoroughly enjoy listening to the Undercover Job CD.  It's wonderful. Since I love piano music, I was pleasantly surprised to work on a treasure hunt which included it! What inspired you to create such a unique way to involve not only your music, but the challenge to decode messages leading to a valuable secret treasure?
It was this appeal of mystery that led me to this project. I'm fascinated by anything that it not immediately obvious; what's written between the lines, the secret room in a house, the picture behind the picture, the suitcase with the false bottom, the secret message in an encrypted text; the buried treasure, etc.
And, of course, music fascinates me. Then I combined the two – the music and the mystery – and that resulted in UNDERCOVER JOB.
2Q) I shouldn't forget the 'Trio'.  Your beautiful music is a combined effort with two other very talented Jazz Musicians.  I laugh when I read on your site how the forming of the Henning Wolter Trio is one of the 'best kept secrets since the discovery of the sixth corner of the Pentagon'!  However, can you reveal just a little of this secret with us?
The secret of how our trio was formed? Well, we'd like to know that ourselves! This secret has been troubling us for as long as the band has existed. We assume the following: like the additional, sixth corner of the Pentagon that no one knew about until 1991, our trio has an additional band member that no one has seen yet. Not even we know this fourth band member, but we feel him there – even during concerts! We haven't yet found out what instrument this fourth band member plays. We have been researching and investigating this thoroughly and everywhere we go to uncover this secret. Who is the fourth man in our trio? Some have speculated that one of us three is a double agent – then there would be four of us. But, that's just a vague clue… Maybe I'm the double agent myself and I don't even know it… Perhaps one of the readers can help us out with this? Who's the fourth man? Only he can reveal the secret of how the band was formed!
3Q) The Undercover Job involves a hunt which nine missions need solved before the year 2015.  How confident are you that someone will find the secret depot 2BSTX by this time?  And since you originate in Germany, do you feel English only speaking people can successfully compete in these missions too?
The question when depot 2BSTX will be found is really exciting even to me. It could have happened the day the treasure hunt was launched – on March 15, 2013. Maybe someone is discovering the treasure at this very moment or perhaps not until 2015. Maybe no one will manage to do it. This uncertainty, this incalculability, is very exciting for me, too!
You don't need to speak German for UNDERCOVER JOB. English-speaking people have the same chances of finding the depot as German-speaking participants. A couple other languages come up in some of the missions, as well. That makes it a little harder. But even all of that can be solved with all of the translation tools on the web (recently I was able to decode Korean Facebook entries using these tools!) So, no worries! What's important is to find out how the secret messages are encoded in each of the missions. Once you find the keys, you'll find the solutions!  
4Q) Learning history on the various methods of codes, code breaking, and the different people who use them (real and not), while working as an undercover agent on the hunt, is a great addition. I find it all so very interesting.  In your research, what is one of your favorite stories about codes or accounts on spies you came across?
There are so many exciting historical cases of spies, codes and secret messages. One of them happened in Germany in the early 1980s. I was about twenty years old back then and followed this thrilling case in the media very closely. Seventy-five US cents played a decisive role:
A group of young West German hackers, Karl Koch and Markus Hess managed to illegally access western computer systems and sold the information they found there to the Soviet secret service (KGB). The group was discovered because Clifford Stoll of Lawrence Berkeley National Laboratory (LBNL) in the United States investigated an accounting error in his system that was caused by the hackers' break-in and then tracked down the spies. The accounting error involved a mere 75 cents! This case made the headlines in Germany under the name "KGB Hack" and a film was made about it called "23."
The composition "Krypto" on our CD is dedicated to this case.
5Q) From reading the Undercover Job website, you certainly seem to like to have fun.  The humorous remarks, like the one mentioned in Q2, make me laugh, and I was wondering if you add this to your show.  Since you perform in Europe, I haven't had the opportunity to see (and hear) you on stage.  What do your performances include and what do you enjoy most about doing them?
Oh, yes, we have loads of fun especially on stage. The music is the focus of our concerts, of course, but between – and sometimes during – the pieces we interweave theatrical elements. For example, an old field telephone is hidden on stage where our head office sometimes calls to give us crucial information or new missions. Or Miss Moneypenny, Q's secretary in James Bond, appears and shows off her skills on the typewriter. Also, Agent Bascrobat (our bassist) can do a temple dance that the famous secret agent Mata Hari invented.
What I like most about these show elements is the audience reaction: the laughter! We use our music to introduce the audience to the context of the "secret agent" theme in a humorous way.
6Q)  Has music always been one of your passions?  Combining music with a treasure hunt is exciting and creative. I love the challenge. But what other interests might you mix; or would you like to do something else using your music in the future?
Yes, even as a small child music was very important to me and my great passion – and still is today. That's why I am very lucky to be a professional musician. But I also always had other interests, like bicycle racing and the Tour de France. Before "UNDERCOVER JOB" I produced the CD "LE GRAND SPECTACLE," in homage to the Tour de France and – like UNDERCOVER JOB – a concept CD. I travelled to the Tour de France especially for it and recorded all sorts of sounds, noises, loudspeaker announcements, the cheers of the crowds, etc. there with a minidisc player. Then I integrated these sounds in my compositions, which took up themes from the Tour de France. For the piece "Downhill," for instance, I wove the whizzing bike sounds from the peloton during a downhill stretch into a brisk and rapid piece.
As for my future plans: when I was working on the UNDERCOVER JOB project, I noticed that the basic idea had a lot of potential. I had more ideas for it than I could put to use without it becoming excessive. So, I had to deliberately hold myself back. So, there are still plenty of unused ideas on the back burner that I can't talk about right now because I don't know yet how I want to combine them and make use of them. But, there is plenty of time for that. UNDERCOVER JOB will keep me very busy for some time!
Your answers exemplify the fun you have!  I love the passion you show!  Thank-you, Henning, for such an interesting and amusing interview.  I continue to appreciate your music and the working The Undercover Job.  And, I look forward to other secretive missions, you may create.  It seems mystery will always follow you!
Be sure to Like and Follow on Facebook! Undercover Job.  They only recently hit 500 likes and have been soaring since.  The excitement is contagious!  There is a Treasure to be found!
Follow MW on Social Media: