Six Questions with Forrest Fenn and The Thrill of the Chase Treasure Hunt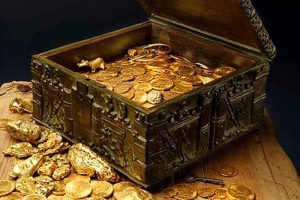 Forrest Fenn has awakened the adventurer inside thousands of people across the world by offering a dare to find his million dollar treasure chest hidden somewhere in the Rockies. The decision to take Forrest up on his dare is each person's choice and theirs alone. It's known the discovery of the 10x10x5 bronze 1150AD box filled with gold and other incredible artifacts won't be a simple task. What is also known, though, is the final opening of the chest's lid will be beyond extraordinary and worth the effort.
One has to wonder, who will find it, when, or how? These questions Forrest might not even be able to answer. He can only answer Where it will be found. He created a wonderful mystery for himself as much as for all of us. I thank Forrest so sincerely for this mystery; this chase of a lifetime. Each of us come to the Chase differently, but for those who let the Chase work it's magic, we will all come out of it with treasures of some sort.
The quote in a book about Duveen; "They never knew it was the chase they sought and not the quarry", which Forrest shared in the first Six Questions I ever asked him, five years ago, resonates still.
Thank you, Forrest, for taking time to answer the following Six Questions, and all Six Questions before. Your encouragement to dream is the spark for so many fires.
1Q) Even today, after more than six years of people searching, and after all the news coverage, articles, and stories written about your secreted treasure, some people are just learning about your Thrill of the Chase treasure hunt and getting involved. It continues to inspire. Do you have any advice for these new people? How should they begin the search six years after so many others? Do you feel they are at any disadvantage?
No, fresh eyes and new thinking might provoke a winning idea. I would advise new searchers to look for the clues in my poem and try to marry them to a place on a map. It seems like the longer one thinks about the search the more they complicate the problem.
2Q) Many people wonder about the autobiography sealed in the chest. Although tiny in size, it is sure to be an immense pleasure to read. Will there be any surprises for the reader?
About 1990 or so, I learned that my daughters (now ages 56 and 57) didn't know who Clark Gable was. I was shocked and that's when I decided to record my family history (my autobiography). I wanted them to know as much as I could remember about my life and the events that largely shaped who I am today, and them, and theirs, in turn. I didn't have a computer so for several years I jotted remembrances in pencil on a yellow pad, starting with an incident that happened when I was about one. Yes, I remember it vividly. I don't think my story would be interesting to the average reader.
Also, since talking about books, how is your book called 'Closet Stories of Taos' coming along? The title suggests information for the book would be difficult to discover. How did you come by the information? Can you share something interesting now?
I have largely retired from book writing, although I have three more in my computer, all over half finished. But my calendar is running out of pages and I am not distressed by realizing that no shelf will hold any of those books.
The one I like best is Closet Stories of Taos. It's a gossip book about the artists and characters who lived in that little town at the turn into the 20th century; Doughbelly Price. Mace McHorse, Long John Dunn, Teresita Ferguson, Arthur Manby, and the artists.
During my gallery days I purchased the estates of several early Taos artists, and acquired the personal papers of a few more. Therein I learned the juicy flavors that make that book so interesting. I tell the story about Long John Dunn (very few people know that wasn't his real name). Everyone loved him although he killed two men in Texas. He was on trial for cattle rustling but jumped through a window and on the first horse he saw. And he picked up a rope that was lying on the ground, and made good his escape through a thunderstorm of bullets and bad language. He said he was miles down the road before he realized there was a horse tied to the rope he picked up.
3Q) I'm wondering if you could create a day, what would it be filled with? Is there something you wanted to explore but the opportunity never presented itself to fully take hold of? And then I'm wondering if you would be willing to share what a day in your life is like now? Do you wish it to be different in anyway or do you feel the contentment of a life being well lived?
Jenny, I must laugh at the question. My answer begs you to give me forty more years of life and see what happens. My 86 years of experiences have filled my mind with many things I would like to do. There is so much to be learned by failing, and I may be the world's leading authority on that subject. My days now are filled with tending to domestic chores, an occasional lunch with friends, and compensating.
4Q) I've heard our adorable Little Girl from India decided to start writing a Little Kid from Peñasco. They are fully enjoying and excitedly exploring areas they feel your treasure poem could lead to. They've researched via maps, history books, and the internet. However, since she has been told she can't get closer than two clues to the treasure, she's planning a trip to not only personally meet the Little Kid from Peñasco, but to search the Rockies for your treasure. How do you imagine their search will go? Can she now find the treasure?
Some of those kids from Peñasco are very bright. The treasure will be found by someone who followed the clues to the location. To me, that is the only plausible recipe.
5Q) The following quote inspires me to do more and to realize each moment of the day spent is an investment into what we leave behind; 'The Goal isn't to live forever but to create something that will'. You're living a grand life, and have created things which will live on when gone. Besides the Chase, which I know fills hearts around the world, what are some other investments made in your life which offer warm smiles to you now, knowing they were worthwhile and will live on too?
Thanks for that Jenny. My family has been my biggest investment and has brought the most important rewards. My memory is filled with little pleasures that are renewed every time I think of them. I remember when my two daughters were about 12 and 13. They were doing little irritating things that kids that age do. One was staying up too late, and another was talking on the phone too much. Our home phone was also our business phone, and we had only one line. So one day I called them together for a meeting. I told them that I was proud of the way they were conducting themselves. I said, "Because you are so responsible your mother and I have decided to let you make all of the decisions related to your personal life. But if we discover that you can't handle those responsibilities we will continue making decisions for you." It was so funny, because they seemed to grow up overnight. They stopped doing most of the things that were irritating to me. I guess all families have similar stories.
Plus, some learned people will diss me for saying this, but I believe not having much of a education gave me an advantage in some important ways. Not knowing what I was doing forced me to learn fast, and to not test the depth of the water with both feet. A few very important breaks luckily came to me accidentally.
The military taught me discipline, gave me purpose, and demanded a good work code. Being a fighter pilot taught me to think fast and to depend on myself because most of the time there no one else was around. Owning a retail business taught me to hire people who were smarter than I was, and then sit down and leave them alone.
My assets are not unique to me but I was savvy enough to take advantage of what I had: imagination and guts, an awesome twosome. I had the ability to make important decisions right now and the wisdom to change them just as fast if necessary. And I was willing to hustle hard. One of my rules was, "Show me a man who owns a business and works an eight hour day, and I'll show you a failure."
6Q) After each year's questions, I begin to think 'oh maybe I should have asked that one instead' or 'I wonder if you would have rather answered something else.' So my last question now is to ask 'is there a question you would like me to ask, and then will you answer it? I'm always just so honored to share your words and I don't want to limit any you might want to share with everyone.
Jenny, you are a dichotomy in its greatest moment, and an aberration also. Your mind is always seeking and planning alternatives. Reminds me of the reporter who asked, "Other than that Mrs. Lincoln, how was the show." I have studied your web site and seen how you are so in control. I have spent hours with you and your husband, and have noticed how well you use understatement to your advantage. I think you are baiting me with your question, but I will answer it anyway. I see a rare opportunity so I must give this question a lot of thought.
Hmmm. OK:
Forrest, You seem to have a lot of confidence and believe you can do anything. Do you think you could have been good artist?
Answer: NO.
Thank you Forrest. Not only have you made February 4th such a special day for the last 5 years, but you continue to make every day special through your gift of the Chase. Words really can't express my gratitude. I love this Chase, and others. They are such a part of my life.
You mention the time we visited San Lazaro with you. I'm not sure if you remember the piece of Chamisa I picked up while there (shown right). Both you and my husband laughed at the things I was 'collecting'- debris to most, but treasures to me. That piece of twisted old wood sits on top my office desk with other things I treasure. I realize their worth comes only from my heart. Isn't it amazing how they can be priceless and worthless at the same time.
I often wonder, what my little Chamisa might be thinking…..does it know how much it is treasured? It must, because when I looked up at it one day it offered this answer to me…….
Like Beauty is in the eye of the beholder, so Treasure is in the heart of the searcher.
Thanks again for bringing so many different kinds of 'treasures' into the hearts of searchers, Forrest.
Other Six Questions with Forrest Fenn:
Posted Feb. 4th, 2016: Six Questions with Forrest Fenn: Over Five Years of the Chase
Posted Feb 4th, 2015: Six Questions Yet Again with Forrest Fenn
Posted Feb 4th, 2014: Six Questions More with Forrest Fenn
Posted Feb 4th, 2013: Six Questions with Forrest Fenn
Follow MW on Social Media: