Six Questions with Douglas Pearson: Author of The Bossall Treasure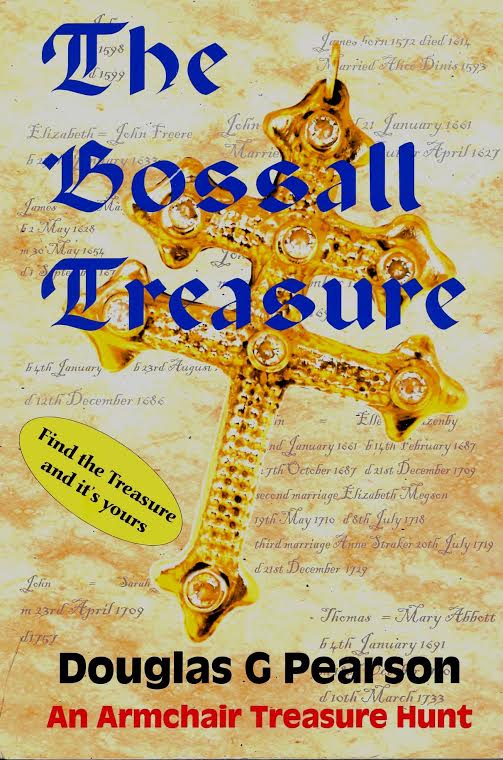 Douglas Pearson offers the exciting chance to find REAL hidden treasure within his book entitled The Bossall Treasure. Based on actual history, Douglas weaves a fascinating and adventurous tale of mystery surrounding Bossall Hall and a hidden Croix de Lorraine.  His story ends with the Lorraine Cross remaining lost, and asks, 'Can you find it?
Whether or not you take up the challenge to find Douglas' secreted prize by searching out clues in his book, you are sure to find Treasures in his answers to the following Six Questions.  His answers truly inspire by sharing heart-warming investigations and experiences of his own.  He shares how his own journey into history revealed a true account of lost treasure and tells of wonders which can only be found by exploring the past!
His answers make you pause and think, 'what could I discover by the search?' They encourage you on!   For this, and for his time in answering the Six Questions below, I thank him much!  Enjoy!
1Q)  I love the actual history entwined within your book, and the fact it includes an exciting treasure hunt involving that past!  I feel the search for the hidden Golden Lorraine Cross not only provides the reader with a wonderful opportunity to learn more about the remarkable men and events comprising the hunt's tale, but gives the reader an adventure to join in on. What inspired you to create such a thrilling treasure book and hunt?
I had wanted to research my family history for a long time but had not much idea how to go about it. Years ago my son, knowing of my interest, gave me a beginner's book on the subject for Christmas. I read it and thought there is no way I have the time to give the subject the time and effort it deserved. I put it on the "things to do list" for when I retired from business.
I started the first volume in 2000, it amounted to 100,000 words, hundreds of images and was completed in 2004, completed is not quite the right word; but I really thought I had exhausted all records and reached the end of the trail. I had researched my Pearson family and my mother's side of the family, she was a Maddick.  Once finished I had become totally hooked, I had enjoyed every minute and wanted more. I decided to have another attempt and to concentrate on the Pearson's. I had traced us back to the late 1600's, now I set myself an unrealistic target, given what I knew, to try and discover another 100 years of events, back to around 1600.
The second volume of 125,000 words was completed in 2010. Once I overcame the stumbling block encountered previously, things started to move. The results were simply fantastic and amongst them was the connection to the Knights Templar and the record of the treasure hidden in the moat surrounding Bossall Hall. There was a story to tell with so much of it well documented and I wanted to tell it. It appeared to be the perfect material for an armchair treasure hunt. The book, The Bossall Treasure, took me three years to write and was published in 2014.
I was delighted with the result. The only previous writing experience I had was writing technical articles for heating and plumbing magazines. My academic qualifications were minimal. At age 13 I went to a technical school where most true academic subjects were dropped and I was working by the time I was 15.
2Q)  As of this writing, the hidden treasure remains unclaimed. Do you feel anyone has been close to discovering the location? Would you offer any advice on how to maybe go about looking or solving the clues in the book to determine its secret spot?  Do you think it will be found?
I truly believe the treasure will one day be found.
The problem I had in constructing the clues was that I had nobody to test them on. The only person who knows the answers to the clues is myself. My initial concern was that I would make the clues too easy to solve, then I got concerned they were too difficult. You can't test them on yourself when you know the answers.
Consequently I spent hours and hours looking at other types of puzzles and brain teasers where answers were available, including the solution to Kit Williams treasure hunt Masquerade, to try and match the difficulty levels with those of my clues. I then made some alterations to my original thoughts.
Certainly the level of difficulty varies from clue to clue, I believe some are what I would rate as easy.
As yet not a single person has approached me with even some kind of attempt. The only advice I can offer is to apply some lateral thinking, think "outside the box" by using novel, indirect and creative approaches.
3Q)  It seems the research into your family history has given you many rewards.  Would you be willing to share some of the gratifying discoveries made during your journey into the past? What did you enjoy most about the investigation?  Did anything surprise you?
The list of rewards is endless. Can I just relate one or two.
Discovery of a record of a gravestone at Howden Minster in Yorkshire led me to visit there. I had a grave number that I showed to the Minster warden. He told me the number meant nothing and all I could do was search the massive Minster and its grounds. There are hundreds of Graves. While chatting I happened to look down and guess what, I was standing on the grave I had come to find.
Another time I was convinced there must be at least one Pearson buried at St, Botolph's, Bossall's Parish Church in Yorkshire although I knew some were buried in York. A chat with the local vicar told me that a local history group had surveyed the site and there were no Pearson graves. I don't give up so easily. It demanded a site visit. On a bright but bitter February day I visited, I could find nothing, maybe the vicar was right.
Then I spotted a small rectangular of lichen amongst the grass, it was stone underneath hence the little grass, I purchased a bucket and an ice scraper from the local garage and returned.  A resident of Bossall Hall filled my bucket with hot water. I scraped off the lichen and washed the stone clean. There it was with two Pearson's and two relatives and they were mine.
The book written by William John Belt in 1785 and mentioned in my book took me months and months to track down a copy, Finally I found one at the Bodleian Library, part of Oxford University, only to be told I was not allowed a copy because of its very fragile state.  Then they told me who else had a copy, York Minster Library (don't ask me why), within days I had a copy in my hand.
You could not buy these experiences; they are unique and priceless.
I would be more than happy to share other discoveries and help anyone I can from my experiences and maybe help prevent people getting into some of the holes I have found myself in (usually dug by myself).
However the most enjoyable part of the whole experience were the people I met on my journey. There are some wicked people in this world but for the most part people are friendly, helpful and generous. I had lots of help from complete strangers who were willing to talk to me, to loan me documents and photographs, to answer my letters and generally make the whole thing a pleasure.
Despite the massive body of work freely available on the Internet I am surprised that so many people accept the first answer they find when searching for a particular fact and then start building on it with no real foundation. Good as the Internet is there are millions of errors posted, many in all good faith.
Many of my initial finds have been on the Internet; they should be treated as a starting point. Then comes the task of verifying your find; that can take forever sometimes. Then next you have to verify again hopefully from a different source, e.g. see the original document, visit the scene, link a connected fact. etc. Let the Internet work for you but don't become a slave to it, it will let you down.
4Q) Do you feel everyone should investigate their own history? What resources do you feel helped you the most in order to trace the trails of family?  What do you feel was the biggest obstacle?
Some People have little or no interest in the history of their family. In that case they are best to forget it. There is no way they are going to devote the time and effort required. However for those with a little interest they may find it really exciting as I have, especially if they have some early success.
I have gained a far better understanding of why some families were as they were or still are, particularly with the more recent generations, parents, grandparents, relatives and friends from the same era.
My older sister introduced me to my father when he returned from the Second World War in 1946. I was five years old and it was the first time I had seen him since I was nine months old. When young I did not know the background of my parents, how could I? As I got older, but still a child, I was privately quite upset by the poor relationship I had with my father; I became rather dismissive in order to overcome the situation.
Later I picked up only a snippet here and there because my mother and father spoke very little about the past. I don't think I ever heard my father speak about the war, his early work, or his parents or relations. My mother did, but only very rarely and usually to berate her stepmother. By the time I started to seriously look into my families past my father had died and my mother's memory had lapsed. I slowly pieced together all the information I could find about my parents.
My father was a railwayman starting work at fourteen, He was the eldest of eight children and took a fathers roll with his younger siblings, as his father was very susceptible to a drink. One of his brothers was disabled due to a lamppost falling on him and another brother was killed in the war.
My mother lost her own mother to the Spanish flue in 1918 when she was only nine years old. She hated her stepmother. The hate must have been very deep rooted, as a child we only visited my maternal grandparents house when she was not at home. I investigated her stepmother; she'd had a torrid time in her first marriage. She bore six children and only two survived, both girls. The last death, a boy 14 months old died in 1915 and her husband died one year later age 35.I suspect after all this loving someone else's child, especially a girl, was difficult.
With all this baggage, then my father being away for five years leaving his wife and young family to cope it did not leave much room for what we call today bonding. Researching my family I have been able to better come to terms with my poor relationship with my father and have strived hard to ensure that in my family we have lived our lives differently.
With so much information available it is hard to identify one resource, however I would strongly advise this. Even if you are not ready to start the in-depth research do start talking to family and friends, making notes, collecting photographs and documents and family memorabilia. People pass away, move district or country, throw away items and forget things through time. Start now, they will prove invaluable to you in the future.
The biggest obstacle is unfortunately met by many who embark on their family history, at times there is nothing further they can do. In England most people will be able to get as far back as 1837 when civil registration began. Prior to then you start to become reliant on other types of records to prove that anyone found in Parish Registers, that go back to around 1600, belongs to the same family.
I was very fortunate with my Pearson family because by the time I reached the early 1800's I was amazed and pleased to find that the family had been quite wealthy. Consequently they owned property and businesses; that meant there was lots of documented evidence of their existence. Had they been farm labourers for example the trail very often simply dries up.
5Q) Besides researching and creating challenging treasure hunts for all to pursue, what else do enjoy doing? Is there another project you are working on or might want to do in the future?
I have always enjoyed doing almost anything with my hands, spending many hours altering and improving the houses we have lived in, six in all in England and we are in our second home in Menorca. I have a small collection of clocks plus some I have built myself. Since I was a young boy I have been interested in magic in all its forms. At Christmas I have performed a magic show on Boxing Day for the past 20 years and a mind reading act in Menorca for the last 15 years, dreaming up the magic and designing and constructing most of my props.
This coming winter I want to update my family history for the period 2004 to 2015. A lot has happened.
I would like to make my work on the Pearsons and Maddicks available to all interested genealogists but my existing volumes are very personal and will need considerable editing.
Then I have another secret idea for a book but my wife keeps telling me I don't have the time. We'll have to wait and see.
6Q)  You have mixed Fact and Fiction incredibly well in your book; giving the challenge for a real life treasure to be found.  Are you enjoying watching the excitement introduced by the Bossall Treasure hunt? 
I am still enjoying the results of the book. I never wrote it to try and make money; the writing was a personal challenge. Feedback and interest in the book continues to excite me just as your interest is doing right now.
Thank you, Douglas. Your answers provide such a unique and wonderful look into the rewards gained from researching history. So much can be learned from exploring the past.  I love the adventure you have created and given. That is the gift.  Your hidden Treasure is just an excellent bonus! (One I will be searching for!!)
I also want to say I am grateful for the paths your hunt have encouraged.  I may not have ventured down some of them, if not spurred on by your tale; and I am enjoying the journey! Thanks again. 
Follow MW on Social Media: