Six Questions with Alan Muskat: Treasure Hunting and Wild Food Adventures: Asheville, NC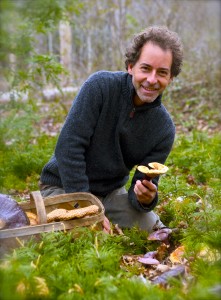 You may have seen Alan Muskat on the History Channel or on Bizarre Foods; or you might have read about him in USA Today, Washington Post, Wall Street Journal, or numerous other popular publications. His wild food adventures have captured widespread interest from not only those who want to learn more about foraging, but also those who love to explore and find mysterious new things!
Alan takes treasure hunting to a whole new forte. On his guided tours, you eat what you find! If daring enough, that is! And if not, no fear, treasure is found multiple ways during a hunt. It is never merely one single end find. For this reason, searching with Alan, while strolling through some of the most amazing and diverse countryside, will surely have you finding lots of treasures! You just never know for certain what kind of treasures they will be!
I was excited to ask him more about the incredible opportunity he provides. Enjoy!
1Q) I love how you offer adventure with learning. You share your foraging skills in such a perfect way for others to experience and truly enjoy discovering the mysterious (and edible) world that surrounds us every day. But I'm wondering, how did you learn it? Did you always enjoy the outdoors, natural foods, and exploring?
I grew up in Florida where the wildest places we went were live beaches. These are ones with small aquatic life like mini starfish, seahorses, etc. It was fascinating but it wasn't foraging for food. If anything, I was always watching out for the occasional gold doubloon (I never did find one).
I first went hiking in college. I had never been camping before. I also cooked for myself for the first time, which led to an interest in natural food. Both of these together led to wild food, but only once I'd studied taoism as well as early Marxism. Both are about rediscovering what is natural and hence, health-promoting. Today, I realize that I was still looking for treasure: "something for nothing." Now I realize that the joy and benefit is in the looking, not the finding.
2Q) Your Wild Food Adventure tours are the first forage-to-table in the country and internationally known. What encouraged and inspired you to forage ahead and create such a successful one of a kind business?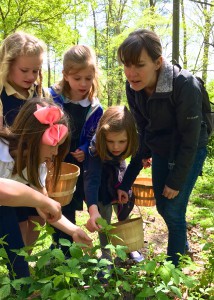 After college I decided to "quit the system" and get back to the land. Eventually I found I still needed money and started selling wild food to restaurants, then teaching others how to forage. Eventually was able to stop "selling someone a fish," so to speak and focus entirely on "teaching them to fish" instead. I saw, like the taoists and early Marxists and so many others, our disconnection from nature, and figured this was a direct way for people to literally "embody" nature and the peace that comes of it by, as I like to say, "taking in the landscape."
3Q) You mention on your website, no taste like home that your grandmother (jokingly) commented; 'and he graduated from Princeton' to forage! But obviously, she and the rest of your family must be proud. You have educated and developed other programs to deeply appreciate the earth; our homes and ourselves. It's clear you must be passionate about your work. What are some of these programs you have become involved in and what do you most enjoy about them?
I've started an initiative to have, by 2030, every child in the United States be able to safely identify and harvest the ten most common wild foods in their area. I've also started a wild foods instructor training program. And I'm on the North Carolina Wild Mushroom Safety Committee. Of all these, what feels most rewarding actually is my writing, where I get to say exactly what I feel is most important, the meaning of foraging.
4Q) What surprises you most during a tour? For over twenty years you have been taking people into the woods in search for treasures, both edible and non. Is there anything that you persistently think as surprising?
I am often surprised by how much is out there. I will quickly scout an area, for example, and decide that there will be little to show people, usually because we're in a drought. Yet, we'll spread out and people come back with all sorts of edibles. That's the power of teamwork.
5Q) Each tour must be different, as the seasons and guests are always changing. But is there something that always seems to be the same, either with the woods or the people?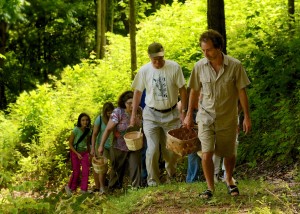 One pattern among participants is that sadly, very few seem ready to take an active role in their own health. I mean that when I point out a medicinal mushroom, for instance, only one in ten people will want to bother taking it home to use. This is even after I point out that mushrooms are the premier cancer cure and preventative, and that one out of every three women and one out of every two men is getting cancer. My own partner got cancer two years ago, and even I, at times, live in denial of that fact. We look or wait for "magic bullets," synthetic pills, which is a kind of treasure-seeking or magical thinking, while literally overlooking the real treasure right outside our door.
6Q) Since starting your business, have you witnessed changes in the availability of food? Is this something you see yourself continually doing? And are there thoughts of expanding or other ideas of yours wanting to sprout and grow as beautifully as your wild food adventures, and the other pursuits you have had?
Wild food really can address issues of hunger and food security, but only if we realize that the real problem goes to the deepest level: to our cultural perception of our place in the world. That's religion, really, or our spirituality that I'm talking about. Do we treasure life itself? Do we realize that we live, today, in The Garden of Eden? Or do we look for what we think we need in boxes, be they box stores or banks — in other words, in the artificial scarcity of money
Food has never been scarce and does not have to be. Agriculture is inherently unsustainable; so is foraging. But there is a solution, even for this many of us, and that is to work with nature, not against it. It's called permaculture.
The most important part of permaculture is realizing that we are all in this together. So I have another pursuit, The REAL Center, where we teach Nonviolent Communication and other relationship skills from a "nondual" perspective. That simply means that we see life as "one great adventure," not just something to survive but to enjoy. When I would explore those wild beaches as a child, even though I wasn't collecting food, it still fed me. Another way to put it is that life is a dream. If you're dreaming, do you really have enemies? Do you really have to worry about anything? That's the profound shift in perspective that interests me most.
Thank you so much for your informative answers, Alan. You have given such an incredible perspective on foraging. It really is a treasure hunt with powerful rewards and finds! For myself, foraging is such a new area of learning; But now, after realizing the kind of benefits it offers, I see it as a quest definitely worth continuing.
I appreciate you taking time to introduce such an interesting subject to myself and others. There are so many 'treasures' out there to be found and explored. And you only need to look, truly look, to see them. Again, thanks for opening my eyes to an amazing treasure hunt!
For more information on Alan Muskat and his wild food adventures, please visit his website: NoTasteLikeHome.org
Treasure the Adventure!
Follow MW on Social Media: