Six Questions with 12th Plate Treasure Hunters on A Solved and Successful Treasure Hunt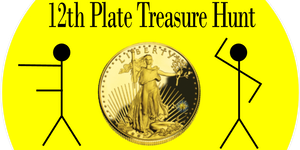 In the fall of last year (2016) was the release of a treasure hunt entitled 12th Plate.  It was the search for an actual one ounce American Eagle Gold Coin hidden somewhere in the city of Raleigh, NC.  Clues to find this valuable prize (over $1000 dollars) were provided on a downloadable PDF by Originovel.com.  Numerous people took up the exciting challenge to find the hidden gold coin, and last week (June 14th) it was announced the Treasure had been discovered!  Congrats to the finder! (who wants to remain anonymous)
However, as with any treasure hunt, there are multiple people involved and who take part in the thrilling adventure to find the treasure.  Below are stories of two of 12th Plate's treasure hunters who were very active in the search.  And although they did not find the final reward, they found treasures of their own.   They have fond memories and the wonderful feelings and thrills that looking for 'treasures' give!    
I was so glad to have been able to ask both of these dedicated and wholehearted searchers- 3 Questions each (for Six Questions!).  Their answers are inspiring and speak for the fun that getting out there to explore offers!  Enjoy!
First are the answers from 'Squirejames88':  (DON'T miss the 'Great Bendy Tree Incident!')
1) How did you hear about the 12th Plate treasure hunt and what made you decide to get involved?
I have enjoyed researching the Forrest Fenn Treasure hunt off and on for about 3 years now. While catching up on all things Fenn in Mysterious Writings, I saw the list of armchair treasure hunts. When I saw that a hunt actually listed the city that the treasure was located in, and that I was only about a 5 hour drive away and I have relatives there, I decided to give it a try.
Once I found the Mysterious Writings Forum on the 12th Plate hunt and started making progress at the clues, either with help from the forum, or on my own, I was hooked.
2) What did you enjoy most about working on the hunt? What did you enjoy least?
About two weeks before the hunt was solved, I was able to get down to Raleigh for a weekend and look for the treasure. I spent about 8 hours total at Project Enlightenment Park over that weekend searching for it. The best part was having my two daughters (ages 8 and 10) and my father-in-law (who lives in the area) help me search.
We all had a great time even though we weren't successful. The other part I enjoyed was the atmosphere in the forum. We all helped each other. We encouraged each other to throw out any and all ideas, and while there was some debate, it was all constructive and friendly. I really hope to share ideas with this group again.
The least enjoyable part was towards the end when I knew we (the forum) were getting close. I got a little nervous that someone would find it that just read through the forum and didn't do the work themselves. We even got an email from Originovel stating the same concern. We created an atmosphere of idea sharing which was great, but it was an open forum that anyone could read. Fortunately, this did not happen. The person who found it definitely put the time into both research and "boots on the ground" and I congratulate her on her find.
As an interesting side note, on my last trip to the park towards the end of our time before we had to go back home, my 8 year old daughter alerted me to a crooked tree that she said could be the bend referred to on the parchment. I thought about it, but brushed it off as it was time to go. This will go down in our family history as "the great bendy tree incident" for years to come, as this ended up being the key and location to finding the treasure. I think I will have to get her and her sister to help me solve Forrest Fenn's poem.
3) What were some of the most interesting things you found or learned while working on the hunt? Would you do it again?
I learned that much of the same thought processes and research tools I have used in solving tough genealogy problems (which I have done for about 15 years now), applied very well to this kind of treasure hunt. Even though this was my first hunt of this kind, I was actually able to solve some of the codes on the Twelfth plate parchment. The method I used is to throw a lot of ideas against the proverbial wall no matter how crazy, and then start researching each idea to see if it fits.
I knew to be careful not to fall so in love with an idea that you convince yourself it must be right. If it doesn't feel quite right, it probably isn't.  I know I threw two ideas up on the forum early on that later I knew were wrong, and you just have to let those ideas go (I wonder how many people went searching in searching in Dorothea Dix park because I mentioned it as a possible point of interest early on).
I also learned a lot from sharing ideas with Kpro, Phil, Razorback, brambler, and engr101 and hope to be able to do it again in the future.
I look forward to participating in more hunts of this type. I am looking forward to the upcoming Mysterious Writings "The Lost Philosopher's Stone's" hunts.  I also hope Originovel continues to do similar hunts in the future.
NOW answers from 'Kpro':
1)How I heard about 12th plate:
I was a new searcher that got my start with the Fenn hunt over a year ago. I had recently decided that I needed another hunt(s) as I had several BOTG without success, but loved that "thrill". I jumped into a couple of other hunts I found on MW, 12th plate being one, since I was relatively close and loved BOTG.
Why I got involved:
I decided to get involved as it was a low cost hunt and was something my husband and my kids could get involved with. Some of the other hunts had novels to read through, and my kids are elementary school age and that was too thick to sift through for specific hints (though I tried). As, my kids went from kind of interested to asking after school if there were new clues, about metal detectors, and about going out to the search area daily – they really caught the hunting bug!
2)What I enjoyed about the hunt:
I enjoyed that there were:
no intentional red herrings. Having confirmation is key and new for me as a hunter. The clues, once solved, seemed for the most part obvious and made it a thrill, especially for the kids.
a final end date to determine if it was solved/solvable and the organizer has said he will publish the full solve shortly.
there were additional hints along the way. We actually were not a part of the hunt for the majority of it. The first month or so we were but then got stuck. I then noticed a post on MW about hints and some thoughts about the hunt. I thought it was important to reciprocate and shared on MW further clues I found. Once the groups on the forum shared, it was solved within weeks.
the organizer seemed to understand the community and changed things when he saw issues. Example: some not in the hunt seemed to be benefiting from the hints he gave on twitter, so took them from public tweets to private emails of those who had paid to be in the hunt. Kudos for the flexibility.
-Family Vote:
Dad: It was a family affair (all of us went out), BOTG with the family, and that the hints, once solved, seemed so obvious – no tricks.
Kids:
"The family spent time together" and "some of the things we solved out there made for us cheering and hugging".
What I enjoyed least:
The organizer responded to some searchers and not others. He did realize the issues to this and stated he would no longer be doing this in the future towards the end of this year's hunt. Again, kudos to him.
The person who has the coin put out her solve, and it did not yield an exact location. We used the hunt phrase "luck" for this type of success, which the organizer did not think possible to find it without an exact location. It was disappointing it seemed to have been solved in a luck manner, though since the full solve has not been published yet by the organizer, it is difficult to know if this was unintended.
-Family Vote:
Dad: If we knew that luck could have benefited us, we could have dug up so many spots and perhaps have the coin.
Kids: "I wanted more clues" and "when you got the email that said the hunt was over".
3)Interesting things found or learned from:
MW's forum allowed for us to collaborate. This was exciting and allowed for a social experiment. We shared and it brought us forward, within a few weeks of publically collaborating, the hunt after over 6 months, was solved (but not by a collaborator on the forum I don't think).
Kids see the world SOOOOO differently than parents. My son especially just wanted to go out and explore. I am more of the researcher, so we did both. He was also very nervous when we met the police officer in the park and we asked a variety of questions. He learned a great life lesson: respect the location but also be a great treasure hunter.
Would we do it again:
Parents: Yes!
Kids: "Yes, but don't make it so hard, I want that coin!".
We really enjoyed this hunt, though the purse is much less than other hunts, it got us outside and had a good family adventure.
Thank you Squirejames88 and Kpro for your inspiring answers!  I loved them!  You are true adventurers and inspire those to take up the challenge to find treasures— of ALL kinds.  Personally, that is one thing I love about treasure hunts-  they offer an incentive to explore and learn about places which we might never have gone to see or do.  They provide the chance to meet new people, have adventures, and create memories that last a lifetime, and beyond! 
Treasures are found- even if not the treasure first sought out to discover.   You both are proof to that.
Thanks again!
.
Follow MW on Social Media: