Rennes le Chateau Research Books and Links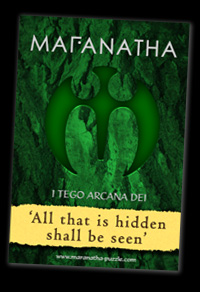 Although I have loved puzzles and mysteries all my life, it wasn't until I started working on the Maranatha Puzzle in 2005 that I became fully introduced and intrigued by the mystery of Rennes le Chateau.  Sure I had enjoyed reading Dan Brown's Da Vinci Code in 2003 which used theories and information involving Rennes le Chateau; but that was a fictional novel, and I tossed it quickly off as simply entertaining.
The Maranatha Puzzle book offered something unique and different.  The authors of this tale claimed to have discovered a genuine 'secret' while researching Rennes le Chateau material.  In attempt to effectively share their supposed incredible findings, they created a puzzle.  So now there was an actual mystery and a puzzle to solve.  Needless to say, I was charmed.
I previously wrote a brief summary on The Mystery of Rennes le Chateau, but for those interested in learning more about the twisted tangle with probable no end, I offer a few beginning books and links on the Rennes le Chateau enigma, and the reasons why I suggest them.   They all talk about and provide varying accounts, theories, or conclusions on different aspects of Rennes le Chateau. (Realize the below list is only a tiny fraction of the pages written on RLC).
Holy Blood Holy Grail by Baigent, Leigh, and Lincoln (1982):  I think most would agree this book first introduced the Rennes le Chateau affair to a wide audience and brought major attention to it. The book includes lots of research on the area and subjects involved.  It establishes there are definite strange happenings and mysteries gripping the region.  Even though conclusions of the book are not always agreed upon (but that goes for all these books), it is a must read to understand how some thoughts and ideas on Rennes le Chateau originated.
The Accursed Treasure of Rennes le Chateau by Gerard de Sede and translated by Bill Kersey (1967):  Reading this book is what actually initiated the research and writing of Holy Blood Holy Grail.  So again, for understanding background of the mystery, this is a must read.  Personally, I love the following story involving it:  When visiting the area, Lincoln (author of Holy Blood, Holy Grail) picked up this book, began reading, and noticed there was an unmentioned hidden code on a copy of a parchment contained in the book.  Lincoln was totally fascinated by such an omission and wondered why the code about treasure wasn't revealed.  And so it began.  (I want to pick up a book and find an un-expecting hidden code that leads to a complete mystery..:) How cool is that!)
The Tomb of God by Andrews and Schellenberger (1996):  This book includes much of the known material surrounding the mystery of RLC; the history of Sauniere, discoveries in the church, the parchments, the codes, the paintings, the stones, the neighboring areas, etc.  It provides a nice overall account and gives lots to consider on how the many pieces could be used to fit together.
Inside the Priory of Sion by Robert Howells (2011):  I like this particular book for the chapter written on the mystical Red Serpent publication which is believed to have ties to the lost treasure (spiritual and/or physical).  As the quote at the beginning of the book's section states, "Le Serpent Rouge encapsulates all aspects of the mystery" ~ Priory of Sion.  Howells' interpretations of the 13 differing stanzas are impressive.  Whether a person agrees with the complete analysis, or not, doesn't matter.  It is clear once delving deeper in the RLC mystery that allegorical and alchemical references could be at play, and Howells does a great job of introducing some of these to readers.
Web of Gold by Patton and Mackness (2000):  This book brings the historical richness of the Rennes le Chateau tale into consideration.   Legends, conspiracies, guardians of treasure, and more surface in this book.  I have to say, it's an interesting read and offers thoughts on how power and gold hungry players may be involved.
The Fool's Coat by VI Marriot (2005):  This book applies Occam's Razor to the mystery. If a simple explanation exists for pieces of the puzzle, it just might be the reason.  🙂  Imaginations can run wild when dealing with RLC and so it is nice to read this book to keep it in perspective (at least for a little while).
The Priory of Sion by Jean-Luc Chaumeil (2010):  The author of this book communicated with key players who promoted the mystery of RLC in the late 1950's onwards.  It gives a firsthand account to certain events of the claimed 'Priory of Sion'.  Even though it causes doubt to the authenticity of these going on's (much does really), it shows some of the lengths those players went.  As many other searchers have suggested, it seems they knew 'something' and it makes a person question their game and wonder what is the real mystery behind RLC.  The book also contains copies of documents, like Stone and Paper.
Lost Tomb of the Knights Templar by Ben Hammott (2008/2011ebook):  Although a lot of controversy surrounds the discovery of the tomb mentioned near the end of the book (because most believe it to now have been hoaxed), this book does contain notable images of the RLC area and the church's interior, thoughts, and perspectives that may be inspire a real discovery some time.  Plus, it is good to be aware that hoaxes are part of the activity at RLC.
For a critical look into the Priory of Sion: The Evolution of the Priory of Sion: Captain Way by Spartacus Paraclete (2012 ebook)
Please feel free to offer your own in the comments below.
Follow MW on Social Media: