Puzzles and Riddles: Find the Missing Dollar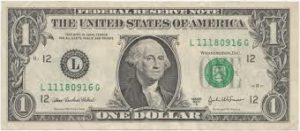 It doesn't have to cost anything to puzzle and riddle the mind, giving it exercise.  However, can you find the missing dollar?
The riddle of the Missing Dollar, for a first time reader, always causes one to stop and think. The facts are presented in such a way that the reader tags right along with the logical approach to it all, until the end! The riddle is as follows:
Three guests check into a hotel room. The cost is 30 dollars. The guests share the cost of the room, so each guest gives the hotel clerk 10 dollars. After the three guests go to the room, the clerk realizes he made a mistake and the cost of the room is actually only 25 dollars. The hotel clerk gives 5 dollars to the bellhop and tells him to return the overcharge to the three guests.
On his way, the bellhop realizes 5 dollars cannot be equally split 3 ways, so he decides to keep 2 dollars for himself and gives each guest 1 dollar back. This means each guest paid 9 dollars for the hotel room for a total 27 dollars. The bellhop has 2 dollars. This only adds to 29 dollars, but the guests originally paid 30 dollars. Where did the missing dollar go?
The above riddle is a mixing of information to create the dilemma. Because the telling of the story follows what seems to be a perfectly logical approach, the twist presented at the end comes as a surprise. Unless the reader immediately realized the calculations of adding and subtracting are not 'logical', the consequence of a 'missing dollar' is a mystery.
This simple exercise demonstrates how our minds can be easily guided to create false situations. Nonetheless, a reader, taking a moment to go back through the riddle and carefully thinking about the issue, will most likely find the 'twist' and the 'missing dollar'. Can you find the missing dollar?
Riddles do not have to be complex to be enjoyed. Many times, riddles, like the above, are the most entertaining when a person knows the answer rests in their thinking. Although the challenge to find the cause of mistaken thoughts may be frustrating, it is rewarding, once found.
E.I. Horsman stated this in his instructions for the 24 Puzzle (copyright 1891), (another great puzzle) "We do not furnish the answer, because the fun consists in finding it." (However, I'll post the answer in comments sometime next week for future reference.)
Studies have proven that just like the body benefits from using its muscles, so does our mind benefit from exercising the brain. So, take just a moment to consider it yourself.
Best of luck with all that you seek!   Treasure the Adventure Always!
Follow MW on Social Media: