Notes on the Fandango Treasure Hunt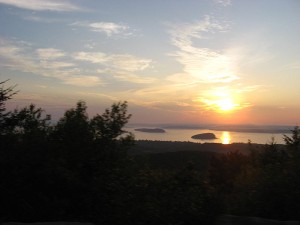 The Golden Key of the Fandango treasure hunt remains to be found.  This key is valued at 10,000 dollars and is hidden somewhere on Mount Desert Island in Maine.  In order to find the key, the book entitled Fandango: The Key to the Wind, is said to hold clues to a Master Riddle, which once solved, will reveal the location of this elusive prize.
The following are some notes I have taken on the hunt.  I will continue to update this page as I find things of interest.  Please realize they are my notes, and although I share them here, I am sure there are many more things you may find of value by looking through the book yourself.
There are 16 images.  Two of these (the 11th and 13th (pages 34,35 and pages 44,45) are double pages.
The images are framed by different colors and contain phrases
There are 77 red letters in the border (these help spell words)
There are also 14 blue letters in the border (these spell out 'Pace Forty South')
I find it interesting there are 47 letter I's (eyes) in the border, which could relate to the 47' fire and the border phrase 'all eyes in the fire.' (eyes were important in Masquerade and a connection is seen in Fandango)
There are two 4×4 number squares (found on page 17 and 40)  and one 4×4 with letters (page 11).  The number squares are used to re-arrange the letters.
Two dice on page 44 show pips 4 and 1 on one die, and pips 6 and 1 on another.  These would add to 57, like the pages of the number squares added.  57' is also the vintage of wine seen on page 30 on the shelf.
Some of the signs on page 44 spell words by taking the first letter.  They are:
RED signs give YELLOW
BLUE signs give RED
White signs give BOOK (without using NEPAL?)
There are two signs which point the opposite way. Portland (98) and Montreal (309).  These added give 407.
Image 2 (page 7) has a treasure chest with the numbers 1653.  Replacing letters with the numbers, FACE could be spelled. (similar to 131491=ACADIA on page 44).  This page also shows another chest with letters Xtc on the lock (and a possible star concealed?).  XTC would be 24,20, 3 and would add to 47? Although there are many golden keys scattered about the images, the one beside the lock here could possibly hints towards a 'lock' and 'key'
On page 56 in the book is a map with 'points of interests'.  The symbol for 'points of interests' is noticed on various pages throughout the book.
More notes later…
(photo credit- wikimedia– peetlesnumber1)
Follow MW on Social Media: