Nicolas Flamel and the Swan's Song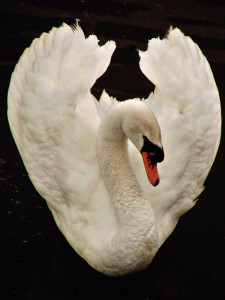 The belief in Nicolas Flamel discovering the Philosopher's Stone, giving the ability to turn base metals to gold, has caused many to investigate his life. What secrets are found depends mainly on the seeker.  Although still searching, I am intrigued by Flamel's giving heart and his fearless attitude towards death.  His known riches were spent on helping others and it seems he recognized death as inevitable.
The stories of Flamel portray him as always an avid student. His acquirement of the legendary book of Abraham the Jew only spurred him ever deeper to seek the wisdom he craved.  Hidden within the pages of this ancient book, a secret is believed to have been discovered by Flamel. The secret to transmute lead to gold.  Becoming wealthy after realizing the knowledge the book contained, the Flamel's lives(both he and his wife, Pernelle) were shown to be ones of philanthropy.  They gave to the less fortunate, helped build hospitals, and repaired churches. The gold was used to better the world around them, instead of used to better just themselves.
Another interesting element told in the stories of Flamel is his preparation for death.  He is described as a person at peace, and although not waiting around for death, he is said to not have feared it any longer.  The stories include how he designed his own tombstone, happily strolled the Cemetery of the Innocents, and lived life with an acceptance his time would come.
The above may sound strange, but in Plato's dialogue, Phaedo, some understanding to why Flamel lived his life in such a way is found.  In the dialogue, Socrates, after being sentenced to death, presents his reasoning for not fearing his own soon to be end. He says to those around him, "…those who practice philosophy in the right way are in training for dying and they fear death least of all men."
Previous to Socrates' statement, this right way of philosophy is explained.  I will not begin to try and offer a paraphrase.  It is best read from the source.  But, it would seem to me Flamel practiced this way.  He was a 'lover of wisdom' and in the belief death presented the highest form of wisdom, death would not be resented.
It would also seem this Philosopher's way, described in Phaedo, provides some explanation of Flamel's attitude towards living life.  His kind ways uplifted him. If a stone could be likened to the heart, it would seem Flamel certainly had the 'philosopher's stone'.
In relation to Flamel's story, I was fascinated with another section in Phaedo, as well; the mentioning of the song of the swan.  Various tales of the swan's song are often told, but in Phaedo, Socrates relates, "They sing before too, but when they realize they must die they sing most and most beautifully…"
Time is relative. To compare our time on Earth to Eternity makes today seem like seconds, years like hours, and a life only a day.  It reminds me of one of the ten paradoxes of Hui Shi.  He said, "Heaven is as low as earth; mountains and marshes are on the same level."  The statement implies that different perceptions depend on scales.  When the scale is so vast, any difference is meaningless and non-existent.
With this in mind, I am led to consider that if a person fully recognizes death is inevitable, and perceived near, may he not sing like a swan?  Were the hospitals that Flamel helped provide, or even the wall Gilgamesh is said to have built once realizing 'death is inevitable', songs of the Swan?  Are they now frozen music?
As today marks the end of a year, and the beginning of another, resolutions are commonly made. Mine will be to try and better know time is now, and realize that each day should be lived as if to be sung by a swan.
Sources:
Alchemylab, Nicolas Flamel, reviewed Dec. 2012
Cooper, John, editor, Plato: Complete Works, Hackett Publishing 1997
Follow MW on Social Media: