Metal Detecting Coin Beach in Delaware
The coastline north of Indian River Inlet in Delaware has earned a nickname Coin Beach after the many shipwrecked coins being discovered there.
I found my first coin with a metal detector on Coin Beach, Rehoboth, this last weekend. First day of 2017.  And ok, although it wasn't a coin from any known sunken ship off the coast, like it could have been one of the numerous British and Irish half pennies of the 1700's washed up from the Faithful Steward, it is still a treasured coin for me.
I'm sure I will smile every time I think of this 'first coin'.  Not only is it the newest coin I could have found, it is of the least denomination!  It was a 2016 penny.  Makes me laugh.  It marks that whatever coins I find from this point on is upward when considering monetary value.  However, if you know me, you know this 2016 penny will always be my most treasured and worthy coin. Absolutely priceless. Know it will be framed.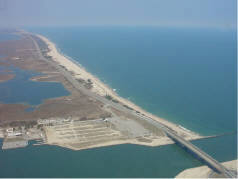 There were actually a few other people metal detecting Coin Beach the day I was there.  It was New Year's Day and considered warm for the 1st of January; a perfect day to get out and enjoy treasure hunting at the beach for the start of New Year fun!  A little girl (maybe about 10), who was also there, had found a quarter and a penny!  Again, maybe not a Gold Rose Guinea which are occasionally found on Coin Beach, but still treasure.
I'll be going back.  Most likely after a storm when new possible bounty could be washed up. Metal detecting along the many beaches of the East Coast (where allowed-always check for rules) offers an exciting time.  You never know what the waves might offer you to discover.
It is known the area along the Delmarva coast is popular for finding lost treasures of the sea.   Abundant ships with their cargo needed to deliver goods at inland ports along this area.  Philadelphia was one of the largest Eastern ports and so the waters here were heavily traversed upon.  And of course, not all ships, thousands of ships, didn't make it to port because of unexpected weather patterns or issues.  The concentration of shipwrecks along the eastern coast is one of the highest.
For this reason then, taking a stroll along the beach, with a metal detector in hand (or even with just a sharp eye), brings a great chance for finding a lost treasure.
I enjoy exploring for all types of treasure, but metal detecting along the beach holds a special place of adventure within me…… oh…what am I saying….they all do!  All of them hold special places within me.
Best of luck with all that you seek!  And treasure the adventure…..always!

Follow MW on Social Media: