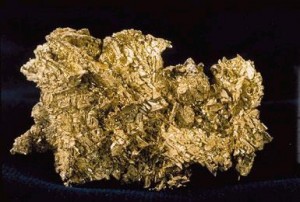 On September 3rd, 1857, the S.S. Central America set sail for New York from Aspinwall.  A few days into the voyage a powerful hurricane collided with the 272 foot sidewheel steamer and caused the steamship to slip beneath the waves.   A total of 426 people and the entire ship's cargo were lost off the coast of North Carolina on September 12th, 1857.
The S.S. Central America is often referred to as the Ship of Gold because of the large amount of gold which was being transported on board.  Originating from San Francisco, the cargo contained over 5000 newly minted 1857-S double eagle gold coins and gold bars, ingots, and nuggets which were mined and produced from the California gold rush.  The loss of the abundance of wealth in the storm gave rise to the financial crisis and The Panic of 1857.
Over a hundred years passed before the shipwreck was discovered by The Columbus-America Discovery Group.  In 1987, headed by Tommy Thompson, the group positively identified the ships bell underneath 8000 feet of water 200 miles off the coast of North Carolina.  Using the new technology of undersea robots, the group began to bring to the surface one of the greatest lost treasures of the United States.
Exhibitions of the S.S. Central America's artifacts were put on show across the country beginning in the year 2000.  These displays revealed not only the uniqueness of the items of the ship, but also shared newspaper articles printed in 1857 of stories of some of the 153 survivors.  Presented to the public, the sunken treasure of the steamship Central America disclosed pieces of gold rush history.
The ship had carried what was considered the largest Californian gold rush relic.  It was a gold bar weighing in at 80 pounds.  At the time it was made this 'Eureka bar' was stamped with a value of $17,433.57.  When it changed hands in 2001 the bar brought a record price of around eight million dollars.  The total value of the shipwrecked gold was estimated between 100 and 150 million dollars.
The exceptional value of the sunken treasure included the 1857-S double eagle gold coins.  Many of these coins made their way into museums or private collections.  However, some made their way to specialized coin dealers and are able to be purchased by anyone who wants to own a wonderful piece of gold rush history.  To invest in an 1857-S double eagle gold coin, a buyer should insist on having one in their specially sealed PCGS (Professional Coin Grading Service) holders.  Prices may vary widely according to each coins conditions and the current price of gold.  Researching and comparing prices before buying is highly recommended.
Collecting coins is a rewarding experience.  Throughout history new coins have been introduced or old coins have been changed.   Each coin has a story to tell.  For a collector, learning this background is an exceptional journey.
Sources:
The Official Red Book A Guide Book of USA Coins, Whitman Publishing, 2004
Recovered Treasure, San Francisco Chronicle, reviewed february 2013