Join the Adventures of the MW Armchair Treasure Hunts
UPDATE:  9/1/2017: The MW Treasure Hunt for the The Lost Philosopher's Stones came to a successful conclusion with all Philosopher's Stones being found and the $250 Cash Rewards disbursed.  Read more about those hunts and their winners in the links below.
MW Treasure Hunts are not just one and done adventures, though.
New Armchair Hunts are on Schedule with 'The Ring of Old' treasure hunt being released on September 21st, 2017!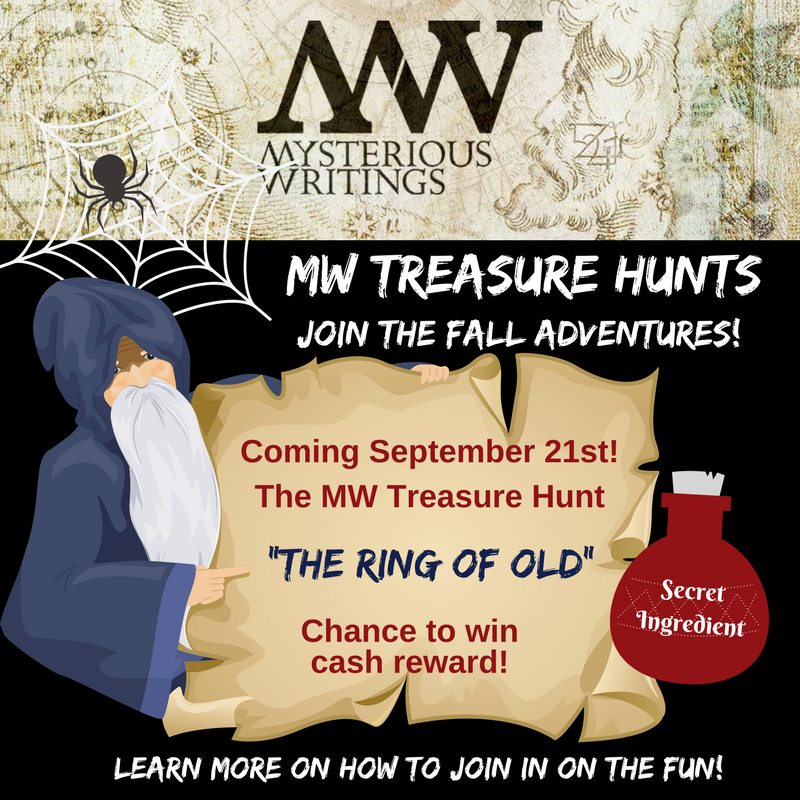 Subscribe to the MW NEWSLETTER for continued updates and other exclusive fun!
(Below is Past Hunt of The Lost Philosopher's Stones Page)
Mysterious Writings is thrilled to announce their very own Treasure Hunts: The Lost Philosopher's Stones are now being released!
They are Treasure Hunts to find 'special stones' worth $250 Cash Reward!
This is so exciting for us at MW, because we know we will be giving away Cash Prizes before the end the Summer, and probably even sooner!  These Treasure Hunts are meant to be solved and their treasures FOUND in short amount of time!
As shared in previous posts, It's our mission, at MW, to inspire people to explore life's treasures, mysteries, and adventures, and to have a blast while doing so!
We believe offering the MW Treasure Hunts are one way to do this.
There are four Treasure Scrolls included in this current summer adventure.  Each with its own treasure to be found worth a $250 cash prize. Buy one, two, three or buy them all. The choice is yours.
UPDATE:
SCROLL 'I':  SOLVED   (released on June 21st)
SCROLL 'II': SOLVED   (released on June 27th 2017)
SCROLL 'III': SOLVED on 8/19/2017  (released on Monday July 10th  2017)
SCROLL 'IV': SOLVED (released on Thursday July 20th 2017)
These Treasure Hunts are genuinely offered with the clear expectation to be solved and claimed before the end of Summer. Each Scroll conceals the hidden location of one of four unique Virtue Stones.
Find the stone and send its details (code on back), along with an image of the stone, to Treasure@MysteriousWritings.com to claim your reward!
If any of the four Virtue Stones are still not claimed by Monday 14th August 2017, Mysterious Writings will be offering additional clues to reveal the locations to ensure these treasures are found!
Join our Newsletter for Updates, Reminders, and these Exclusive Clues!
Each Scroll costs $2.99 and will be available exclusively as a PDF document through the Mysterious Writings website.
So what are 'The Lost Philosopher's Stones'?
Here is the back story for your Summer Adventure…
'The Legendary President, Abraham Lincoln, spoke of several books that influenced him through his childhood and life, one of which was the renowned work known as 'Aesop's Fables'. This book is actually a famous collection of short stories, each composed to convey an ethical teaching in a modest way. The simple but engaging structure of these stories have made them timeless, and are as relevant now as they were when they were originally composed around 2500 years ago.
Given their wide appeal as constructive tools for teaching and conveying moral behavior for centuries, it is not difficult to understand why Abraham Lincoln admired this work, and possibly drew inspiration from it. As he, himself, was known to prefer to use a story to convey his thoughts and inspire those around him – just as Aesop did.
Aesop, the writer credited with writing these stories, was a teacher from ancient Greece, a culture who not only prized the concept of morality, they also could be described as the first real tutors of ethical virtues. The famous Greek philosopher Plato was the first to try and define what virtue was and argued that there was four, namely – Wisdom, Courage, Moderation, and Justice. These virtues, and the classical study of them, became the foundation stones of such inspiring intellectual legacies as those of Thomas Paine, Benjamin Franklin, John Adams, James Madison, George Washington and Thomas Jefferson, giving little doubt as to why Lincoln also embraced the same values collectively.
This is the basis of 'The Lost Philosopher's Stones'. That these theoretical cornerstones of ethical behavior actually became real rocks, and that they were once the property of different famous people and eventually came into the possession of Abraham Lincoln himself, just as the book of Aesop did. So a separate stone now exists for each virtue; Wisdom, Courage, Moderation, and Justice. Then, fearing that his life could be in danger, Lincoln hid each stone at a different location in the hope that a worthy person could find them. The locations he chose were relevant to each famous person he believed once owned a specific stone and composed a Treasure Scroll for each.
These are the Scrolls creatively presented by Mysterious Writings and being released from their SECRET FILES.  We have more coming THIS FALL to be released!
So, each Scroll points to a Stone, you can do one, or all. It is completely up to you. The Scrolls will be released over the period of 30 days, with the first released on June 21st, 2017.
GET READY TO HAVE SOME ADVENTUROUS FUN!
Peek at Scroll I which has been SOLVED:
Follow MW on Social Media: