Hunting for Meteorites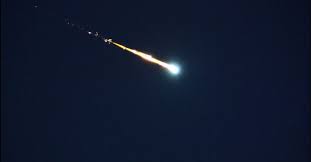 It is thought that at least 20,000 meteorites, over 10 grams (about.025lb), land on Earth each year, according to a study led by P.A. Bland. This number includes the entire sphere, and so since water covers much of Earth, 70% of them are lost beneath the oceans and lakes almost immediately.
This does however leave for another 6,000 to be found, and if you find one, it is certainly a treasure!
Universities and museums will often offer to buy particular finds. Depending on market, size, type, and history determines a price, but some are worth into the thousands or tens of thousands. Hunting for meteorites can be a fun weekend adventure which pays off!
Currently, $20,000 is being offered for the find of a meteorite in excess of 1kilogram which is known/seen to have fallen in Maine on May 17th, 2016.
Video here: Captured streaking Meteor from Police dashcam
The Strewn field (area where the meteor may have left fragments) is shown here on the Facebook page of Maine Mineral and Gem Museum.
Lots of other information concerning that particular meteorite can be found there as well. It is an awesome treasure hunt!  The Meteorite challenges you to find it!
Many meteorites are discovered in desert regions. This is not because they 'land' there more than in other places, but because they can be more easily recognized there. The dark brown/black color of the meteorite looks totally out of this world in the sands! The dry climate gives an advantage for finding them too.
If you are interested in hunting for meteorites, and even though they do fall and can be found anywhere on Earth, to raise your odds of finding one, you might want to do the following:
1)Pick a location which a meteorite is more readily seen; like desert or barren areas, and locations where fewer Earth rocks are scattered about.
2)Search areas of recent sightings of fallen meteorites
3)Search past strewn fields
4)Take along a metal detector since many meteorites will set it off.
Hunting in these places might provide you more luck for finding one.
But what are you looking for?
Below are some characteristics and preliminary questions to ask yourself if you think you found a Meteorite:
1)is it heavier than 'normal' rock?
2)does it have a dark brown or black surface?
3)is it magnetic?
If you answer 'yes' to ALL these questions, then you might have found a meteorite and will want to do a more thorough examination. Here is a site which offers more official information: Geology Page or  Meteortie Identification.
There are treasures, of all different kinds, surrounding us. Pick an adventure and chase it.
I wish you the best of luck with all that you seek and hope you enjoy all of life's adventure!
And if you want to learn more about Meteorite Hunting, check out this book on Amazon:

Follow MW on Social Media: