Forrest, Is There A Place You'd Like to Go Visit?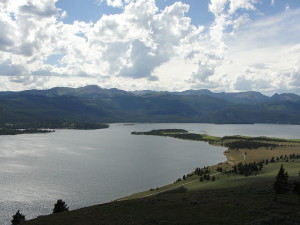 More Featured Questions with Forrest
(What can I say.  I love the Chase.  I love Questions.  Of course I couldn't end Questions with Forrest)!
Forrest, next month you'll be 84 years old and that's an age when most normal people start to slow down. You seem to be pretty vigorous so I wonder if there's something special you'd like to do or place you'd like to visit while you still can. Is that something you think about? ~ Jenny
Sure it is Jenny. Thanks for the question.
I think about it all the time and if I live another 84 years I hope to check a few things off of my list.
One for sure. I want to go back to Montana and visit some of the places I used to haunt during my formulating years. I may do that in September if I can sneak away.
One day my dad and I were talking with Concy Wood, our special fishing buddy. Dad said, "Let's go fish Rumbaugh Creek." Concy smiled, and replied, "No flies on that." (It's an old Texas folk phrase.)
Rumbaugh Creek was on the South Fork side of Hebgen Lake and a few big trout were always cruising around that place looking for fresh food coming in with the mountain stream. I'd like to go back there one last time and take a folding chair.  Maybe I'll also take a pimento cheese sandwich and a fried pineapple pie.  If I don't get back up there, and I probably won't, I hope one of your readers will visit that place for me, and send me one last drink of water from Rumbaugh Creek. I'd go to Watkins Creek too. f
Follow MW on Social Media: