Forrest Fenn's Gift: Found Treasure within a Treasure
As shared in a previous post (Chatting with Forrest: Medicine Rock), my family and I had the most amazing, unforgettable opportunity to meet and spend time with Forrest Fenn. Not only did we get to chat with him at his beautiful home amongst his incredible collections, but we were surprisingly and so graciously treated with a tour of San Lazaro Pueblo. The whole time was a dream come true for us and it surely was a treasure. But when we later got home, what we unexpectedly discovered was a hidden treasure beyond belief.
I cherished meeting Forrest, even though I was laughed at by him and my family for wanting to keep 'worthless items' while strolling through San Lazaro Pueblo.  Every random piece of wood, stone, or debris, I adored.  Everything was a 'lost artifact' to me!
I remember picking up this one unique looking stone, admiring it, and then asking Forrest what it was.  He simply said, 'that's just a pebble and tossed it down the mound we were searching for sherds on.  I was stunned.  My treasured rock, just tossed to the wayside!
Wha…..What!…Wait! Where did it go?
I looked up at my family and Forrest to see them chuckling, and realized they thought I was becoming a bit extreme.  It's true. I was. Sorry. (but truth be told, not searching again for that rock was quite difficult. I consider it a lost treasure now. It is somewhere around section VIII, right before the water retaining wall of the Pueblo..….it's a greyish pebble with an extremely interesting (to me at least) darker grey design flowing though it. If you find it, please let me know)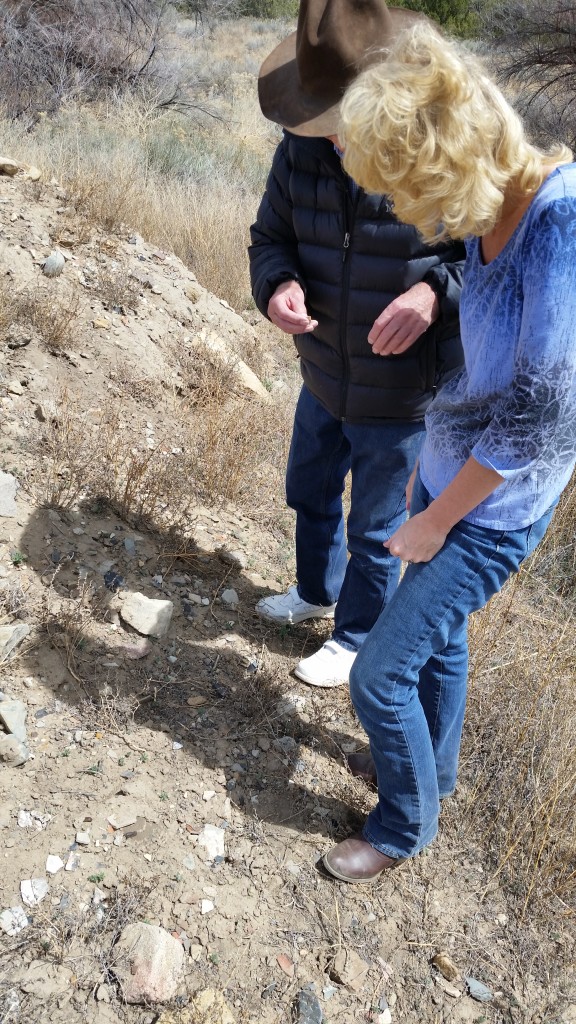 We did find numerous other items to keep that day.  Small bones from birds and rodents, pottery sherds, beads, flecks of turquoise and obsidian, pieces of shell, arrowheads, and more.
Forrest had explained how many of these kind of items are within 'Medicine Bundles' discovered at the pueblo.  Medicine bundles are collections of sacred articles, gathered together and prized by the owner, and are believed to possess powers of protection, good luck and healing.  Charmed assortments for sure.
Before we left, Forrest handed my family and I a small tin as a gift.  Wrapped inside were such tiny objects like that found in original 'Medicine Bundles'.  Forrest collected the objects himself during his digging there. The gift of the 'medicine bundle' is an unquestionable, beautiful treasure to me and is priceless.
When we got home, I decided to go through the small tin more thoroughly.  It was magical to pick up, hold, and examine the assembled pieces that were placed inside.  There were bones, with and without teeth and in all different shapes and sizes, claws, shell fragments, beads, precious stones, and other interesting items.
There was one object in the tin that definitely was special and stood out above the rest. And even though I felt every single thing within the tin was treasure, I knew this was something unique.  It was an animal shaped object. I held it for a while, turned it, felt its allure, and then recognized what absolute, unbelievable treasure it was!
I sat there for a while, shocked.  Forrest hadn't said a word about it.  How could he not tell me?  How could he put this piece of remarkable history in this tin and keep it a secret? Why didn't he tell me?
I realized it was so I could find a treasure, if I so looked.  Sure, the whole tin was treasure already.  But this was quietly and secretly placed and was waiting to be discovered again. It was a found treasure within a treasure!
I'm sure I felt almost as ecstatic as Forrest did when he found this treasure at his pueblo.  Because even though he was excavating through a room which held contents of a forgotten and lost past, I was excavating through a small tin holding some of those same contents.
What I found hidden within Forrest's gift was one of the Fetishes photographed in Forrest's book; The Secrets of San Lazaro Pueblo.  One of only sixteen ever found there! (image at top)
I was speechless…so totally surprised..…and filled with such gratitude……Forrest has a heart of gold.
It wasn't just the rare Fetish he was giving.  He was giving us (my family and I) the chance to discover the treasure for ourselves.
It is the same gift he gives to every one in The Thrill of the Chase.
There are hidden treasures surrounding us everywhere, and all we have to do is explore and 'find' them.  Many are not monetary, but found treasures of the heart. We only have to seek.
I appreciate every day people who inspire and encourage The Quest!  I believe so much treasure waits to be discovered and I wish you the best of luck with whatever you seek!
Follow MW on Social Media: