Forrest Fenn's Bronze Buffalo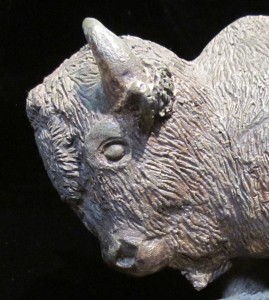 Forrest,
You have been around and known many artists while owning your art gallery. I wonder if you were ever inspired by any of them to paint your own masterpiece? If so, I will gladly buy it for 17 dollars a square inch. 🙂 ~ colokidd
.
Thanks for the complement colo.
Sure, I think about it often and still aspire to paint at least one nice canvas. I would be a great artist if it didn't require so much talent. From a personal view though, I was always more interested in sculpting. I asked my friend George Dabich if he thought I could be a sculptor. "Sure, it's easy," he said, "If you want to make a buffalo, you just take a piece of wax and carve away everything that doesn't look like a buffalo."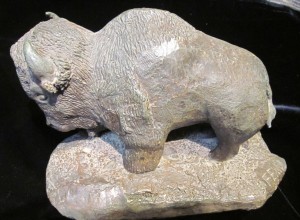 I thought that was simple enough so I did, and this is what it looked like in bronze. I didn't know how to make feet so I made the poor thing stand in mud.
Years ago I made a life-mask of my daughter Zoe, and sculpted her head and shoulders, and cast it in bronze. No one liked it but me, and Zoe claimed it wasn't really her face. I placed the portrait on my deck up stairs, where it was promptly stolen. It made me feel pretty good that some thief liked my work enough to take it.
I learned later that it was sold for scrap metal. I still keep my buffalo around to remind me why I need to stay in my day job.
If someone wants to buy that great bronze, I'll sell it for seventeen dollars a pound, but no refunds after you see it in person.
Follow MW on Social Media: