Forrest Fenn, the Poem, and Use of a Thesaurus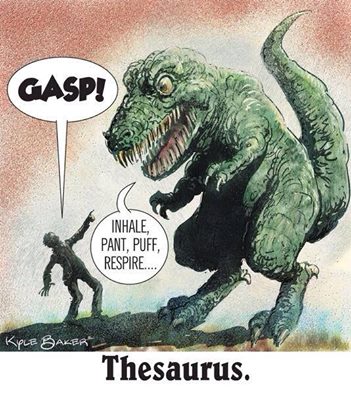 To understand what Forrest Fenn is exactly referring to in his poem, which leads a person to his hidden treasure chest filled with over a million dollars' worth of gold and other valuable jewels, is the key to finding his treasure.  Both a Dictionary and a Thesaurus may be helpful in expanding a searcher's thoughts for this.
Forrest has chosen his words carefully.  He said he took 15 years to write the poem, changed it many times, and felt like he was an architect by crafting every word within it.  In the preface of his book, The Thrill of the Chase, he states, "I tend to use some words that aren't in the dictionary, and others that are, I bend a little."  Although this statement was more in reference to his book, since the poem is in the book, we can assume he might have bent some words in the poem.
A perfect example of him twisting word meanings is found in an answer to a question asked in Questions with Forrest on this site.  It is as follows:
Mr. Fenn, Would you want the person that finds your treasure to admire the place where it rests? ~Andrew
Well Andrew, I'm not sure "admire" is the right word but if we twist it a little maybe we can make it work. The word means approval or high regard. So it works. I sure feel that way or I would not have hidden it there. I like the way you think Andrew. f
Looking into a Thesaurus may help us realize the many different meanings a word can take on and how Forrest may have used or bent them.  Below are my notes I took on some of the main words used in the poem.  It is not a comprehensive list, and is only meant to spur the mind.  The list helps remind me the subtle uses and variations word meanings can have and then be used.  I hope to share a 'definition of words' post later.  This can get even more interesting.
I know we each follow our own pathways in attempt to discover the final resting place of Forrest's treasure. The following is only an example of a mere side path I like to stroll along once in a while; to maybe offer support for a main path I might be working on.
Each time I read the list, different thoughts arise.  Just today, as I was copying it over for this post, the synonym for 'secret' caught my attention.  One of the synonyms for 'secret' is 'underground'.  Applied this way, the poem might actually imply or be bent to say the 'secret where' or the 'location of the treasure' is 'underground'.  Maybe not 'buried', but underground like in a cave or crevice.
Words and their synonyms: (poem lines in BOLD)
As I have gone alone in there
Alone-unaided, only, lonely, solo, deserted, with nothing else
And with my treasures bold,
Bold- brave, daring, confident, forthright
I can keep my secret where,
Secret- undisclosed, mystery, private, underground
And hint of riches new and old.
Riches- treasures, reserves, abundant,
New- original, different, latest, recent
Old- aged, outdated, previous, time-worn
Begin it where warm waters halt
Begin- originate, instigate, start, launch
Warm- heartfelt, temperate, lively, friendly, tender
Halt- standstill, pause, discontinue, stop, freeze, end
And take it in the canyon down,
Down- downward, unhappy, list, inoperative, losing, feathers
Not far, but too far to walk.
Far- distantly, much, great, remote
Walk- stride, stroll, hike, pace, move
Put in below the home of Brown.
Below- under, beneath, lower
Home-dwelling, place of birth
From there it's no place for the meek,
Place- home, position, location, area, spot, point
Meek- humble, gentle, mild, fearful, timid
The end is ever drawing nigh;
End- finish, edge, boundary, border, purpose, leftover, death, close
Drawing- sketch, pulling, getting, extracting, equaling
Nigh- close, near, approaching, left,
There'll be no paddle up your creek,
Paddle- oar, bat (n) :  splash, row (v)
Creek-  stream, arroyo, inlet, brook, cove
Just heavy loads and water high.
Heavy- hefty, full, demanding, intense, powerful, deep, extreme, gloomy,
Loads- burden, cargo, shipment
High- tall, great, extreme, piercing (high-pitched), towering, lofty, important, superior
If you've been wise and found the blaze,
Wise- intelligent, clever, knowledgeable, cunning, artful
Blaze- glow, fire, brightness
Look quickly down, your quest to cease,
Look- gaze, observe, watch, view, regard, explore, eye
Quickly- fast, rapidly, promptly, suddenly, immediately
Quest- mission, search, hunt, chase
Cease- stop, finish, end, conclude
But tarry scant with marvel gaze,
Tarry- stay, remain, linger, delay, wait
Scant- little, limited, measly, slight
Marvel- genius, prodigy, wonder, curiosity, admire, awe
Gaze- stare, watch, look
Just take the chest and go in peace.
Peace-calm, quiet, harmony,
So why is it that I must go
Go- die, leave, depart, quit, exit, expire
And leave my trove for all to seek?
Leave- donate, give, depart, abandon, avoid, put,
Seek- pursue, strive for, search, hunt out
The answers I already know,
Answer- solution, reaction, remedy, key
Know- understand, realize, discern, identify, grasp, experience
I've done it tired, and now I'm weak.
Done- completed, finished, fixed, ensured, achieved
Tired- weary, worn-our, exhausted, drained, fatigued
Weak- frail, exhausted, feeble, vulnerable, low, powerless
So hear me all and listen good,
Hear- perceive, heed, hearken, consider, undestand
Listen- attend, take note, heed
Good- moral, virtuous, clear, nice, valuable, useful, polite, decent
Your effort will be worth the cold.
Effort- energy, struggle, endeavor, work, labor
Worth- value, appeal, cost, merit, importance
Cold- emotionless, icy, distant, remote, chilly, frost, uncaring, freezing
If you are brave and in the wood
Brave- (adj) courageous, daring, fearless:  (v) endure, face
Wood- timber, forest, copse, thicket, kindling
I give you title to the gold.
Title- ownership, name, claim, designation
Gold- treasure, title
Best of luck with whatever you seek!
Please feel free to friend/follow me as I continue to share thoughts on The Thrill of the Chase and other treasure hunts.
Follow MW on Social Media: